Varsity women's basketball falls to Monte Vista
Dougherty Valley's varsity women's basketball team lost to Monte Vista with a score of 75-44 on Jan. 26. The league home game was the Wildcat's first time playing the Mustangs this season. Despite their loss, Dougherty Valley hopes to beat Monte Vista later in the season at the Mustangs' senior night on Feb. 7.
Monte Vista took the lead early on, scoring first with a three-pointer, followed by multiple layups. Down by seven, sophomore Mikala Caston, lead scorer with a 14-point average per game, put Dougherty on the scoreboard with a layup. Throughout the quarter, Dougherty had trouble breaking through Monte Vista's defense, forcing them to take their first timeout when they were down 12-5. With one minute left in the first quarter, Dougherty climbed back into the game, tying Monte Vista 14-14. But the quarter ended with a score of 16-14, with Monte Vista once again taking the lead. 
"I think we played a good first quarter. From all the years I've played Monte Vista, this is the closest we've ever been. Usually, we go down 30 in the first quarter, so it was nice to see that it was close for at least one and a half quarters," senior Ananya Shaligram, one of the captains, said. "Hopefully on their senior night, it'll be a closer game."
The gap widened as the game went on, and the second quarter ended with a score of 38-27. During the third quarter, Dougherty struggled to keep possession of the ball. With seven team fouls against the Wildcats, Monte Vista gained 10 points off of free throws. 
"We focused on stopping their key players going into the game, and I think we relied too much on that. In the game, the two players that we focused on didn't do what we were expecting, and that's kind of how it kind of fell apart," Wildcats co-captain Nomen Iselen ('24) said.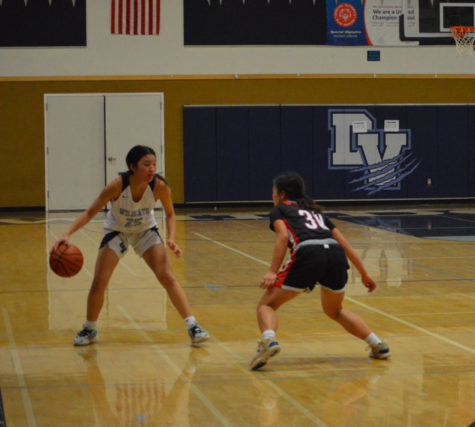 Starting off the fourth quarter with a score of 66-30, Dougherty rallied to try to close the gap. The Wildcats scored 14 points during the last eight minutes while the Mustangs scored 11, but it wasn't enough to catch up. Dougherty Valley lost 75-44.
"We just really need to focus on all of our basics and get that down to hustle more," junior Brie Reyes said. 
Monte Vista is currently ranked second in the East Bay Athletic League (EBAL), which comprises four teams, while Dougherty Valley is last. Still, the game against Monte Vista was an improvement from last year's performances, during which Dougherty Valley lost both games to the Mustangs with scores of 71-24 and 84-21.
"[This] season has definitely gone a lot better than last season. Better than I expected," Iselen said. "A lot of ups and downs, but the ups are really good, so it makes up for the downs."
With an upcoming game against Dublin High School and a rematch with Monte Vista, Dougherty looks forward to improving their teamwork and consistency.
"We could have played like a team. We could have given a lot more effort, a lot more heart in that game," Head Coach Trey Brooks said. "I think we started off strong, [but] we just [have] to realize that we have to play the whole game like the first quarter and a half." 
Importantly, the season's not over yet. With two more league games ahead of them, the Wildcats plan to prepare better for the next game, refusing to let the loss get to them.
"At the end of the day, we're all still family," junior Erinn Gardere said.  
Dougherty Valley varsity women's basketball team will play Dublin High School at home on Feb. 3 before facing Monte Vista once again on Feb. 7.