Mens basketball sweeps the court over Irvington
The Dougherty Valley Wildcats swiftly defeated the Irvington Vikings with a score of 95-51 at the season-opener on Nov. 30. With high energy from the bleachers full of students and parents, the Wildcats maintained control of the game from beginning to end and emerged victorious. 
Senior Conor Sevilla scored the first points —  two free throws off a foul. Dougherty continued to drive through the quarter with senior Blake Hudson making a two-pointer and senior Ryan Beasly scoring the first three-pointer for DV along with two free throws. 
After going back and forth between both teams, the Wildcats continued to stay in the lead, with Sevilla contributing a three-pointer and a layup shot and Beasly assisting Hudson with a dunk shot near the end of the first quarter. After a couple of layups and free throws, the Wildcats ended the first quarter with a score of 29-11.
"For early in the year, I thought we played well and it was great being at home. Students action was electric for the first night and I was very proud of our playing," Coach Mike Hansen said.
DV went into the second quarter hoping to maintain their considerable lead. Hudson led Dougherty to score a couple of layups and two three-pointers after getting his own rebound twice. After Sevilla made three out of his four attempts following a couple of personal fouls, a two-pointer jump shot by him ended the quarter. They quickly expanded their lead with a few more two-pointers at the end of the quarter. At halftime, Dougherty Valley had a thirty point lead over the Vikings, with a score of 58-28. 
"These guys work hard. They practice six days a week and on top of being really good basketball players, they are good students," Coach Hansen said regarding teamwork. "They like each other and they play together, so that helps."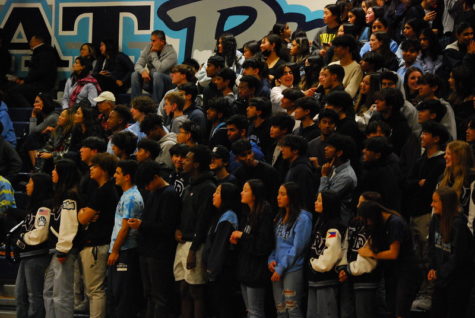 Irvington scored the first points of the third quarter with a two-pointer seven minutes in. Seconds later, back and forth passes between Beasley, Sevilla, Hudson, and junior Chris Fallgren resulted in a two-pointer by Sevilla. With four minutes left on the clock, the score read 73-34, Dougherty Valley in the lead. Roughly a minute later, Beasley scored the first three-pointer of the quarter, sending the crowd into an uproar.
Irvington's attempted comeback was slowed by Dougherty Valley freshman Rodney Westmoreland's two-pointers, which brought the score to 80-39. With only 35 seconds left in the quarter, Dougherty scored another three-pointer, eventually ending third quarter with a score of 83-39.
The last quarter started off slowly, with the first point scored over three minutes in by DV. What followed was a few fast-paced foul shots and two-pointers by both teams, leaving the score at 87-41 close to four minutes into the quarter. Irvington scored five points within the same minute: one foul shot and two two-pointers. 
The rest of the game followed a series of foul shots and rebound two-pointers, with Irvington making five points in the last minutes. The very last minute of the game showcased good team work by DV as they supported one another passing the ball back and forth between players, finally scoring DV's last 2 points, bringing the final score to 95-51. Dougherty's victory bodes well for the rest of this season.
"I thought our team defense was really good, and they shared the basketball well. We had some highlight reel downs from Hudson, [as well as] with Beasly [scoring] 27 points and it helps when you have seniors that have been around all four years like Sevilla. The guys know what we expect," Coach Hansen said.
If the Wildcats continue to use their working strategies, they could pull off another win for their next away game against the Vanden Vikings on Dec. 3.
"I think we should look to definitely attack the basket more at start of the game so we can get our shot going later on. And just like keep trusting each other," Sevilla said regarding their upcoming game.