DVHS song team finds unity in their teamwork
Footsteps thud against the wooden floor as the thunderous beats of Kendrick Lamar's "DNA" boom against the walls of the dance room. As the music comes to a halt, cries of encouragement and laughter fill the room. This is the energy that DVHS song team emits in their practices. 
Junior and song team co-captain Mira Joshi attributes this warm atmosphere to their similar personalities. Due to most of the members participating in competitive dance for a majority of their lives, they share a common passion for dance. 
"We have a good dynamic because we all get along well [since] a lot of our personalities are centered around dance," Joshi explained. 
Since the season has recently begun, the team builds its amiable environment through frequent team building activities.
"At team bonding, we always have something to talk about. We can always laugh and have fun with each other – [which] adds to the dance environment. We can all hype each other up in such a positive way and it just feels good to be cheered on by your peers when you're dancing," explains sophomore Ashley Cavalli.
Some of the bonds in the team aren't recent either. Joshi and Cavalli have danced together in the same studios since they were two years old, as they both currently dance at the Westlake School at San Francisco.
"[We] have a really strong bond. I know [Mira] probably a lot more than I know a lot of my other close friends just because we've known each other for so long," Cavalli said. 
The deep connection that the dancers have with each other is evident in their tri-weekly early morning practices and weekly performances. While being on the team is a rewarding experience for the dancers, the commitment that accompanies being on the team is a challenge. Balancing school, song team and competitive dance is demanding.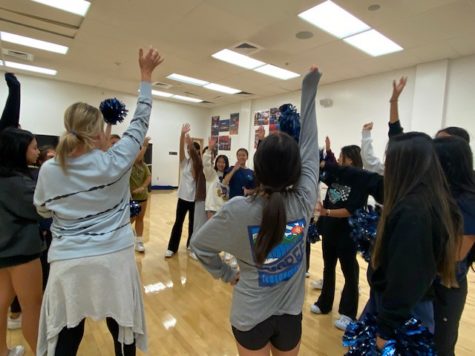 As she focuses more on the song team, Joshi explains that she has struggled with balancing the song team with competitive dance outside of school, especially as she commutes to San Francisco for practices. 
"I've been competing since I was six, but [even though] I'm still doing competitive dance, I've cut back on it a lot," she said. "I only go two days a week to San Francisco. On Wednesdays, I come back home from dance practice at 11:30 p.m." 
Despite their demanding responsibilities, the song team is committed to nurturing a cheerful and positive environment during school-wide events. song team coach Kristin McCollum explains how the dancers' dedication allows them to work together as a unit to perform well.
"The team comes first for all of them when they're considering their own personal decisions," she said. "They're super adaptable and flexible to ever-changing situations."
The team's extraordinary teamwork can also be credited to their coach. 
"Coach [McCollum] is really supportive and positive. She's always really understanding [and] she knows exactly how to tell us to push to be the best dancers that we can be. She does it in a way that makes us want to work harder. And she helps us with corrections, which also allows us to grow as dancers," Cavalli said.
Rather than teaching dances herself, Coach McCollum gives each dancer the opportunity to choreograph their own dances and lead practices. This collaborative environment allows all song team members to be included in planning and creating choreography. 
Joshi explains that the song team has allowed members to be creative with choreography of dances. 
"Although Ellysa and I are captains, if someone else is choreographing a dance, they're in charge and everyone respects and listens to them," Joshi said. 
Cavalli states that the song team has allowed her to enjoy the experience choreographing for the team as a whole – something she doesn't experience as often in her studio. 
"We get to organize an entire dance by ourselves, and I feel like it's a really good part of the creative aspect of the song team," she said.
Contrasting her experiences with competitive dance, Cavalli adds that she likes how the song team's atmosphere isn't as stressful. 
"The [song] team compared to some other teams is [different because] we're not competitive with one another. We're competitive as a whole and really makes the team stronger. I feel [strong] emotionally and with our dancing because then we can dance more as a whole," she corroborated.
The team continues to build a familial bond with each other as the song season gets increasingly intense.