Embracelet combines fashion and comfort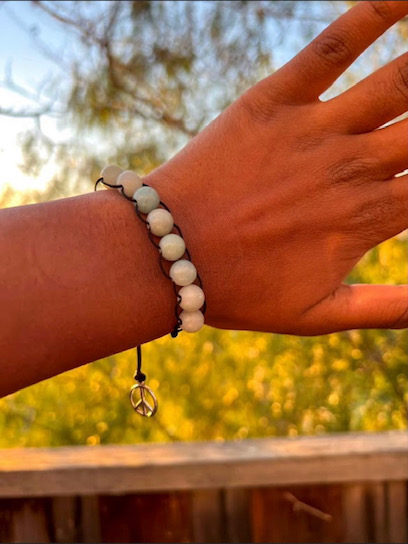 Embracelet, a student-led business founded by a group of local high-schoolers, helps tackle anxiety and stress using fidget-bracelets.
Launched on March 8, Embracelet was created for the Junior Achievement entrepreneurial program. Tasked to develop a unique business, juniors Krish Bala, Shreya Balasubramanian,  Anushka Julakanti, Satvika Bommadevara, Sriram Kudamala, Rex Raffield and sophomore Sadhana Tadepalli drafted a few ideas. Their focus was anxiety and stress. 
Chief of Operations Shreya Balasubramaniam explains, "For teenagers, [there are] higher rates of anxiety and depression. So we, as a group of teenagers, wanted to design a product that combats these issues. We came up with a fidget bracelet." 
Similar to pearl prayer beads, an embracelet has a fidgeting component to alleviate stress.
"The maneuver is to slide the beads along the bracelet," adds supply chain manager Sadhana Tadepalli. 
In a tiny plastic package,  the bracelet comes with a personalized, handwritten note for the customer. The embracelet is an adjustable double strand nylon satin cord that holds eight opaque blue beads.
As someone prone to fidgeting, this bracelet dramatically reduced my nervous squirming during a school day. It eased an unconscious tension by repeatedly sliding the pearls back and forth, like abacus beads. 
The cord's texture is not rough nor prickly and the cord is not thick. Fortunately, the beads do not envelope the entirety of my wrist: something that is a personal annoyance as it forms an awkward space between the table surface and the wrist. Being lightweight, the bracelet leaves only a subtle reminder of its presence.
Devoid of any hyper-gendered elements (e.g., color and decorations) it preserves inclusiveness. The lack of sparkles and bright colors help retain neutrality; with muted shades of blue and smooth beads, the embracelet stays true to its sole purpose of reducing anxiety. This aspect caught my attention. Many other anxiety bracelet brands focus on visual appeal. Therefore, the decoration overpowers the pacifying purpose of those embracelets, resulting in visually appealing bracelets whose texture and color can cause agitation & or distraction.
Just as they retain non-gendered components, the bracelet adjustability provides another critical detail. Often, bracelets lack size options; however, the double-strand cord allows customers to pull or push the strings of the embracelet to fine-tune the size. Those struggling with this form of adjustment can refer to the demonstrative video on their website. 
Anti-anxiety bracelets are not a new product. What makes this business unique, though, is their personalized website. After a customer purchases an embracelet from their store, they have access to multiple services including: a journal where customers can share their thoughts and anxieties, educational resources about anxiety disorders, and consistent positive messages. 
Embracelet achieves inclusivity and simplicity despite releasing only a single product design. Consequently, they've successfully created a neutral safe space for their customers through a conventionally decorative object. While still in its infancy, Embracelet's innovative style to aid those battling anxiety and stress is testament to its integral cause. One worth supporting. 
CEO Krish Bala concludes, "Within a bracelet you can tell your story, be yourself and ultimately reduce your stress and we really want to give that to the community."