DVHS Swim dives into its first meet of the season since COVID-19
Dougherty Swim and Dive hosted a mini meet on March 18, celebrating the start of a new season with the first in-person event since 2020.
Initially, a meet with San Ramon Valley High School was scheduled, but postponed then canceled for undisclosed reasons. To cheer up the team, Mrs. Cyndi Oji-Marchese, the Assistant Coach, suggested hosting a Wildcat Pentathlon for teammates to have a friendly competition with each other.
The meet was divided into varsity girls, varsity boys, junior varsity girls, and junior varsity boys. Continuing with the Pentathlon theme, varsity swimmers swam a 100 yard distance of each stroke (butterfly, backstroke, breaststroke, and freestyle) and 100 Individual Medley. Junior Varsity swimmers swam a 50 yard distance of each stroke and 100 Individual Medley.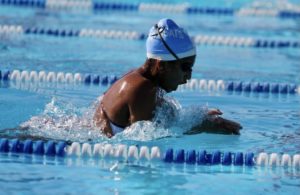 Despite the last minute switch to the Pentathlon, some still considered it as advantageous for the season.
"It was really refreshing to finally be able to swim with all my fellow teammates in a competitive race," said Purajit Ghosh, a DVHS junior. "There's a lot of room for improvement for myself, but I think it was good that we had this [home meet] because it really shows me what I can work on in the future."
Sophie Wang, a DVHS senior, also felt that a home meet was a good start to the season, especially after a year of COVID-19.
"It feels like there's more energy and there's more people because a lot of people didn't do it last year," said Wang. "I'm glad to be swimming with friends."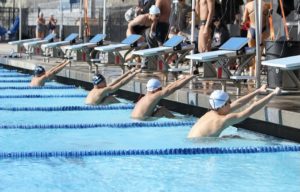 Along with swimming with friends, many swimmers showcased their speed in the early stages of the season. Jared Fang swam a 53.55 seconds in the 100 yard butterfly, earning him the first place spot. Samantha Ung swam a 26.76 seconds in the 50 yard freestyle, taking first place as well. 
Other highlights include Zoe Ma swimming a 1:04.27 in the 100 yard backstroke, Julian Yuen swimming a 24.56 in the 50 yard freestyle, Grace Li swimming a 57.84 in the 100 yard freestyle, and William Ruy swimming a 1:02.68 in the 100 yard breaststroke. 
The meet ended with the final results. Each swimmer received a cumulative time totaling all their individual times from each event. The king was given to Jared Fang with a total time of 4:41.91, the queen to Zoe Ma a total time of 5:38.37, the prince to Aidan Sales a total time of 2:55.16 and the princess to Samantha Ung with a total time of 3:20.47. 
With the first meet in the books, DVHS swim is looking forward to the upcoming competitions.
"This is just the beginning," said Ghosh. "Now I know what new approaches to take what I can do both inside the pool during practice and outside."