Sliver Pizzeria presents flavorsome combinations with a sliver of issues
Sliver Pizzeria, which had a soft opening on March 2, offers a simplistic menu of pizzas and sides, making the ordering process simple and quick. Located at 100 Railroad Ave, Danville, this pizzeria replaced Coffee Shop. 
Ambiance:
Right when you walk inside, you are presented with a warm, dim ambiance. Interior-wise, it is pretty dark, but not too dark to the point where you can't see anything. Although there are no decorations, the furniture and interior design is very pleasing to the eye. The modern design adds to the minimalistic, avant-garde appearance. A long counter space in the front for the register accompanied with a mini ice cream freezer, mini fridge with drinks and food and kitchen racks, it does not feel crowded or unappealing to the eye. The seating varies in booths, regular tables and chairs and outdoor seating with heaters. Glancing outside, there is a cabinet full of board games and toys for kids to play with. There are also three seperate TVs playing different channels (news, general tv shows, kids channel). As a whole, the vibes are cozy and chill, but at the same time particularly sophisticated and classy. 
Service:
The service was very friendly and convenient! The person at the register, who seemed like the owner of the restaurant, greeted all customers, including me, while they entered the pizzeria. The wait time was only about nine minutes tops. After getting my order, he told us about their self-serve, complimentary sauces which came in two kinds: spicy, sliver green sauce and sliver fire sauce. The containers for the sauces itself were a little difficult to close for whatever reason, however, it was not too much of a hassle. The shop is also accessible to handicapped people which is nice considering not too many places these days offer this.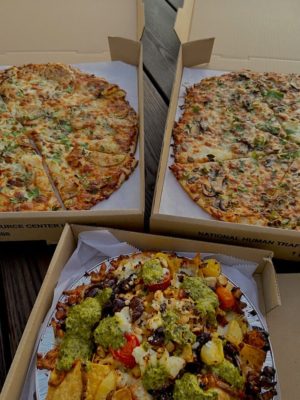 Menu:
As mentioned earlier, their menu is pretty simplified compared to other restaurants. They have only four pizza options: corn, tomato, potato, and mushroom. They also carry an exclusive pizza of the day and salad of the day, which they have different specials in different locations for a limited amount of time "weekly pizzas" seen on their website. Additionally, they sell shareables, which are essentially sides. These include veggie nachos, waffle fries, seasonal baked veggies, corn on the cob and a cheese plate that is coming soon. Margarita drinks are also coming soon, so I'm unsure on the protocols regarding the alcoholic drinks. They also carry a few desserts, including chocolate chip cookies, brownies and gelato, which are displayed in a small fridge with about four to six flavors on the right-most side of the store. For pizza sizing, they sell them in whole, halves and slices, where one can order their classic sourdough crust, or change to a gluten free crust. They also have vegan and vegetarian options for people who prefer those.
Food:
I ordered a potato pizza, mushroom pizza and veggie nachos. For the potato pizza, the sourdough crust makes the overall taste profile sour, but not too overpowering. It was a surprisingly good combo combined with the potatoes and caramelized onions, which carried a nice, rich flavor with a beautiful golden brown coloring. The Yukon gold potatoes were thinly sliced, and some potatoes were softer while others were crispier, which provided that variety in texture. The mushroom pizza carried a rich, umami flavor, which masked the slightly tangy crust. It was flavorful with a variety of four different mushrooms (shiitake, portobello, chanterelle, cremini). The crust is a little tough on all pizzas, plus, the more you eat the pizza, the more it becomes salty and tough to consume. Honestly, my jaw started to hurt from biting the tough sourdough crust. The tough factor may also be a temperature issue, which inevitably happens when pizza gets colder. While it tasted good in the beginning and it was enjoyable in some aspects, I'm not sure if it's equally as good in the long run. On the same note, the veggie nachos were disappointing. The chips were stale and the nachos themselves were hard to eat. This is because the cheese on the bottom was melted and stuck against the tin pan, creating just a blob of ingredients with chips. It was also topped with corn, cherry tomatoes, kalamata olives and their signature spicy green pepper sauce. The kalamata olives were extremely overpowering against all the other ingredients. Overall, this dish was not really convenient to eat and not very cooperative altogether.
Overall:
My total experience at Sliver Pizzeria as a whole was not too bad. There were small issues with the rough pizza crust and the veggie nachos, but maybe since they utilize sourdough crust instead of a classic crust, it may be unavoidable. As mentioned before, the flavor profiles were satisfactory in the beginning, but may not be so in the long run. I don't recommend the veggie nachos if you visit, but I've heard the waffle fries are good (should've ordered those instead of the nachos…). Sliver Pizza has a great interior perfect for a night out with your family and friends, but the quality and attention to detail in terms of the convenience of the food itself may have been overlooked.