Employee resource group promotes solidarity and support for teachers of color
Over 5,200 race-related incidents and hate crimes were reported in 2020, a 32% increase from 2019, according to information gathered by the FBI. Emotions like fear, grief and anger affected students and staff of color at Dougherty Valley High School. But one DV teacher now argues that the mental well-being of people of color in regards to discrimination and racial trauma is seldom taken into consideration in the classroom or the workplace.
According to US News, just under 10% of Dougherty Valley students are white. In contrast, though exact statistics are unavailable, a large majority of Dougherty Valley teachers are white. This discrepancy prompted SDAIE Chemistry and AP Environmental Science teacher Annie Nguyen to form the BIPOC Teacher Support ERG (employee resource group) as a safe space for Dougherty Valley staff to discuss identity and inclusion. ("BIPOC" stands for "Black, Indigenous, People of color" and is used in this context as an umbrella term for those who are not white.)
"My feelings for the need for this group started back in March [2021] after the Atlanta [spa shootings]," Ms. Nguyen said, referencing the murder of eight, six being women of Asian American descent. "I was starting to feel really unsafe in a way that I don't think I ever felt before."
After that incident, Ms. Nguyen, who is Vietnamese American, sent an email to other Asian American staff members to check in on their mental health. Many responded that they also felt worried and terror, causing Ms. Nguyen to consider her standing on the DV faculty as a woman of color.
"Even if it's not something that anyone directly said, you start to question whether or not you really do belong here. I wanted to help support other staff members who were feeling this way because I do feel that [educators] have the really important job of not only teaching but also looking out for our students' social-emotional health. We [educators] should be able to do that for each other as well," she explained.
"
The goals are intended to educate teachers on how to be "culturally responsive, inclusive and equitable" within the classroom, especially during real-world events that might be affecting students.
The group meets monthly during lunch, currently over Zoom due to COVID concerns. They are open to all teachers and faculty members at DVHS regardless of ethnic background. Every meeting commences with four spoken agreements that Ms. Nguyen created: "Strive to do our best; Listen with our hearts; Be curious, not judgemental; Be reflective with our words."
In addition to short lessons and videos, most meetings include open group discussion where teachers can share their thoughts either in the chat or verbally. The goal of these conversations is to give others the freedom to express themselves in a safe environment while connecting with those in other learning departments.
The Feb. 3 meeting discussed the distinction between sympathy and empathy and the ways to provide support to peers in a mindful way. Ms. Nguyen advised the dozen-or-so teachers in attendance to acknowledge one's vulnerability in sharing personal stories, to give them space to express their feelings and to continually educate themselves to better understand others' struggles.
One participant was Ms. Heida Shaw, the other AP Environmental Science teacher at Dougherty Valley aside from Ms. Nguyen. She attended the meeting to learn how to better support her non-white colleagues and loved ones.
Learning about the differences between empathy and sympathy "really connected with me because it [gave me] a new lens to look at my kids' problems, my students' problems and my colleagues' problems through their eyes," Ms. Shaw said.
At another month's meeting, Ms. Nguyen also presented a list of actionable goals on an individual or school-wide level, including advocating for BIPOC colleagues to take on leadership roles and to be able to contribute new ideas to their curricula and to exercise awareness for possible triggers during lessons.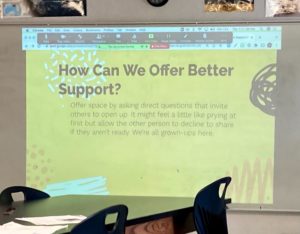 The goals are intended to educate teachers on how to be "culturally responsive, inclusive and equitable" within the classroom, especially during real-world events that might be affecting students.
"I remembered at least one student saying they worried about their parents or grandparents taking public transportation or going to work every day," Ms. Nguyen said, referring to the rise in anti-Asian hate crimes throughout 2021. "That's a kind of mental stress that is really hard to balance with everything that you're supposed to be doing with school at the same time."
Ms. Nguyen and Ms. Shaw work toward cultural inclusivity by discussing a multitude of cultural perspectives within their AP Environmental Science curriculum. Ms. Shaw noted that research has shown that environmental issues disproportionally affect people of color in lower socioeconomic areas. Because of this, she said it's important to have empathy to focus on mitigating those issues early. Her goal is to ultimately "incorporate that concept [of global awareness] throughout the whole curriculum," through class activities such as analyzing current events relevant to each area of study.
Ms. Nguyen also hopes that DV, and the San Ramon Unified School District as a whole, will continue to hire BIPOC teachers to better reflect the student body.
"We [Asian teachers] act as mirrors for our Asian students, and [the same applies to] other teachers of color. It's important to see that the people who look like us are doing work in a variety of fields and sharing their variety of experiences," Ms. Nguyen stated. "I never saw an Asian [teacher] in my whole educational experience until I was in college. If I had, I probably wouldn't have felt so much stigma initially in leaving my original studies in medical sciences to pursue a career in teaching."
As the school year continues, Ms. Nguyen hopes to increase meeting attendance, though noted that meeting online during lunch may be inconvenient for some. She also dismissed her de facto title as the "leader" of the group and has encouraged others to bring their own ideas or lessons to share.
"As more people join and they have other talking points we can start getting more diversity of perspectives. This is something that is open for everybody [who] wants to be a better ally," she said.
However, she acknowledged that the push for equity and acknowledgement in the workplace is not a temporary goal but a continuous commitment. For now, Ms. Nguyen hopes the ERG will continue to serve as a safe space for her co-workers to build compassion and understanding for one another.
Ms. Hanna Love, a white teacher, appreciated the chance to connect with other teachers at meetings.
"I really cherish learning everyone's stories. Hearing your voices has really helped me understand [my colleagues]," she said during the Feb. 3 meeting.
The same goes for Ms. Nguyen.
"I know the connections I've made with [my colleagues] are what helped me get through one of the hardest things I've ever had to go through. They understood where I was coming from, and recognized that nothing they could say could make me feel better, but wanted me to know they were there," she said.