9 underrated Trader Joe's snacks you need to try
Grocery shopping is a dangerous task. If you're anything like me, you always want to try new things, yet a series of questions stop you as you blankly stare at the shelf. How soon does this expire? Are these flavors really going to go together? Is this worth my time and money? Will I even like this? 
While I love trying something new, I always doubt whether or not I should actually buy something. Trader Joe's is my holy grail, considering the vast variety of organic and affordable items available. At this point, there's some items which I simply can't leave the store without anymore. For both Trader Joe's newbies and my fellow fanatics, here's some of my personal favorites.
Dried Sweetened Mandarins
These sweet yet tangy dried mandarins are a staple for your pantry. They are the perfect snack for those who love sour candy, considering how the sweetness is contrasted with a sour punch. They're a great on-the-go snack and a staple for family road trips. While these can be enjoyed simply by themselves, I've found that they're a great addition to charcuterie boards. Grab a couple of these, cheese, crackers and some of Trader Joe's Honey Sesame almonds, and you'll have the perfect, aesthetically pleasing afternoon snack,
Coffee Cake Muffins
Trader Joe's coffee cake muffins are my go-to breakfast, usually paired with a cup of iced coffee. Contrary to popular belief, coffee cake doesn't actually taste like coffee. It's rather of a cinnamon sugar flavor. Coffee cake is called coffee cake because it tends to go really well with coffee. Sour cream plays a key role in this muffin's moist texture, which is complemented by its crunchy coarse sugar topping.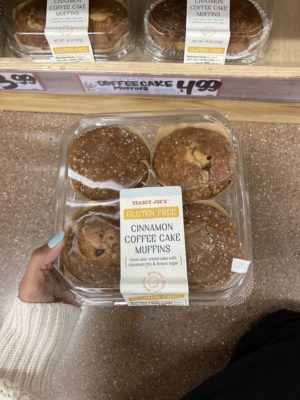 Kale, Cashew and Basil Pesto
This probably sounds really hippie and gross, especially since it's vegan, but trust me it is delicious. With its creamy texture and basil flavor, this pesto sauce enhances any meal. A quick, easy Trader Joe's meal that's easily enhanced with this product is a mozzarella sandwich. Spread this pesto over some toasted sourdough bread, add some freshly chopped mozzarella, basil and tomatoes and finish with another pesto-covered slice of sourdough. Other ways that you could enjoy this are by using it to top off pasta, pizza or paninis. The possibilities are endless.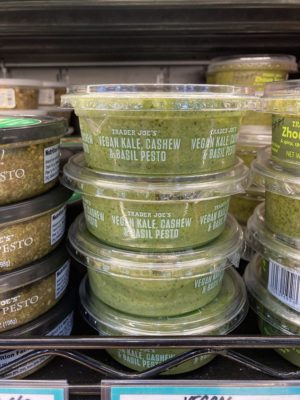 Roasted Tomatillo Verde Salsa 
Green salsa is underrated. Being a bit more sour than regular salsa, this dip adds the perfect kick to a plate of tortilla chips. It is made with green tomatoes, jalepeños and Anaheim chiles, creating a mildly spicy yet delicious salsa. Pair this with Trader Joe's rainbow tortilla chips, or any tortilla chips of choice, and you'll be set.
Sublime Ice Cream Sandwiches
These cookie sandwiches aren't really underrated, but they are so incredible that I had to include them. With vanilla ice cream layered between chocolate chip cookies, these sandwiches are finished with mini semi-sweet chocolate chips. They are the cure for any sweet tooth and are a great choice for a movie snack. The bitterness and crunch of the mini semi-sweet chocolate chip rounds out all of the flavors and textures, forming the perfect cookie sandwich. These can be best enjoyed by themselves, but feel free to add whipped cream or any other sundae topping as you please.
Pizza Dough
Whether you want to make a full-sized pizza, pizza rolls or breadsticks, this pizza dough is a versatile item for your fridge. Making pizza dough from scratch proves difficult and time consuming. This ready-made dough is a great way to still get the joy of making your own pizza, without as much of the mess.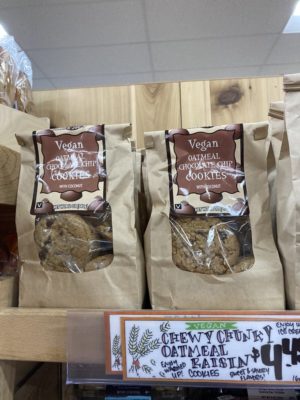 Oatmeal Chocolate Chip cookies
I usually despise oatmeal cookies with a passion.  However, these have changed my perspective on them completely. With just the right amount  sweetness and chocolate chips to balance it out, these vegan cookies are a scrumptious alternative to regular chocolate chip cookies. The coconut within the recipe is key to its palatability. I've found that these are best enjoyed by themselves, as just enough flavor is packed into this chewy cookie.
Honey Sesame Almonds
After you try Trader Joe's honey sesame almonds, you won't be able to go back to regular almonds again. These crunchy snacks are candied with honey and decked in toasted sesame seeds. With just the right amount of honey and a light hint of sesame, these ever-so-slightly sweet snacks remain a favorite of mine. Trader Joe's also sells honey sesame cashews, serving various nuts within this flavor profile.
Dark Chocolate Covered Pretzels
Another classic salty and sweet combination, these chocolate covered pretzels are a fun snack to munch on. I personally prefer these over the milk chocolate ones, as the dark chocolate spins an atypical bitterness to the simple sweet and salty snack. However, if you dislike dark chocolate, I suggest going for the milk chocolate. There's nothing wrong with the classics.