Fernando‌ ‌Ortiz‌ ‌maintains‌ ‌welcoming‌ ‌environment‌ ‌at‌ ‌Dougherty‌ ‌Valley‌ ‌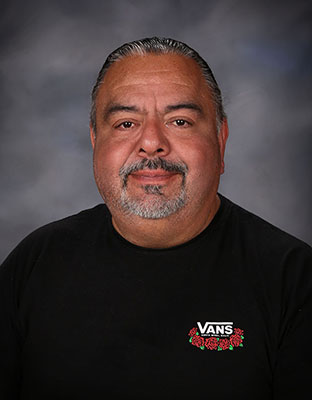 You've probably seen Mr. Fernando Ortiz around. Whether monitoring the halls with his walkie-talkie or exchanging your class novels in the Textbook Office, he's become a familiar face on campus after his four years with Dougherty Valley High School.
Ortiz has been with San Ramon Valley Unified School District since 2011. Before coming to Dougherty, he was employed first at California High School and later at Stone Valley Middle School. Ortiz explained that he was drawn to a role as an educator because he "wanted to help kids, so [he's accepted] any opportunity to partake in that process."
In addition to being a long-time employee, Ortiz and his family are also local residents. His own kids have attended Cal High, where he has been involved with Boy Scouts and water polo.
As campus monitor, Ortiz has an unassuming presence yet holds a quiet sense of authority as he makes his daily rounds at Dougherty.
"I keep kids safe, make sure they're in classrooms and deal with emergencies that might come up, like when somebody gets injured. We also have kids that [struggle emotionally], so I help them or take them to the Wellness Center," he said.
Oftentimes, Ortiz is the first responder for injured students and administers medical support before paramedics arrive.
"There's not a whole lot of special training required [for my job], but [campus monitors] have CPR and first aid training. I try to help [students] out as much as possible and get them comfortable until the paramedics or the fire department gets here. You have to be aware of what the situation is and stay calm," he said.
Ortiz made the distinction that his job is solely to supervise and protect kids, not to discipline them.
"I'm not a police officer. I'm not enforcing. [I try to] respect everybody and treat every student fairly," he said. "I can't say that I've had a difficult behavior issue…[though it can be] hard to find a missing kid. But by the time you've covered a large portion of the campus, they're usually back in class."
Ortiz also assists with special education—he was a teacher for Cal High's Special Day Care (SDC) program and knows some of the students in the Dougherty SDC program from when he was employed at Stone Valley Middle School.
"
I keep kids safe, make sure they're in classrooms and deal with emergencies that might come up, like when somebody gets injured. We also have kids that [struggle emotionally], so I help them or take them to the Wellness Center."
"The kids [in the Dougherty program] are comfortable with me. I know most of them, so they respond to me, because I knew them when they were younger. They still respect me as if they were little," he said.
Katie Chinn, who has worked as a SDC teacher at Dougherty for nine years, said that Mr. Ortiz occasionally fills in as a substitute but often comes in just to chat with the students. She described him as a "great friend and hard worker" who goes out of his way to show that he cares about his students.
"In the [2019-2020 school] year before COVID-19, every Monday he would bring in bags of popcorn for the kids, which they all loved," Chinn said as an example. "The kids were always so excited to see him."
Chinn's praise of Ortiz as a hard worker can further be seen in his duties as textbook clerk, where he not only manages the class novels for Dougherty students, but also keeps track of 60% of the class novels for the other high schools in the district, which are kept at our library. He constantly keeps in touch with the other SRVUSD textbook coordinators and librarians to coordinate the lending of books so that there are enough for all students.
"I make sure that every one of you has a book, and for kids that are new to the school, I make sure that they receive their books as soon as possible so they can move right in. I also order new novels, especially for classes like Worley for Sci-Fi English. He's always looking for new ideas," he said. 
On a typical day, Ortiz divides his duties as textbook coordinator and campus monitor and travels between the textbook office, Commons and halls multiple times depending on where he is needed. He normally arrives at 7 a.m. to open the textbook office, followed by monitoring the hallways and cafeteria—"to make sure there's no food fights," he explained—then returns to the textbook office in the afternoon.
In the midst of the pandemic, however, when almost all students participated in remote learning during the 2020-21 school year, Ortiz's day-to-day schedule was drastically different.
"It was really quiet. We did a lot of cleaning and organizing. Finding and fixing books were pretty much my jobs, so if you needed one, we would have it ready for you after school. When we brought in hybrid [learning], there were only about 140 kids, so it still felt pretty empty during that second semester. If you looked out there, I mean, it looks the way it looks right now," Ortiz said, gesturing to the empty outdoor quad area. "I'm very happy to be back."
One of the most difficult aspects of Ortiz's job during last year's remote learning schedule was the lack of connection between him and the student body. Nevertheless, he stated that he had still gotten to know some of the students who were freshmen from the 2018-19 school year before COVID-19 began. 
"I spent a lot of time with [the freshmen]," he said. "[But for the current underclassmen,] I feel like I missed out on two years of getting to know those students. They respect me but there's no connection like I have with the [current] seniors, who are leaving already. It's crazy. We're disconnected but we may forget we also have some good friendships."
Ultimately, Ortiz is very glad to be back in person with school somewhat back to normal.
"With masks it's gotten hard, but I'm not as scary as I appear. I want students to know that I am a nice guy, because [DVHS] has great students. It's funny to walk into some classes when I occasionally have to supervise, and to see the students [basically] running the class by themselves," he said. "It's really refreshing to see the interaction between students because that's rare. I enjoy working here because of that."