Introducing the Wellness Center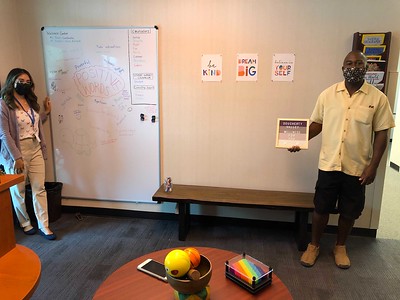 Origins of the center 
The Wellness Center was introduced to help combat the high stress levels of students and to be a safe space for students to get help mentally and emotionally at DVHS. The Wellness Center's purpose is to help alleviate mental struggle in DVHS by making students comfortable to share and express their problems. The Wellness Center officially opened last year, and while it was not very well known in the online environment, it is in-person, and ready to help students now in A114 (by the counseling office). It is important to distinguish between the Wellness Center and the general counseling center as both have very different roles, aside from ensuring the wellbeing of students. The academic counseling office focuses mostly on academic-related matters such as course selection, college requirements, etc., while the Wellness Center focuses purely on mental health counseling. While this center shouldn't be used for professional counseling, it can certainly be used as an intermediary to help students on a smaller scale with mental-health related issues they are dealing with. Whether it's in a private room or with one of the highly trained counselors, everyone is welcome at the DVHS Wellness Center.
Introduce Perez and Pointer 
Catherine Perez and Efferem Poynter both primarily run the Wellness Center, leading mental health staff to ensure that the place is a safe space for students who want support. 
"We're just trying to destigmatize mental health and let students know that it's okay to be struggling with things," Perez explained. "You need to reach out for support when you need it, and that's why we have our mental staff here to provide counselling for students."
Procedure of how to come to the center 
Getting to the center itself is a short walk from wherever you are on campus. If you are in class and find yourself emotionally distressed, ask your teacher for a pass to the center and go to room A114, which is in the office building near the counselors offices. When you enter the center, you will see Mr. Poynter or Ms. Lopez who will be there to help you navigate your emotions.
What they do? 
When a student walks through the doors of the Wellness Center, they are asked to fill out a brief form with their name and other information. The student might also be asked to describe what they want to discuss in the form. In case the students opt to talk to one of the counselors, their conversations are fully confidential (unless there is harm involved, in which case appropriate authorities get notified). 
If "they think it would be more harmful to get their parents involved, then we don't have to. There are times where we do have to break consent. If a student is talking about a plan to harm themselves to harm somebody else, if they're reporting any abuse or neglect going on at home, or if you're bringing a weapon to school. Those are the only times where we would have to break confidentiality, but everything else is safe and fair game." Perez replied. 
After the check-in process has been completed, the student will have the option to either stay in the lounge to destress alone, or talk to one of the helpers. If they choose to have privacy, the Wellness Center has a few private rooms where students can go to relax. Students are allowed to stay at the Wellness Center for up to 15 minutes. 
"We do have the 15 minute time constraint in general just because we want to accommodate teachers as well because teachers can sometimes feel like, "I don't want a student and gone from class for too long." But we do take it as kind of a case by case basis. So if a student is maybe in crisis, or just needs to talk to a counselor, they are welcome to stay longer than that and then we'll just send them back with a path, but generally yes it is about 15 minutes where students can just come and have a cool down break. " Perez said. 
The counselors talk to the students and teach them about coping mechanisms, cognitive mindset and other helpful techniques to manage mental health. This service is not for extreme cases where students may need more professional help. It is advised that if students are looking for such help, it would be wise to contact a therapist or psychiatrist. 
Future Plans 
The Wellness Center also has future plans. Perez and Poynter are hoping to bring in therapy animals down the road, perhaps cats or dogs, maybe even llamas. 
"A student had come in and asked about the possibility of therapy cats and just interacting with animals, and it's interesting, we had previously discussed that aspect of possibly having therapy dogs come and our students would be welcome to come and pet them or interact with them," said Perez. 
Open to everyone: 
The Wellness Center is a free resource available to every Dougherty Valley student. As stated before: in order to obtain a pass to go to the center one must ask their teacher beforehand. In terms of brunch and lunch–the center is available to all students during that time.
"If you are coming during break or lunch but want to stay a few more minutes after the bell, we will just send you back to class with a pass," Perez said. 
It is based on the teacher's discretion when a student may go. 
"If a student is asking every day to get out of a certain class, then there's something else going on there," she added when asked about visiting the Wellness Center to escape a class. Teachers may avoid sending their students to the Wellness Center on a test day for that reason. 
Poynter added to this point by pointing out that "if there's quizzes or tests that are going on, those aren't the times to excuse the students to the Wellness Center." 
The Wellness Center is open to all students at many times, however, it should not be misused by those who don't need the help. 
Students will be given a green appointment slip during a class when they will be called to visit the Wellness center. Every DVHS student has access to it and they should go to the Wellness Center when they need help and guidance or a safe place to let out their emotions. But exploiting it as a way to escape a class will not be allowed.    
How to contact them 
Check the wellness center website for more updates and inquiries. . You can also reach out to their instagram, @dvhswellness, or contact Mrs. Perez at [email protected] or Mr. Poynter at [email protected].