#EndSARS Protests in Nigeria usher in a new era of police accountability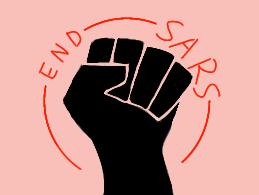 On Oct. 3, a video circulated on Twitter, and eventually became viral, of a young Nigerian man being brutally shot by a SARS officer. Over a period of five days, the video amassed 10,000 retweets, with thousands of Twitter users and celebrities bringing attention to the hashtag, #EndSARS, as a call for police accountability in Nigeria. Five days later, the hashtag went from just an online conversation to an actual movement in Nigeria's streets. Thousands of Nigerians protested police brutality and called for a more equal society while being hit by tear gas from the police. Nonetheless, the protests persisted.
But what is SARS? And why are Nigerians protesting them? SARS (Special Anti-Robbery Squad) was first founded in Nigeria in 1992 in an effort to combat armed robberies in the country, which were on the rise in the early 90s. Most SARS officers used unmarked clothing and vehicles, serving as an ominous part of Nigerian communities as they were unable to be recognized by the citizens they were patrolling. These officers soon realized that their anonymity and power allowed them to target Nigerian citizens and their possessions, resulting in SARS quickly becoming one of the most corrupt police forces in the world, responsible for many instances of theft, brutality and torture in Nigeria. From Jan. 2017 to May 2020, Amnesty International found that SARS was responsible for "at least 82 cases of torture, ill-treatment, and extra-judicial execution."
"
The existence and misconduct of SARS is the main reason for the inception of these protests against the police force."
The existence and misconduct of SARS is the main reason for the inception of these protests against the police force. The people of Nigeria began protesting and flooded the streets, demanding better treatment from their government. The protesters asked for five things from the Nigerian government, calling it their "five demands". Among these are disbanding SARS, releasing activists from jail, prosecuting poor police conduct, evaluating and retraining officers and increasing the salary for agents.
This movement came as no surprise to Nigerians, who for decades, have been subjected to ill-treatment by these officers. Protests against SARS became more relevant in 2020. Many activists claim that the Black Lives Matter protests and movements across the United States have served as inspiration for Nigerian protestors. Idayat Hassan, the director of the Center for Democracy and Development in Abuja, Nigeria, stated that the BLM protests "galvanized the people" of Nigeria and aligned people's "grievance[s]" against SARS.
The protests lasted days, when suddenly, on Oct. 11, the Nigerian President's account tweeted that they'd begin the work of disbanding and dissolving SARS. Stating that the decision will be taken "with immediate effect", the government claimed that they were going to begin the long process of reforming Nigeria's police force. "The disbanding of SARS is only the first step in our commitment to extensive police reform." Nigerian President Muhammadu Buhari said, "The primary duty of the police and other law enforcement agencies remains the protection of lives and livelihood of our people." However, many protestors weren't satisfied because this same statement had been promised to them before— four times, and nothing ever changed. In fact, not only will SARS officers not be prosecuted or fired, they'd just be relocated to different branches of Nigeria's police force. On Oct. 14, the head of the Nigerian police force announced that SARS would be replaced by the Nigerian Special Weapons and Tactics (SWAT) team, who would continue the same conduct that SARS was involved in. According to reporter Alex Ward, the same "mistreatment of Nigerian citizens by its police would continue", but just under the name of a different organization. 
However, many Nigerian activists aren't giving up. Many believe that it will be a political struggle that will come to define a generation. The #EndSARS protests have taken place in several cities across the world including, London, Berlin, New York and Toronto. For a worldwide change and fight against police brutality, these movements are just the first step