Paranormal Forces Want to "Come Play"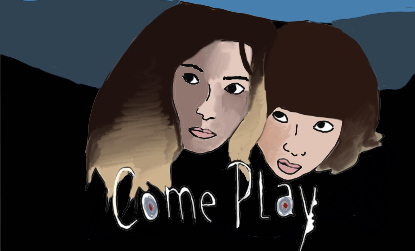 "Come Play" is a horror movie rated PG-13, and set to release by Focus Features on Oct. 30. It conveys messages centered around loneliness; both the causes and supporting factors.
Previously in Noah Baumbach's "Marriage Story", newcomer Azhy Robertson leads as the verbally-challenged Oliver, who has a form of autism and has to communicate to others by using his devices. This makes him a target for bullies, and they cause him to lose his phone and only form of communication. 
The audience realizes early on in the movie that something is watching through the screens of Oliver's technology. This something goes by the name Larry, and is the main character of an ebook, "Misunderstood Monsters", that randomly gets pulled up on Oliver's phone and later his iPad. Larry is depicted as a long-limbed pale, skeletal figure, and is in need of a friend. He chooses Oliver to take this place, as they're both outcasts from others, and Larry offers a promise to "never let [him] go."
"
Smile at people, take the time to learn pronouns, ask others how to pronounce their names, appreciate those around you; it really is the little things that count. "
However, Larry isn't from our world. Not really.
He travels through electricity and devices, and as more pages are read from "Misunderstood Monsters", Larry is able to get more power to enter the human realm. He nearly chokes Byron (Winslow Fegley), one of the bullies shown earlier in the movie, and scares the other boys whom Oliver's mother, Sarah (Gillian Jacobs), invited home in an attempt to let Oliver find more company. 
The movie draws attention to Oliver's non verbality as he's unable to prove that he didn't hurt Byron. However, Oliver has shown violent tendencies in the past, which is why Sarah and Byron's mom stopped hanging out. It's also another reason to doubt Oliver.
And this is where Larry comes in. To offer his hand to Oliver, and if the young boy takes it, he'll completely leave our world to wander through electricity as a spirit of sorts. He won't have to worry about not fitting in anymore.
The moral seems easy enough to understand — No one should be lonely.
But what I found more intriguing were the causes to each one's loneliness: Larry, as explained later in the movie, was born out of humans' loneliness. Sarah pushes others away to try and protect herself from any possible scrutiny of her son's autism; Oliver is lonely because of his mother's love and being outside the norms of school. Marty, Oliver's dad, moves out of the house soon after we watch Sarah scolding him for not really being there for Oliver, but coming in with gifts like the iPad and winning the spot of favorite parent. 
These minor battles can be felt in real life, so the movie is  warning us in a way to watch those delicate strands we're threading on. They're fragile, and can give way without warning. 
So, how can we apply this to our world right now?
Smile at people, take the time to learn pronouns, ask others how to pronounce their names, appreciate those around you; it really is the little things that count. 
In addition to this, the actors and cinematography really tied in the movie together. Azhy Robertson portrayed his character well, by opening and closing his fingers to produce stimuli sensations for himself, and spinning around in circles. What really stood out was his ability to tell the story without speaking. Gillian Jacobs shared much of the screen time with Robertson, and her frustrations, protectiveness, and love were clearly captured. 
The movie also makes use of many forgotten things by the audience, and makes sure to touch back upon them in a subtle-until-it-comes way.
"Come Play" provides a chilling yet heartfelt touch to the horror genre.