Quarantivities & Stories #5: How to hang out with friends (while social distancing)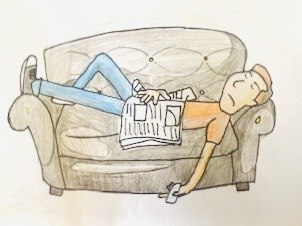 During the stressful times of COVID-19, it's important to maintain relationships, and for us teenagers, that means keeping in contact with our friends. But, of course, we must maintain social distancing simultaneously, which leads to a slight problem.
How do we hang out with people without hanging out?
Don't stress friends, because I'm here with the top 10 ways to spend time with others while keeping them safe.
You could be basic and do FaceTime calls regularly, but to spice it up, maybe a Zoom call once in a while could be interesting. In either case, seeing your friend's faces, bad Wi-Fi and all, is a great idea to stay engaged. If you know someone with a birthday or some other important events, it's also a great way to make their day special during quarantine.

Lately, the use of Netflix Party has shot up, and it's another awesome way to spend time with others. If you don't know what that is, where have you been? In short, it's a Chrome extension that allows multiple people to watch a movie or show on Netflix in real time, while talking on the Netflix Party chat. Everyone does need to have Netflix for this, but there are always ways to get around that (hint hint, nudge nudge).

Even just keeping up with group chats and social media is a good idea. Hit up those friends you don't talk to often. Send your friends an unholy amount of TikToks (if you scroll through some chats on my phone, we don't even talk — we just send TikToks). Finally keep up with your streaks (I don't even have Snapchat). Send each other memes on Instagram (please send from a public account). Stop making quarantine bingos (even though I'm guilty of doing some). Just chill out.

Join some community fun! There are plenty of organizations, local and distant, that are promoting calls or videos to learn new skills or take your mind off the pandemic. Some examples: TikTok lives to learn dances, baking and more; non-profit Rewire holds calls every week to talk and do fun activities; join the school livestreams! There's lots of ways to spend time with people you may not know but who are all going through the same thing.

There are plenty of online games to play with friends too. In-person games-turned-online like Pictionary and Cards Against Humanity, coupled with internet games like Skribbl.io and multiplayer video games, leave little room for disappointment. You can probably find your favorite pastime online now, so you'll be happily engaged while laughing with friends. This, coupled with online interactions like FaceTime, is a go-to hangout.

Of course, if you so desperately crave human contact, there's a way to see your friends in real life. Drive (or get driven) to a pre-decided spot, like the park or a school parking lot, and chat with one another from the cars! This way, you can see your friends while maintaining social distancing (try leaving one parking space between your cars just in case!). But remember, do not, I repeat, DO NOT, exit your cars because that's unsafe for you, your friends and all your families.

If you want a glow-up during quarantine, do group work-outs! Of course, don't forget you're already beautiful and you don't have to if you're self-conscious about exercising on camera, but if you and your group are willing, this is a great way to stay motivated and active. Of course, immediately after, you will end up sitting on your bed for hours, but at least you'll have that satisfaction of having done something productive.

Have challenges with your friends. See who can bake the best-looking cake from scratch, who can embroider the best, whose art is closest to da Vinci. This will help you come back to old hobbies or to pick up new ones, while also constantly checking up on your friends. In either way, you'll end up with delicious food or new room decor, so don't hesitate to try new things!

If your parents let you (please check with your parents first I don't want to be sued), maybe paint accent walls together. It's been a big trend onTik Tok recently, and they usually turn out amazing. You can consider this a challenge for No. 8, but even if not, you'll end up with a transformed room, messy fingers, but overall, a good laugh with your friends. Again, please ask your parents. Please.

And finally, you can actually be productive during this time. Join some non-profits or volunteer services with your friends. You'll meet new people, spend time with others (aka actually socialize, posting pictures of your Dalgona coffee on your Instagram stories doesn't really count as interacting with people), and you'll do some good for a community that could really do with the help.
After you read this, I don't want to see anything on social media about being bored. There's a lot of ways to stay busy during quarantine, whether it be taking care of yourself or spending time with others. Stay safe and enjoy these awesome activities!