Women's Soccer puts skid on losing streak with Granada tie
Following a losing streak which started on Dec. 17, 2019, Dougherty Valley Women's Soccer tied 1-1 in their game against Granada, which ended their losing streak and improved team spirit.
"I'm glad overall as a team we ended up tying today, because the last couple of games we've been unfortunate with our results. I was able to assist the goal made [by Haley Hong], so that's good," senior Captain Alyssa O'Brien said.
While the team knows that they can't win every game, they work hard to play their best. Coach Kasey Addiego makes sure to instill those ideas into his team.
"[My] philosophy is that if you're on that field, you're giving everything you have. If you're not going to do that, then there's somebody else who's going to do it and they'll take your spot," Addiego said.
At the start of the game, the ball was passed from team to team, occasionally getting out of bounds. However, Dougherty's defense was very fine-tuned.
Near the end of the first half, Granada scored the first goal of the game. Addiego shouted, "Be more aggressive!" as the team tried score their goal, but couldn't.
"[I think that] when the other team is going forward we have to stay organized and stay compact," junior Rebecca Hsu said. "When we're transitioning we have to be able to open the field up better."
O'Brien agreed, adding that, "[I think we can improve by] stepping to the ball earlier when it's in our box so no unfortunate goals occur."
Two penalties were called in the last ten minutes of the first half. In both of these indirect free kicks, DV was able to defend their goal and get the ball near Granada's goal.
Despite their effort, the first half ended with the score of 0-1.
"We went down one in the first half but we didn't give up. We stayed organized and we kept pushing. I think that was the first full game, with the exception of the goal at the end of the first half, that we put together," Addiego said.
The second half started out a lot similar to the first, but the ball was in Granada's possession for most of the time. They were near DV's goal, but were continually kicking the ball out of bounds and stealing the ball again when it was thrown in by DV.
In the last 12 minutes of the game, O'Brien moved the ball close to the goal. With a swift pass to sophomore Haley Hong, Hong was able to score a goal, making the score of the game 1-1. The team rejoiced after this goal, and went in for a group hug right on the field, before continuing to play.
"I think this was one of our best games we've had yet. We fought really hard and we competed really well against them. Although it didn't end up with the result we wanted, we never gave up and we held strong the whole game," Brien said.
Even though the team would have preferred to win, many were still happy about the tie.
"I think the team played really well together," Hong said. "We connected a lot and put in a lot of effort."
Sophomore and Captain Abigail Vogel shared a similar sentiment to Hong.
"I think as a team we did really good. It was one of the best games I think we've had. The entire team had really good defense," Vogel said. "I think [we should] just take more chances in the final third." 
The next home league game is on Jan. 28. 
About the Writer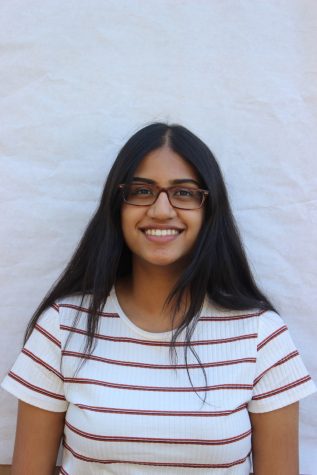 Aditi Lappathi, News Editor
Aditi joined the Tribune because she loved writing and wanted to talk about important issues in the community. This is Aditi's third and last year in journalism, and she was assistant news editor last year....