These holiday movies will snow you away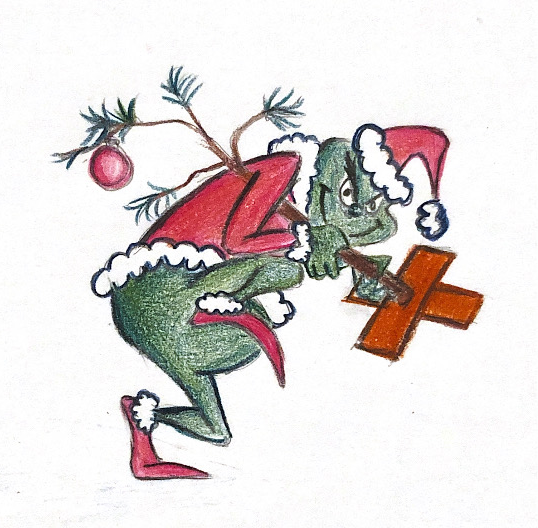 A Charlie Brown Christmas (1965)
The holiday season brings with it a whirlwind of emotions. To some it means pain, and to some happiness. For Charlie Brown, it means confusion.
Charlie Brown struggles to feel anything but apathy during the month overtaken by sales and discounts. Commercialism seems to be what the holidays are all about, but Charlie strives to find a greater meaning for Christmas.
One of the greatest holiday classics, "A Charlie Brown Christmas" finds charm through its simple plot revolving around a depressed elementary schooler and his attempts to get in the Christmas spirit. Simplicity is the key to a classic, and this film truly embodies that sentiment. Its message rings true even today: The holidays aren't about gifts and presents; they're about friends and family.
How the Grinch Stole Christmas (1966)
Whosville is a city for the merry. It redefines Christmas spirit and takes cheer to new heights. It is the happiest place on Earth.
But one man hates it.
The Grinch, now a holiday icon, was born in an era of commercialism and felt as though the holidays have no heart. As he schemes and steals Christmas, he soon learns that the holidays are about love. And eventually, he learns to love them, too.
The bright colors, gorgeous animation, and brilliant voice acting bring Dr. Seuss' story to life in this Christmas classic. Sparking reboot upon reboot, the original was nothing short of iconic and historical.
Frosty the Snowman (1969)
Whimsical and amusing, this classic is perfect for younger children to watch during the holiday season. With his corncob pipe and button nose, it's difficult not to fall in love with kind Frosty. As Frosty and Karen embark on their adventure to get Frosty to the North Pole to ensure his safety, they're faced with several problems. Luckily, Hocus, the rabbit, has an idea and calls someone who saves them all. This short film is filled with laughter, conflict, and best of all, a soundtrack that, fifty years later, is still desirable.
Home Alone (1990)
Strangers' footsteps in an empty house. Rube Goldberg machines littered across bedroom floors. Little boys armed with their mind and their house.
None of these things scream "Christmas movie," but Chris Columbus saw their potential for greatness. And through his vision came one of the greatest movies of all time.
"Home Alone's" premise — little kid defeats older villains — is a tale as old as time, but the execution truly makes this film stand out. The meticulously planned traps, the comical reactions by the goons, the spark of mischief in Kevin McCallister's eyes — these all tie the film so neatly together in one nice Christmas package.
This film has earned its place as a Christmas classic. It's funny, unique and incredibly heartfelt. Its recognition is completely deserved.
The Santa Clause (1994)
In all honesty, the plot of this movie is a bit too dark for a children's movie, but with its witty jokes and humor, the story is made to be more lighthearted. When Scott Calvin accidentally knocks Santa Claus off of his roof, killing him, he is convinced by his son, Charlie, to put on the suit and continue delivering presents for Santa in the reindeer sleigh. Soon, the reindeer take them to the North Pole, where, to his dismay, head elf Bernard explains to him that he is bound by a clause — the "Santa Clause" — to replace Santa Claus and do his job. Chock-full of creative twists and hilarious scenes that'll make you ho-ho-ho, this movie is definitely worthy of its trilogy.
The Polar Express (2004)
Nameless children. A noisy train. Cups of hot chocolate and a conductor without shame. All woven carefully together with an intricate plot that forms a cinematic masterpiece.
"The Polar Express" tells the tale of children journeying to the North Pole to meet the famous Saint Nick. They get tangled up in trouble along the way but work together to find the true meaning of Christmas and the real purpose of Santa Claus.
Each minute is lively, action-packed and all-around fun. Its heartwarming, comedic writing makes it loved by viewers of all ages.
The Polar Express isn't your average Christmas movie. Its unique plot and distinct animation make it stand out from the rest. The soundtrack wraps up the film in a neat little bow and makes it perfect for the holidays.
Barbie in the 12 Dancing Princesses (2006)
A true early 2000's kid classic, "Barbie in the 12 Dancing Princesses" was every little kid's dream. Finding a secret magical garden hidden in their room, sneaking into it and dancing all night to music played by the garden itself truly seemed like a magical experience — despite the suspicious, evil duchess. "Barbie in the 12 Dancing Princesses" teaches audiences that no matter what, there will always be someone to look out for you — maybe even someone whom you least expect. Truly one of the best Barbie movies made, this film has every aspect of a remarkable, magical children's movie.