Freitas on the run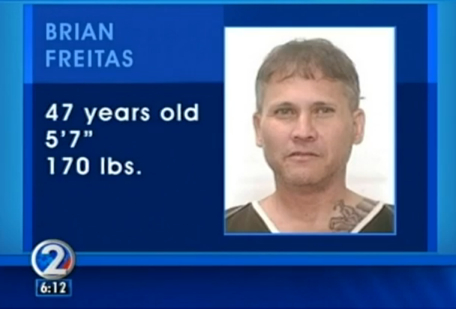 A Hawaiian native who fled the island for the contiguous United States nearly a year ago may have fled to California. He might have been posing for over a year as a Baseball Coach and Physical Education Instructor at Dougherty Valley High School in San Ramon.
Students in his class may know him as "laid-back", "chill" or "reminiscent of Mr. Bellomo", an eighth grade PE teacher from Gale Ranch. Some students may not even know him at all.
Little does anyone know of Mr. Brian Freitas' potentially surprisingly dark and mysterious past.
When the Tribune requested an interview about the Varsity Baseball Team a month ago, suspicious behavior was already present. Freitas gestured into his darkened PE office. He quickly ripped off a piece of paper tacked to the wall. A source that wished to remain anonymous later emailed us a copy of what was on the wall—a mug shot and a headline of a dark past: "Hawaii's Most Wanted".
The Tribune tried to conduct the interview in a professional manner, but Mr. Freitas suddenly became distracted.
"On second thought, today is a bad day for the interview. Tomorrow doesn't look good either."
A video was later sent in an unmarked envelope to our headquarters—it reported that a Mr. Brian Freitas was wanted on a $500,000,000 million warrant for 4,700 convictions, one of which was the fraudulent use of a student ID card at the movies to get the student discount. Reports also claimed he snuck into a later showing of "Twilight: New Moon".
Further research indicates that there are multiple listings of a Brian Freitas in the Honolulu, Hawaii area, many matching the age and height of said robber. The Honolulu police may have located the wrong person, or, quite possibly, the news channel might have simply received the wrong photo.
If "Hawaii's Most Wanted" was able to successfully flee to California under the guise of a freshmen Physical Education teacher, one can't be sure what he is entirely capable of.  Many more questions are sure to arise.  Has he had a partner-in-crime to help him with his new surroundings—Mr. Sorenson, maybe?
Editor's Note: Irene Chang abruptly dropped out of the Tribune before this article could be further researched. She had the only known copy of the DVD. Mr. Sorenson was unavailable for comment.