Hillary and Chelsea Clinton visit Danville to promote new book on female empowerment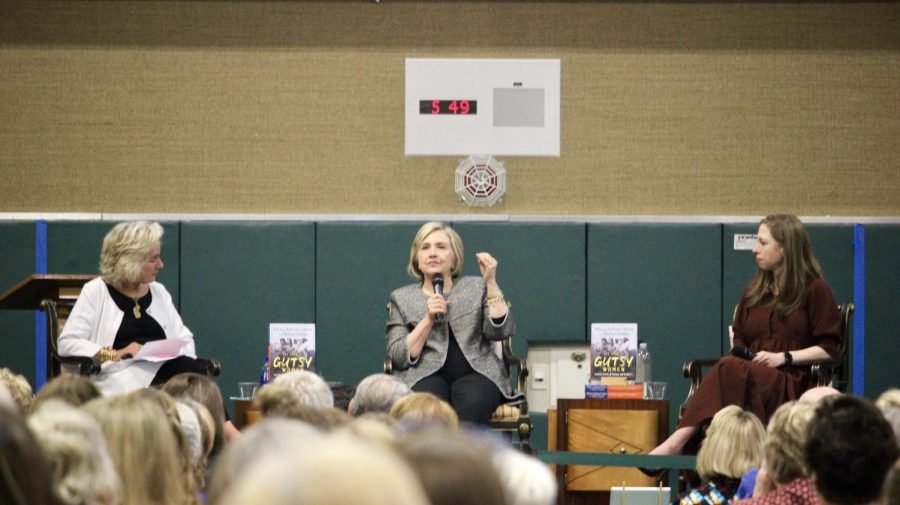 Former Secretary of State and First Lady Hillary Clinton and former First Daughter Chelsea Clinton visited Danville on Oct. 20 as part of their book tour, promoting "The Book of Gutsy Women." Hundreds of people flooded the SRV gym to hear an uplifting conversation on female empowerment and how to be a "gutsy woman."
Greeting with a standing ovation, the conversation ranged from the mother and daughter teasing and greeting each other to an in-depth conversations on the importance of being a "gutsy woman" and dealing with challenges such as how to be yourself.
"The Book of Gutsy Women," written by both Hillary and Chelsea Clinton, includes stories of the many "gutsy women" who have fought to change society. H. Clinton remarked, "We start the book by talking about stories." Some of the people described range from Harriet Tubman, leader of the Underground Railroad, to Ada Lovelace, the first computer programmer.
Part of being a gutsy woman, H. Clinton emphasized, is empowering other women and encouraging other women to become a better version of themselves. She described how a mother and a little girl told her, "[since] you wrote a book, we are going to write our own book, and I really recommend that, even if you never ever get it published."  Clinton added that "when I was a little girl, I had my mom as my role model."
Despite the protesters outside the building, chanting anti-Hillary slogans such as "lock her up," members of the audience felt no lack of passion and hope. A mother in the audience remarked, "As a mom of three little girls, learning how to encourage them to be gutsy woman is something that I've tried to do since the day I was born." Attending this event has impacted her life immensely, as "being so close to Hillary and Chelsea and to hear their story, being here with my mom and remembering what she has taught me as I raise my girls, is such a good reminder that being gutsy is something we can do every day." 
Gale Ranch Middle School Principal Sue Goldman was also in attendance. She commented, "It gives me hope that not only can women rise up and be gutsy, but they can also do what it takes to be kind to one another and make the world a better place."
About the Contributors
Daniela Wise, Social Media Editor
Daniela joined the Tribune because she enjoys writing, interviewing and communicating with people, voicing her opinion, and expressing herself. She finds the press to be very influential in society at large....
Harshita Neralla, Social Media Editor
Harshita joined the Tribune because she enjoys writing and reporting. This is her third year in Journalism; her first two years were spent as a staff writer and as the social media manager. She is excited to...