Netflix originals capture diverse audiences
Over the last several years Netflix has become more than a streaming platform for the television industry. Recently, Netflix has begun to produce its own movies and shows as part of their brand. Dubbed "Netflix Originals," these series tackle a wide range of topics and genres for all viewers from horror flicks to educational docuseries.  
One of Netflix's most popular series "On My Block" tackles some of America's most pressing issues of inner city life. Starring a virtually new cast of undiscovered actors, this Netflix Original covers race, gun violence and gang affilliation as part of its overarching theme.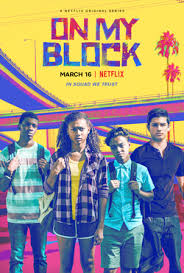 Starting off in a made-up LA suburb called "Freeridge," the show navigates through a friend group of four freshman growing up in a rough neighborhood. Monse (Sierra Capri),  Cesar (Diego Tinoco), Jamal (Brett Gray) and Ruby (Jason Genao) tackle the grips of the street while also fighting their own personal demons.
As the story develops we see Monse fall in and out of love with Cesar as he struggles to avoid his family's strong ties to the local gang, "The Santos." Ruby struggles to deal with his eccentric home life and his growing crush on family friend Olivia (Ronni Hawk). Jamal strives to uncover the mystery of "Rollerworld," an urban legend started by the neighborhood that claims thousands of dollars in cash have been hidden in the neighborhood for 30 years.
However, with the cliffhanger ending of season one, viewers are left to wonder how the story will develop. Many had issues with the actress Ronni Hawk playing Olivia due to some controversial statements she made in the past on Twitter. The ending of season one left many wondering if she would make an appearance in the next season.
After Netflix released the trailer for "On My Block," however,  it was clear Hawk was no longer part of the show and the plot would take a darker turn then before.
Cesar struggles as a homeless teen wondering where his next meal and shelter will be everyday. Monse finds her biological mother and debates if she should leave Freeridge for good. Jamal has solved the mystery of "Rollerworld" but grapples with what to do with all the money he found. Ruby deals with PTSD after suffering a shootout at Olivia's quincenera at the end of the first season. Together, viewers watch a show that does more than just show teenage life. "On My Block" tackles real issues that people face in all types of communities across the country like gun violence and poverty. It gives exposure to some of the struggles that are often never talked about in the media because of its lackluster meaning. Instead of glorifying gang culture and guns as many shows do, "On My Block" shows the inhumane parts of society through the lives of four teenagers.
Netflix isn't new with the concept of representation. Despite how different every Neflix Original is, there seems to be an underlying theme present in many of the newer teen/young-adult shows.
The efforts of these shows to push a necessary discussion of social issues in the world are coupled with an engaging plot and relatability that allow Netflix works to be inclusive and thrilling.
"The Chilling Adventures of Sabrina" exemplifies Netflix's remarkable attempt to expose misogynistic structures using dark fantasy elements. Originating from "Sabrina the Teenage Witch," this show is a crossover between witch culture and "Riverdale," a popular Netflix original based off of the Archie comic series. The main character Sabrina Spellman (Kiernan Shipka), finally commits to the Dark Lord, and is now combatting the sexist structures of her new school while coping with the anxieties of her mortal world relationships. The Dark Lord represents evil, or Satan, throughout the show.  
In Sabrina's witch and warlock world, she has to prove her worth on a larger scale compared to her male counterparts. The Church of Night is ruled and counciled by men and repeatedly push the fact that witches are not as strong or worthy enough to help rule over the magical world.
Compared to season one, the new season of Sabrina ups the feminist ante by confronting the misogynistic institution that the witches are forced under. As early as the second episode, Sabrina is shown competing in a boys-only tournament that determines which of the students will represent the school. The fact that the representative has to only be male is a clear example of this supposed weakness of female witches.
However, Sabrina isn't the only witch combatting the male-centered agenda. Principal Wardwell, who reveals herself to be Lilith, the Queen of Hell, fights to end the Dark Lord's patriarchal reign of terror. Furthermore, Zelda, Sabrina's aunt, appoints herself High Priestess when Lord Blackwell, one of the main antagonists and the main propagator of the archaic regime dies.
"The Chilling Adventures of Sabrina" made its underlying feminist tone very evident toward the end of the series with the intense change of power from male domination to one of female empowerment. This, coupled with "On My Block" and its story on gang violence and impoverished communities, allows Netflix to express a narrative that emphasizes social change.
Overall, Netflix has managed to expand its variety in content these last few years by creating its own original brand in the television industry. What separates Netflix from other networks is the precision to deeper meaning in every show. Whether it's about witches or a group of teens, Netflix always ensures there's an underlying message to be found within.