Blossom Bee delivers an "un-bee-lievably" cute experience
Blossom Bee, a tasty Thai crepe fusion cafe in Dublin, has been known to locals as a "hidden gem" for quite some time. Despite slight issues with limited space and staff and except a few outliers due to excessive sauce, the food was tasty on the overall.
Ambiance:
The area around Blossom Bee is old and dingy, which doesn't do justice to the inside of the small cafe. The space feels cramped, with only two tables outside and about eight tables pushed close together inside.
Although the cafe itself has dull artificial lighting, natural light floods through the large windows. The area is full of plants, giving it a fresh and natural feel. The plush patterned pillows and antique wood tables gave a cozy feel to the seating area itself. A small additional touch is that drinks are also served in mason jars, which adds a layer of comfort to the cafe itself.
Service:
The servers were attentive in the beginning, but I noticed that their awareness of us seemed to fade after we were served.
When I walked in with a small group, they immediately gave us our menus. I've noticed from past experience that waiting times can get quite long on weekends because of the limited seating and staff. However, on that specific day (Tuesday, near closing time), once our orders were placed, we received our food quickly, only about 10 minutes later.
Food:
The Blossom Bee menu consists of Thai fusion and crepes. Although initially I thought this was a bit strange, the end result is satisfying.
There are around 50 food options available, varying from strictly Thai food to both savory and dessert crepes. They also have a "Build Your Own" crepe option, which gives a personally customized feel to your own dish.
If you're not interested in a crepe, some of their traditional Thai food includes different types of currys, thai soups, and multiple rice and noodle plates. They also have around 20 drink choices. All savory crepes are served with a side of salad, and all dessert crepes come with the nice additions of ice cream and whipped cream.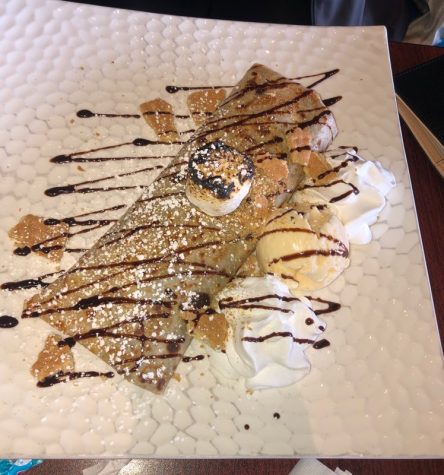 "S'mores" for $7.95 — 4.5/5
The S'mores crepe is filled with marshmallow, chocolate and crushed graham crackers and served with ice cream and whipped cream on the side.
We all were charmed by the spectacular presentation. The crepe had the perfect crisp consistency and had a satisfying balance of chocolate and marshmallow. The ice cream was creamy and complimented the crepe nicely. And, the marshmallow on top was slightly burnt and created a campfire feel to the S'mores dish.
Unfortunately, one of the most anticipated parts of the dish, the crushed graham crackers, were nowhere to be found inside the filling of the crepe. They were only placed on top and around the crepe, which was slightly disappointing.
This crepe was also slightly overpriced. For an item with only three ingredients in the filling, with one of them not delivering as expected, $8 is not a fair price to the buyer.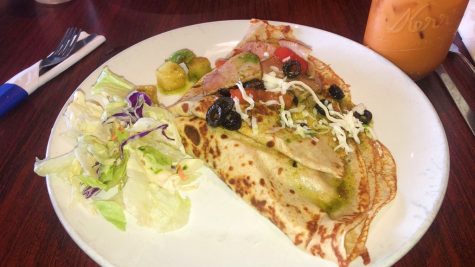 "Classy Ham" for $8.99 — 4/5
The Classy Ham crepe came with a small side of salad, and the crepe filling itself was ham, avocado, pineapple, tomato, black olives, mozzarella and pesto. The fresh salad had a light vinegar dressing, which added a sophisticated taste to the otherwise plain salad.
The filling itself was extremely rich and was well worth the price. The ham and pineapple worked extremely well together, and the pesto gave a bit of the needed saltiness to the overall sweet-inclined mixture. In particular, the ham needs to be given credit for its perfect crispness on the edges and for not being overly chewy in the middle.
The one complaint I have about this dish was that the filling didn't seem to start until about an inch into the crepe's opening. I also noticed that the avocado wasn't freshly cut and seemed to have already been oxidized, which was a bit off-putting. There was a bit too much pesto, which made the crepe slightly soggy upon receiving it.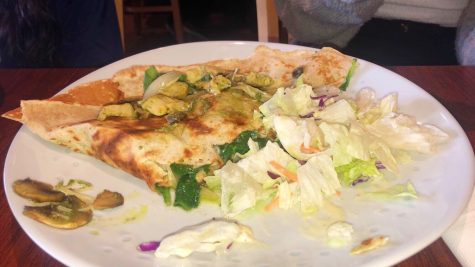 "Chicken Pesto" for $8.99 — 3.5/5
The Chicken Pesto crepe also came with a small salad side, but the crepe was instead filled with grilled chicken, mushrooms, spinach, onions, mozzarella, parmesan and pesto. The salad was the same as in the "Classy Ham" dish, and I enjoyed the salad and its dressing counterpart.
However, this crepe, specifically, was my least favorite of the three I tried. The pesto overpowered the entire crepe and I could barely taste anything else. The mushrooms were also uncomfortably chewy; however, the chicken alone was grilled to perfection. The spinach inside was just the right amount, and the dish didn't taste bitter because of it.
I feel like this crepe had so much potential but, because of the vast amounts of pesto, became soggy, overwhelming the other delicious parts of the dish.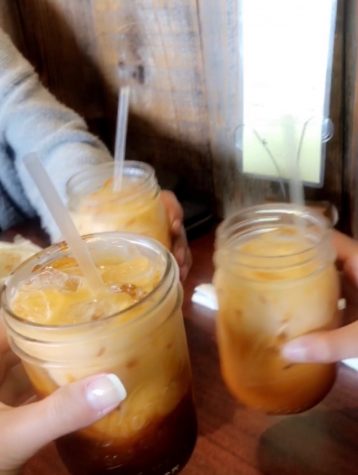 "Thai Iced Tea" for $3.50 — 5/5
I can easily say that this was my favorite part of the entire Blossom Bee experience.
As aforementioned, all drinks are served in mason jars that give a cute and "cozy" feel. This specific drink is quite aesthetically pleasing, and its beautiful look definitely matches the delicious taste. It's creamy and sweet without being overpowering. This specific Thai tea is definitely one of my favorites, and I'd be more than comfortable saying that it blows its T4 and Boba Guys counterparts out of the water.
"Tangy Mango" for $4.25 — 4/5
This smoothie had fresh mango, fresh pineapple, and mango juice blended well. The fruit flavor came through strong and it tasted fresh. It tasted like it was combined with vanilla ice cream, which gave a rich flavor. The smoothie's texture itself was thick, but there were no unpleasant chunks and it was quite smooth. Although this isn't the best smoothie I've had, if you're a fan of tropical fruits, this should be a decent drink for you.
Other tips:
Serving sizes are quite large, so I'd say that one crepe is more than enough per person.
I'd go for the crepes first, since that's what the cafe is known for.
Definitely try the Thai Iced Tea.
Summary:
I'd have to say that I mostly enjoyed both the food and ambiance of Blossom Bee. The mood that the plants, wood tables, comfy pillows and "antique" mason jars creates help to make the entire experience more enjoyable. However, I would like to see the actual physical space expanded, allowing them to seat more people comfortably. They were also understaffed, which affected the quality of the service slightly. Regarding their food, the crepes were overall appetizing but tended to overuse condiments. All their drinks options seem delicious; however out of the ones I tried, I would recommend the Thai Iced Tea. I definitely recommend Blossom Bee as a whole, and I think this could be a cute cafe for you and a small group of friends or family!