Democrats Rebecca Bauer-Kahan and Tony Thurmond surprise opposition to take California seats
On Nov. 16, 10 days after California citizens cast their votes for the 2018 midterm election, Rebecca Bauer-Kahan and Tony Thurmond were confirmed to their first terms as, respectively, representative of California's 16th State Assembly district and California Superintendent of Public Instruction.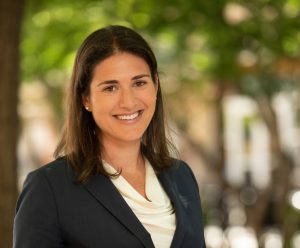 Rebecca Bauer-Kahan, an attorney by profession, primarily centered her campaign platform on local community issues such as public education.
Citing her Bay Area educational background and school board leadership experience, Bauer-Kahan committed to increase funds for local schools to allow for an improved STEAM education framework.
With California currently being one of the lowest ranking states in education spending per pupil, this would eventually prepare students for modern careers. She also plans on reforming the college loan system, so as to decrease student debt across the state.
Bauer-Kahan also offered anti-Trump stances on broader national issues such as climate change, immigration policy and abortion rights. In regard to immigration policy, she is expressedly averse to the zero-tolerance policies used to separate families at the border.
Bauer-Kahan also supports increased funding for Planned Parenthood and more stringent gun prevention laws.
On the other hand, opponent Catherine Baker has been in office since 2014 and was seeking her third term.
While Baker and Bauer-Kahan share similar views on gun reform and abortion, Baker's stances on the environment and criminal justice differ: the Republican voted against a bill that would reduce greenhouse gas emission levels and another to amend bail procedures.
During the campaign, Bauer-Kahan advocates also called Baker out for not following through on stances she claimed that she held. They pointed out that despite identifying as pro-choice, she voted against a bill that would require certain health clinics to provide their clients with information on state-funded abortions.
Hours before Bauer-Kahan was elected as 16th district Assemblywoman, incumbent 15th district Assemblyman Tony Thurmond also pulled far enough ahead to be confirmed as Superintendent of Public Education.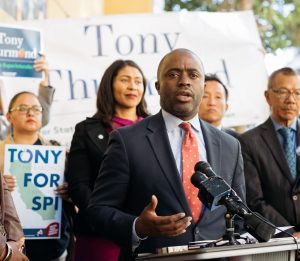 A former social worker and educator, Thurmond prioritized school safety from gun violence, funds and financial transparency for public schools and support for English language learners.
In his race against Marshall Tuck, Thurmond also opposed "Donald Trump and Betsy Devos's efforts to privatize the public education system" and worked in "ensuring accountability for charter schools."
Persuaded by Thurmond's opposition to the privatization of the school system, the California Teachers Association (CTA) put its support behind the Assemblyman.
Citing Tuck's outspending of Thurmond by a 2-to-1 ratio, CTA president Eric C. Heins said, "Tony prevailed in the most expensive race for a statewide schools' chief in the history of U.S. politics because California voters know he will advocate for all students … Both Thurmond and Newsom will treat our schools as community centers, not profit centers."
In addition to the CTA, the California Democratic Party and all five of the 2018 California Teachers of the Year also endorsed Thurmond. A strong presence in the northern coastal region, especially in the Bay Area and Los Angeles counties, carried him to victory.
Dec. 3's completed count showed Thurmond leading the total by a 1.8 percent margin of about 187,000 votes (California Secretary of State).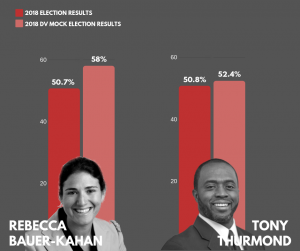 In a mock in-school election that surveyed about a third of students, both Bauer-Kahan and Thurmond edged out their Republican opponents, with slightly higher leads than the overall state election. Bauer-Kahan won 7.3 percent more votes and Thurmond won 1.6 percent more.
Both candidates similarly won by narrow margins in the state election, upending the early victories of their rivals, Baker and Tuck, respectively.
Asians had greater representation in the Dougherty election, with 72 percent of the vote compared to 42.3 percent in San Ramon and 13.9 percent in California at-large. At that level, whites had the majority, with 61.3 percent of the vote.
California voters also tended to be older, with residents age 55 and older accounting for 48 percent of likely voters. In comparsion, a vast majority of participants in the on-campus poll were under the age of 18.
On Dec. 3, Bauer-Kahan officially entered office as 16th district Assemblywoman under oath at a ceremony held at the California State Capitol. Thurmond will take office as California Superintendent of Public Education on Jan. 7, 2019.