California Camp Fire endangers health of all children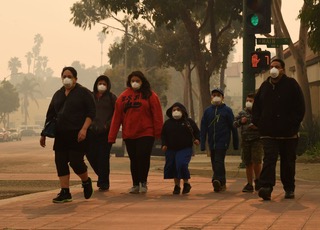 Rahul Kumar, Guest Contributor
December 6, 2018
Paradise, a once-beautiful Californian city full of golf courses, boats, museums and beautiful parks, has been devastated by the Camp Fire that began on Nov. 8, 2018.
Every morning, Mount Diablo glorifies San Ramon with its majestic, refreshing rays. But at 7 a.m. on Friday, Nov. 16, what normally would have been an aesthetic and refreshing sight was filled with haze and darkness.
A city's favorite mountain turned invisible overnight. It was horrific.
According to the New York Times, this haze travelled a great distance to the East Coast, approximately 3,000 miles, from Paradise Valley, its origin. To make it worse, as of Dec. 6, the death toll caused by the Paradise fire has risen to 85 people, with many others missing.
Why not drive away?
It seems like the most logical thing to do, but how can one even get out through the highway when fire approaches closer and closer, narrowing in from both sides of the road?
Luckily, the fire has been contained as of Nov. 25, but the devastation caused by the fire continues. In 17 days, 18,804 buildings were destroyed, 153,336 acres of land were burned, approximately $9 billion of insured losses was issued, and 11 people are still missing, a significant decrease from the 563 during the start of the fire.
But, this fire can't be classified as contained, not if its effects are still out there.
The health impact on children
Let's talk about the health impact of the smoke on children and other sensitive people.
The burn creates small particles one-thirtieths of the size of a strand of human hair. People caught in the fire or anywhere near it inhale these particles. When one keeps breathing such particles, they face irritated eyes, breathing issues and other cold-like symptoms.
The average child's lung-to-body ratio is very high, and they breathe more quickly than adults. Due to the nature of their bodies and the way their lungs function, they are more susceptible to the lung and heart issues that are caused by these airborne particles. Those with heart ailments and specific lung conditions, such as sarcoidosis and bronchitis, will be oxygen-deficient and unable to breathe for certain periods of time.
Since most of them were exposed to a greater amount of the small particles from the fire that were circulating the air and rapidly entering their bodies, kids will begin to develop lung abnormalities that will only get worse as they age.
In fact, after previous fires, such as those that occurred in British Columbia, many patients rushed into hospitals facing chronic obstructive pulmonary disease (COPD), heart disease, respiratory disease and similar lung-related diseases. Even slight exposure to smoke particles affected patients of these conditions severely.
Long-term exposure, as previously stated, narrows and damages lungs, increases difficulty in breathing and significantly reduces life span.
According to the New York State Department of Health, "firefighters who helped during the 9/11 terrorist attacks are still undergoing severe breathing abnormalities, lung issues, and even (by the smoke present), cancer." Even though the event occurred approximately seventeen years ago, the effects on firefighters are still apparent.
Everyone can make the connection that when these particles enter into the human system, victims — be they at the World Trade Centers or the Camp Fire — are bound to witness negative effects.
The environmental impact
Across the U.S., a total area larger than the entire state of Oregon has been burned in the last 10 years due to wildfires.
Tens of thousands of acres of land and many homes have been destroyed. This trend has been steadily worsening over the years, with no possibility to reduce in sight. Many of this nation's beloved and beautiful forests have been lost — and among the latter, many won't rehabilitate in the near future.
Wildfires significantly alter the environment and its landscape.
Naturally, our land provides the ability to generate food, water, fiber, soil, nutrient cycling and carbon storage. Fires take away all of these benefits. Specifically, fires increase the likelihood of water erosion, which causes water-run-off, flooding and the sedimentation of water pathways.
Take action
Is it possible to avoid the effects of the fire?
No, of course not. At one point everyone will be exposed to the smoke. However, taking preventative measures and minimizing smoke exposure can go a long way.
For those who are sensitive to the smoke, keeping updates on the current air quality is key. An AQI value of zero to 50 is a good sign. Every increase of 50 in AQI value, however, means a worsening air quality. From 51 to 100 AQI, a moderate health concern manifests. From 101 to 150, the situation becomes unhealthy for sensitive groups.
From 151 to 200, sensitive groups face unhealthy air quality, and going outside would be extremely dangerous. At this stage, it is highly recommended to stay indoors and activate air purifiers.
A respiratory mask is also essential, but make sure that it has an efficiency rating of N95 or higher and that it seals your face completely. Conclusively, avoiding the outdoors and staying safe indoors will allow an individual to stay safe during times of high AQI.
Despite the high threat present as California forests continue to burn, and despite the land, history and lives lost, we as a nation can beat the fire by taking preventative measures that ensure our safety and the safety of our loved ones.
We all need to work together to eradicate this social problem. Working with our policy makers, we can put together a new plan together to save our forests and our lives.
If we fail to take action, our children will have nowhere left to play, our buildings nowhere left to stand, and our people with no memories to relive. Our history will have no place left to be.