Dougherty Valley Women's Varsity Tennis exhibits great performance in their recent games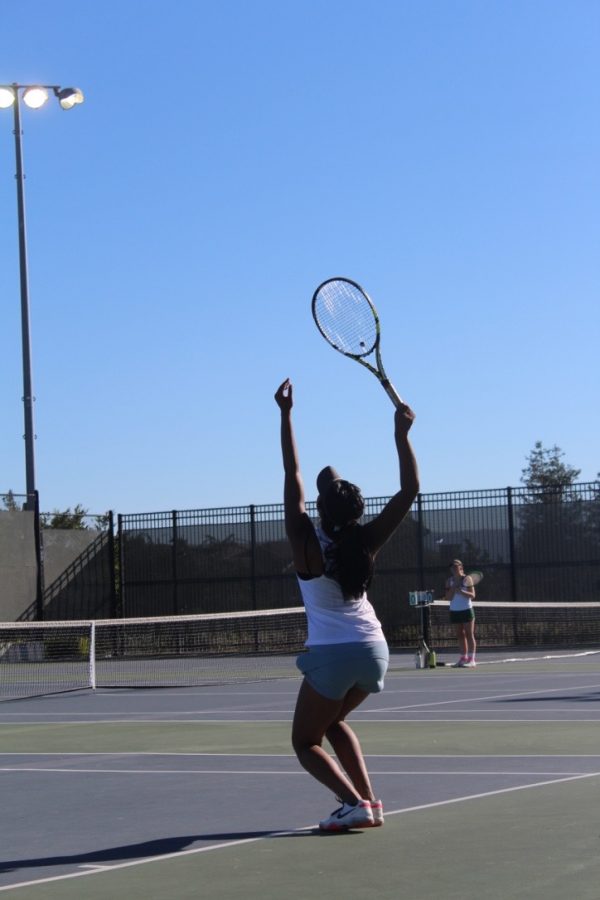 Teju Anand, Assistant Photography Editor
September 25, 2018
Granada High School, Livermore High School and Foothill High School were unable to keep up with Dougherty Valley's competitive and confident women's varsity tennis team. The DV women's varsity tennis team crushed Granada 9-0 on Sept. 4 and Livermore 9-0 on Sept. 11 in home games and beat Foothill in an away game 6-3 on Sept. 6.  
DV's varsity girls were able to outmaneuver their opponents because of their fast backhands and forehands. They were also able to return sideline shots and net shots because of their speed.
"They are developing and they're working really hard to learn how to win points and be a little bit more confident. Their confidence is rising, which is really good," coach Patrick Estes said.
Besides the team's triumph in league matches, the team showed their improvement and bravery when they played their first tournament this season at Stanford during Sept. 7-8. Despite losing all their games, they were still appreciated by Coach Estes. He stated that the score didn't reflect their performance given the fact that they played against high-level teams.
Overall, "I think we started well, I think we've come up against a couple of good teams. We have had some issues and now we know a little bit more about what we need to work on, what we need to practice in order to do better in the league matches that we have coming up. Any year is going to be a process where we build on that year and we will get better as we go," Coach Estes reflected.