Intrigued by antiquity: Marcia Harmon
"Do you know what antiques are?" she asks. My mind races to comprehend her words. Is this a trick question? Aren't antiques, just, old things?
In Downtown Danville sits a little shop called Cottage Jewel, an eclectic collection of layers and layers of history displayed in the form of old clothing, brooches, teacups and jewelry – oh, so much jewelry.
Marcia Harmon, driven by her passion for jewelry and all things intricate and old, has collected antiques and vintage items since her childhood, displaying her treasures here in the little shop, which she now owns.
"One hundred years," she informs me with a laugh. "One hundred years or older make an antique."
In its own way, Cottage Jewel is a museum, and has all the elements to fill a museum the size of the SF MOMA ("Oh wow! You have so many things!" A first-time customer exclaims), all crammed into a one-floor space. Stepping into the shop feels like stepping on a land mine; one false move might cause a domino effect of delicate jewels to topple. It's clear this shop cannot be the creation of just any odd person.
Harmon calls herself a "born collector," having collected stamps, coins and dollhouse furniture before fixating on beads, which furthered her artistic passions regarding jewelry.
"I've been part of the National Bead Society for about 25 years. Beads were our money. That was how we bartered and our link to other civilizations," Harmon explains, after showing me a blue and orange necklace made of hand-made Italian lamp-work beads. How she figured my favorite color combination was blue and orange is beyond me, but it was a talent that I wasn't going to complain about.
"Beads don't go bad. After they break, you scoop them up and save them in a little baggy," she continues. "Then you restring them."
Cottage Jewel is labeled as an antique, vintage and handmade shop.
"If it was just antiques I wouldn't survive," she laughs.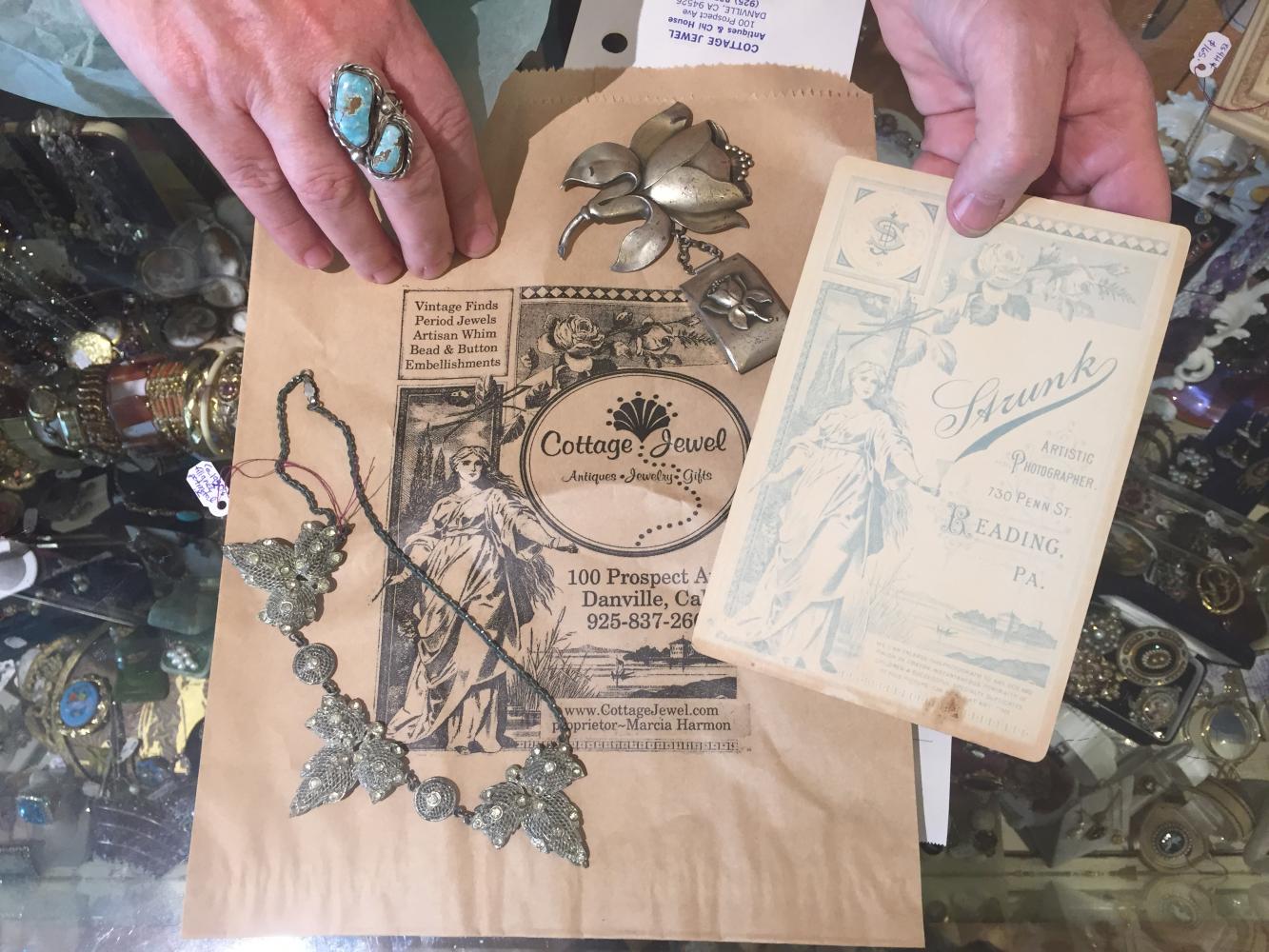 Either way, Harmon's goal is promoting the arts, and she ensures that every piece in the shop is one of a kind, even the display cases. She points out in particular a case that now holds a seemingly indefinite number of sparkling brooches. She calls it the "candy case", as the antique actually used to hold candy in a general store over a hundred years ago. From the front, the glass is clear. From the side, it becomes apparent the glass isn't smooth, instead trading the plainness of present day, standard glass for waves and ripples. She clarifies that it's because over 100 years ago, glass was almost poured into its shape and when it cooled and dried, it formed "wave glass", the original antique glass.
"Isn't that totally cool?" she gushes, patting the top of the case.
Much of the jewelry in the shop originates from the 1950s to '60s, but overall, she tries to keep everything 1940s and older. As all the items are at least a few decades old, reparations are an option to maintain its quality, but often, when it isn't a matter of life or death for the piece, she deems it unnecessary.
"I bring attention to what a flaw might be. But I'm not into perfection," Harmon says, "I kinda like the character it brings to old pieces."
While antiques and vintage pieces don't appeal to a considerable amount of people, it becomes apparent why they are treasured, listening to Harmon speak about the history of antiques. She showed me some items in the display case underneath the cash register, some cameos she calls "literally a portrait from the past," a pair of angels and a portrait of a boy that was most likely made as a memorial. A particular piece stood out, however, more modern than its antique counterparts. She tells me that the piece actually originated closer to 1865, during the aesthetic movement in Europe, inspiring the Art Deco movement closer to our time. The aesthetic movement in itself, she enthuses, also took different elements of art styles from different cultures and incorporating it into an artist's own work. Style and fashion repeats in that way, she says, always inspired by something of the past.
"Unfortunately [antiques] seem to be falling out of fashion, falling out of interest," she says. "The obsession with taking a picture and finding it on your phone is so different from touching [the antique], feeling it and feeling its energy."
The modern retro look from the 1940s, Harmon notes, seems to be in style again.
"But I like the original pieces versus just a reproduction," she comments. She chuckles. "Maybe I just like funky, beat up things."
From age nine, Harmon began designing and selling jewelry. After hitting middle school, she became a track star, and thus marked a hiatus in her antique and vintage path. In high school, Harmon joined leadership and became Senior student body president of Miramonte High School in Orinda, Calif. She studied business and economics at UC Berkeley, traveling internationally as she took up her first job in Germany, and jumped around her occupation as she sold everything from old retail teddy bears to business equipment and HR services.
Throughout her journey, her passion was not forgotten. While she worked during the day, Harmon designed and sold jewelry under the brand name UBU on the side, featured in fashion shows and high end galleries across the country. As many stories do, the birth of her son rerouted her path, and led her to join an antique collective. She was unable to conform with her original idea of utilizing the collective as a break from motherhood, and ended up being "sucked into retail".
"I'm creative, so [graduating high school] I thought maybe something in marketing or business … and I got off track," Harmon recalls. "But you always come back to who you are, and what is fulfilling. The pathway is like" – she waves her hand in a squiggly line – "but life is so full of opportunities. You just have to listen and learn."
Cottage Jewel is located at 100 E Prospect Ave, Danville, CA 94526.