Long-time DVHS coach departs for Bishop Gorman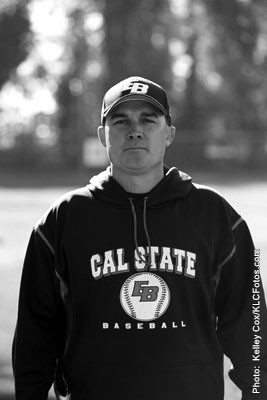 Brian Freitas, Former Varsity Baseball Coach and long time DV Staff Member leaves after 10 years
Brian Freitas, Dougherty's first Athletic Director and one of its original staff members, will be leaving after 10 years of teaching physical education and coaching varsity baseball at Dougherty for Bishop Gorman High School in Las Vegas, Nevada, known for their fantastic athletic program.
Freitas' years of experience coaching has allowed him to mentor and positively influence many student athletes — some of who achieved considerable success in professional athletics.
In 2008, Freitas officially became the coach of DV's varsity baseball program and helped lead the Wildcats to four consecutive winning seasons, with his top accomplishment being in 2012 when he coached the varsity team to the North Coast Section (NCS) Division 2 Championship Game.
After the 2012-2013 season ended, Freitas decided to stop coaching DV baseball to instead join the Cal State East Bay Pioneers as an assistant coach. Later, he would also give his title of Athletic Director to his successor, Nechia Miller.
From 2004 to 2006, when Freitas was the baseball coach of the Foothill Falcons at Foothill High School, he saw talent in Brandon Crawford — who would go on to be drafted by the San Francisco Giants as a shortstop and help his club win two World Series.
Coaching an eventual Big League star in Brandon Crawford was a rare opportunity. The most rewarding part though is being able to keep in touch with him, and "the way he has taken time out to meet with my kids and given them a positive role model. Brandon's work ethic is also a great story that I am able to pass on to my current and future players," Freitas commented.
But even up until the present, Freitas still considers his proudest accomplishment to be starting Dougherty's athletic program as Athletic Director.
"Starting the DV athletic program was probably the most time consuming project I have taken on," Freitas said. "It was also rewarding though, in terms of the final product and the early success of the DVHS Athletic Department."
Although Freitas will be leaving Dougherty's staff, he still holds onto many DV memories — his favorite being when his team went to the Oakland Coliseum for the NCS Championship, where they came short of a 6-3  final against Campolindo.
"Going to the Oakland Coliseum to play for the NCS Title/Div 2 State Title in 2012 was my favorite experience at DVHS because it was the culmination of a lot of hard work by players and coaches. DVHS Baseball's seniors at the time were only the school's second graduating class. We had a group of players and coaches that had been together for three to four years. The camaraderie the experience built was so special that players [still] talk about having reunions every five years. In the end, the winning wasn't what it was all about. It was the memories and the relationships that came out of it."
Additionally, Freitas expresses his appreciation for and thanks  to his former mentors from Dougherty: former Monta Vista Assistant Coach and DV substitute teacher Thomas Ladouceur and former DV Football Coach Bob Spain.
"Mr. Lad was a great veteran mentor in terms of teaching and what to expect in my career. Coach Spain was the first football coach at DV when I was the first baseball coach. He was a great friend and someone I could always go to as a sounding board with coaching and teaching advice," said Freitas.
What Freitas learned from his mentors also allowed him to become a mentor and positively impact friends and colleagues during his time at Dougherty, who all expressed sadness that Freitas will be leaving, but also showed their appreciation for his contribution to Dougherty's athletic program.
Former DVHS Baseball Coach and current physical education teacher Brandon Croker, who met Freitas when he was a senior at Foothill High School, commented,"The first time I met him was in my senior year of high school when he became the junior varsity coach. And when I first got into coaching at San Ramon Valley, he helped me on being a better coach."
Physical education teacher Jack Sorensen, a long-time friend of Freitas', met him when he first came to DV as a teacher.
"It'll be a lot harder to sleep at night without him being around," Sorensen said.
Physical education teacher Casey Addiego laughed as he recalled Freitas taking his radio away on his first day, and promised to take Freitas' old desk when he leaves.
Lastly, current DV Varsity Baseball Coach Brian Nichols talked about Freitas' impact on him, stating, "He was helpful on how to get things done with the program."
Freitas also discussed his lasting impact on DVHS, and his hopes for the coming future, saying, "I hope that my former players and students from DVHS will remember me as someone who wasn't strictly worried about teaching them the game or curriculum, but as someone that cared about how they will succeed in life. The future for me is yet to be determined. I am just excited to be in a great situation that has [a] huge upside for me and my family. I will be coaching with one of the best high school baseball programs in the country, we will own our house outright and then some, my wife will not have to work and my kids will go to private schools. In other words, I'll be living the American dream!"