Dougherty's newest English teachers spin their own stories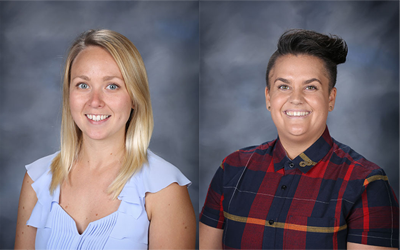 Sasha Hassan & Kavin Kumaravel , Arts & Entertainment Editor & Staff Writer
January 10, 2017
 Of the five new teachers in the English department, Ashley DeGrano and Rebecca Uscian contribute to the Dougherty Valley High School's community with each of their new and innovative projects such as StoryCorps and a Social Justice class, respectively.
DeGrano attended school for her undergrad at Sonoma State, where she played softball. She earned her Master's degree at the University of San Diego on Dec. 5. Previously, she taught humanities for five years at High Tech High School and Method School, both located in San Diego.
When asked why she chose to teach, DeGrano responded, stating "I really love working with students and I'm pretty passionate about learning in general."
Uscian taught at Lane Tech High School and Walter Payton High School. She moved from the latter in the middle of last year when her husband's job changed, causing her to move from Chicago to San Ramon. In addition, she did social work through the nonprofits Chicago Hopes and Big Brothers Big Sisters, organizations that worked to improve the education being brought to less privileged children.
DeGrano revealed that encouragement from her cousin, Daniel Bowen, DV's Leadership teacher, aided her in choosing to teach at Dougherty. She also stated that she really enjoys Dougherty's school spirit.
"I grew up in the Bay Area and so looking at what school I wanted to teach at, I wanted one that has a lot of school spirit, one that students really push themselves, and I think [Dougherty] kind of incorporates all the good parts about education," DeGrano said.
Uscian and DeGrano both enjoy Dougherty's school environment and each suggested a unique way to improve it.
"Everyone greets me with a smile everyday," Uscian stated.  "I do think that the students are very academic driven and focused, and sometimes too focused. I want to see them let loose a little bit… I want to be a part of the group of people that helps you guys deal with your stress and helps alleviate some of the pressures of being the number one perfect student and being okay with some mistakes some times."
Both teachers reflected on how their teaching style had adapted to fit the school's environment and its students. DeGrano cited her past teaching experiences as the source of inspiration to bring project based learning to Dougherty.
"It's a particular style of teaching where students learn through building, creating, and traditional like a traditional model and something I've learned throughout the years is to focus on what the students want as opposed to just incorporating my own views and thoughts. I really like to get input on what they want to learn and what they're curious about and try to build lessons and units and projects around that," DeGrano said.
Tanirika Singh, a ninth grader at Dougherty Valley felt that DeGrano's different approaches were helpful when trying to learn new information.
"Her class is generally interactive and hands-on which makes it easier to grasp concepts and learn new things."
Uscian held similar sentiments to DeGrano, saying "I'm learning how it's not a good idea to sit in your desk for 88 minutes, right? So definitely trying to get students up and out of their seats."
The teachers both felt they each brought something new to Dougherty. While Uscian cited her enthusiasm and energy, DeGrano brought up her experience with project based learning.
"I think that I bring definitely like a different experience because I haven't worked in a traditional school before. I've only worked in charter schools and primarily project based schools, so I think I bring a different perspective on how learning can be done and how students can take in information."
With a solid background in their fields, plenty of enthusiasm, and a multitude of innovative ideas, DeGrano and Uscian are wonderful additions to the DV staff.