NYFW supplies a myriad of colors and styles for SS17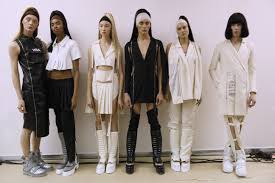 In the spirit of sensory overload, fashion designers all over the world set the stage for Spring/Summer 2017 (SS17) in a week-long extravaganza known as New York Fashion Week (NYFW), giving brands such as Hood By Air, Alexander Wang and Marc Jacobs time to showcase their new designs.
Anniesa Hasibuan
In all the history of NYFW, Anniesa Hasibuan, Muslim designer, is the first to send models down the runway in hijabs. Paired with every single outfit, Anniesa Hasibuan designs her hijabs complementary to outfits of gold, green and peach earthy tones, proving that you can be gorgeous and versatile covered up. Dresses, trousers, kimonos and tunics, Hasibuan adds her Indonesian touch with printed belts and batik. Her line may only be a year old, but from the standing ovation she receives, a rare and stunning response, Hasibuan stakes her claim in NYFW.
Hood By Air
Welcome to the era of clothing! Or rather: clothing? In this beautiful mess, the tamest models walk down the runway in halter tops, half dressed jumpsuits and clunky boots while the more eccentric models look as if they fell in scraps of clothing in the most attractive possible way. Hairstyles plaster to the models' heads, and the gel continues onto the models' faces to create a reflective shine ­— no doubt the work of backstage makeup artists to emphasize gender-fluidity. The men wear skirts; there are full outfits made out of plastic, and the glasses look like minimalistic butterflies. The backs of shirt collars are in front of necks. "Hustler" and "Wench" (the musical moniker of Shayne Oliver, the designer of Hood By Air, and Arca, London-based electronic producer) are inscribed on fronts. Off-the-shoulder suits and backless blouses hang off models' frames. Some of them walk shirtless in collaboration with PornHub. Hey, J.W. Anderson streamed his live show on Grindr before.
Brandon Maxwell
Category is: we're gorgeous. Minimalistic and simple, Maxwell transcends the need for additives or preservatives. His collection is organic. In the same shades of petal pinks, olive greens and sleek blacks, Maxwell provides deep-V dresses, pantsuits, sleeveless dresses and halters. The models are  women of color whom the chosen colors contrast beautifully with. A wearable collection, a jolt of 80's, 90's, and 00's combined fashions, and a sample of Shania Twains "Man! I Feel Like A Woman" to start off the show, the two year-old fashion line gives NYFW the pure energy it needs.
Michael Kors
Amidst the era of accessible and democratic fashion, Michael Kors is here to remind us: he is still a high fashion designer. The signature masculine-with-a-feminine twist returns, channeling Barbara Stanwyck, Katharine Hepburn to Kim Basinger, "women who were very provocative, very flirty, but also in control", Kors said backstage. With appearances from Kendall Jenner and Bella Hadid, Kors builds himself a strong collection of bold flower prints in tangible colors of lime green or grapefruit pink. Belts nip at the waist and white sandals dominate footwear. Michael Kors is classically good, and with Judy Garland's "Get Happy" as the soundtrack for the show, I'm positive Kors SS17 collection is just that: Happy.
Alexander Wang
In this classically stripped down, Generation Z-type fashion line, Alexander Wang's SS17 looks flow from nautical, beach vibes to brightly bordered scuba suits; from large sweaters to larger versions of bathing suits for toddlers.
Taking apart the ideal female and male indicators in clothing, including pinstripes and lace, Wang creates the ultimate minimalistic collection, with low rise shorts and skirts, and crisscrossing bandages across the model's stomach. Each model with shaggy, unkempt hair contrasts with crisp clothing, nice handbags, and killer coats. We've almost crossed into bikini territory, but with the Californian touch, Alexander Wang manages to bring sophistication with the least amount of fabric.
However, making the rumors official, the show ends with Alexander Wang's collaboration with Adidas; the crowd of models tunnel down the NYFW runway.
"I looked at what was theirs, what they own, and I flipped it, literally and aesthetically," Wang comments, referring to the Adidas logo which, indeed, was printed upside down on the clothing Wang designed.
Thom Browne
What is art? Things that make you feel strange things. And here, in this show, is the pinnacle of fashion, where everybody holds onto their seats and prepares to be wowed.
In the ultimate tile-floor-patterned-and-colored spectacle, the models walk out in one large group and stand around the center floor, then resume walking one by one down the runway. It feels as if we enter the bottom of a swimming pool, or better yet, a retro ice cream bar. But instead of ice cream, they serve surprises. After the models assume position, they take their time to drop their coats and caps, revealing dresses in black and white, or some combination of pastels. As it turns out, not a single jacket appears on these models, only the trompe l'oeil effects of genius colorblocking and seam detailing to mimic elegant tailoring.
It doesn't end here. After slow laps around tiled floors, the backs of these dresses are unzipped, like wetsuits, to reveal red, white and blue swimsuits. While the models lounge on the floor, men dressed as birds go around collecting disrobed clothing, while a goddess in silver stood in the center, a matching dog-shaped, disco-ball headpiece gleaming in the light.
"I felt like I was watching someone else's hallucination," Tavi Gevinson comments in an interview with Vogue. Indeed, Thom Browne provides a solid piece of entertainment, and gives us a show we never thought we wanted. And that's always the goal, isn't it?
Rodarte
"Float like a butterfly, sting like a bee," Muhammad Ali once said. But in this SS17 collection, Rodarte poses the question: why don't we float like a bee, too? Using layers of sheer fabrics and patterned dots, numerous dresses imitate the honeycomb pattern known for by the bees, while creating a sense of goddess-like airlessness with every step the models take. The waves in the clothing are natural, paired with the body's movement, and the gentle lace wraps around the arms and seems to whisper "I'm gorgeous".
Each outfit is crafted with great detail, radiating femininity and confidence. Lilac, flowery dresses are accentuated with studded, black belts, ruffles dotted with gold. Rodarte brings a timeless sense of elegance and dignity to the stage. Designers and sisters, Laura and Kate Mulleavy, focus on the use of flowers and cutout leather to create an environment fit for the queen bee, and quite possibly a fantasy you can't quite bee-lieve.
Marc Jacobs
Eclectic and borderline lingerie, Marc Jacobs sends his outfits of sheer, sparkle and shine down the NYFW runway to give the week's end a last little pop. Metallic, yet pastel, colors dominate in the form of feathered jackets, ruffled tops and thigh high socks, with the 170 mm platform boots that might as well be seven feet tall. The same outfits shown marvelously on stage would confuse you off stage, leaving you to question if the mob of giant, intergalactic people you see are just leaving a rave at 3 pm.
While I will always be supportive of chaos and bright colors, Marc Jacobs' SS17 collection seems a bit too chaotic, with high-piles of dreadlocks stacked upon heads that are surprisingly lacking in color, clothing with inspiration drawn from too many places – or perhaps there is something called too-much-shine. Sure they all seem like collector's pieces, but the constant color and extremity makes the show overwhelming overall. Marc Jacob's FW16 collection has left me drooling, and one day I wish to be seven feet tall with his 170mm platform boots. But SS17 leaves very little to the imagination.
As we enter an era of increasingly out-of-the-box art, this year's NYFW SS17 fits right into the description of impactful chaos. There's something in fashion week for everyone, whether your aesthetic is simple or a cacophony of colors. Created from the dust of decades, some fashion lines will be a staple in further years to come, and while we'll always be excited for what they'll do next, NYFW is also the platform for new designers to shine. We move forward into a world of unimaginable limits of a designer's imagination. As Iris Apfel, a legendary collector of clothing and the old ambassador of new fashion, says:
"I don't have any rules, because I would only be breaking them."