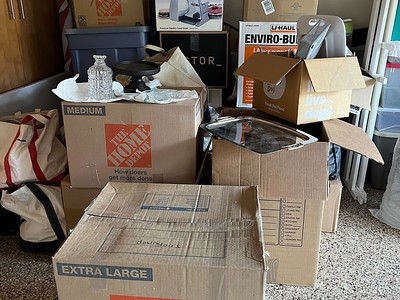 The DVHS tennis and cross country teams will have their second FUNDrive on Nov. 18 from 11 a.m. to 1 p.m. at DVHS, seeking donations of clothing, textiles and household items. Rather than team players or coaches, track and field team moms Juana Lum, Kristie Tai, and Maria Kapur have been in charge of the planning and organizing of the event.
This is not the first time that the team moms have organized a FUNDrive. Last year, after finding out about FUNDrive through a fellow team mom, they held a FUNDrive and raised over $1,000.
"[FUNDrive] was a hidden treasure for us," Juana Lum said. "It was a hidden treasure because it was collecting lightly used clothing, shoes, appliances, books, [allowing us] to donate to our team and bring it over to Savers."
The FUNDrive program was started by ValleyVillage, also known as Savers, two years ago with the hopes of helping nonprofit organizations earn money. To hold a FUNDrive, a nonprofit will fill out an online form, collect items, and then bring the items over to their local Saver's to be weighed. Depending on the weight of the donated items, a specific amount of money will be given to the non-profit.
"
Unfortunately, organizations can only turn in donated items all at once to receive the money.
"We can't just go in there and drop off a bag and say 'hey, this is for Dougherty Valley High School,' and then a few hours later, someone else drops a bag. They won't do that," Tai said.
Thus, the team moms have set up the time period not only for people with donated items to bring their items, but also for the team moms to gather all the donated items and drive them to Savers all at once. With the challenge of moving all the donated items at once, the team moms turned to Dougherty's tennis and cross country teams in need of assistance.
"We [arranged] a time between 11 and 1 pm," Tai said. "Afterwards, we will also arrange for volunteer drivers because we are going to need more than the three of us to drive everything that was donated."
For those that can't make it between 11 a.m. to 1 p.m. on Nov. 18, there is still an opportunity to donate, as each team mom will be picking up or receiving drop-offs in their own garages or homes.
Outside of planning for the day of the event, a series of approvals were required before word of the event was spread.
"There's so much prep work heading to this FUNDrive," Tai said. "We have to get the school to approve, get Saver's to approve, so once all that is approved, we have to spread the word out either through social media, or the school, or just the San Ramon District."
Currently, the team moms are focusing on getting the word out beyond DVHS to the San Ramon community through social media. They are also consistently updating Savers about the number of bags and boxes they might be bringing; something that they are keeping track of through the Sign-Up Genius code on their flyer.
The organizers have high hopes for the FUNDrive, especially considering the result of last year's FUNDrive.
"We want to raise as much money as we can, so we don't want to put a ceiling on that," Kapur explained. "But we do hope to have more than $1,000. I'm just speaking out of a previous fundraiser, we'd like to reach higher goals than what we reached last year."