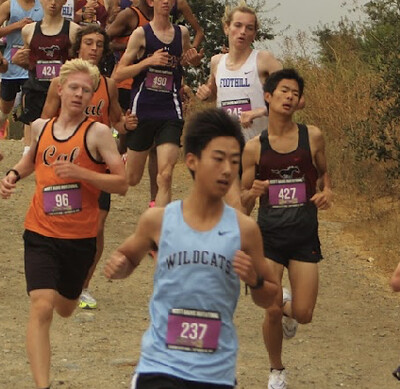 As junior James Wang competed alongside his cross-country teammates for the third year, he forged friendships and built memories with a family-like team of runners.
In the summer before his freshman year, Wang moved to San Ramon as a disoriented student away from his friends back in Irvine. Eager to meet new people, Wang decided to sign up for cross country.
"We had practices that started [during] summer before school started," Wang recalled. "The cross country team — they're really the first people that I got to know."
The cross-country community embraced Wang with open arms, pulling him into a whirlwind of team activities and practices that would become the anchor of his high school years. 
"It's a super fun, super welcoming community, and I really love being a part of it," Wang said. "We're very strong as a team."
Pasta feeds in particular struck Wang as a prime example of the team's enthusiasm and spirit. Typically held before a race, pasta feeds brought the entire team together for an evening of food and team bonding activities. 
Team practices reflect a similar sentiment of unity, although they're naturally much more demanding in nature. During weekly morning practices, the team usually convenes at 6 a.m. for a workout or road run lasting around 90 minutes. Although exhausting, morning practices offer a sense of wonder and novelty.
"You're up when nobody's up," Wang said. "The vibe is really different, and it's a really unique experience."
Throughout these shared experiences, Wang and his teammates constantly encourage each other, pushing each other to stick to the pace. 
"A lot of our teammates have really high and really supportive energy," Wang commented. "We all care about every single part [and] every single individual within our group."
At the Woodbridge Invitational in Irvine, his former hometown, Wang reunited with some of his old friends who were now in high school. As one of seven runners from Dougherty Valley representing the mens varsity team at the meet, he recalled feeling a lot of competition and pressure leading up the race. He ended up completing the three-mile course with a time of 16:42.6.  
"Although I didn't really place well within the race, a lot of my teammates did and I'm really happy for them," Wang said.
For the upcoming season, Wang aims to break a 16:30 course time in the three-mile event and to stay consistently within varsity.
But regardless of race results, Wang feels that he has developed valuable friendships and become a happier person overall from joining cross country.
"I've grown [from] an individual to more [of] a member of a pack," he said.
Throughout the years, Wang has found his home in the cross country community.
"I got to know the team better than really anyone else within the school," he said. "And I feel like because I've had so much participation within cross country, they feel just like family to me."