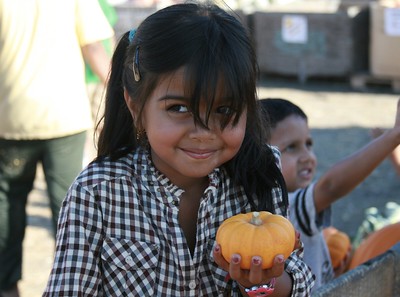 It's that time of year, when the air is chilly, the leaves are changing color, the stores are stocked with pumpkin spice-flavored items, and Halloween decorations are appearing everywhere.
So, why not make the most of that perfect weather and festive spirit here in the Tri-Valley? There's no shortage of fun fall activities to try — both indoors and outdoors. Try simply taking a walk to admire the foliage, getting lost in a corn maze, picking out a pumpkin to carve or a bushel of apples to take home, whipping up a delicious fall dessert, or just splurging on the seasonal menus at Trader Joe's and Starbucks.
Pumpkin Patches
California is well-known for its vibrant pumpkin patches, especially during the fall season. While the finest pumpkin patch may vary depending on your region and interests, here are some popular pumpkin patches across the East Bay that have garnered positive ratings and that are recognized for providing a festive experience:
Moore Pumpkins and Christmas Trees
Recently relocated to Livermore, Moore Pumpkin Patch is the perfect family-friendly location for fall. With a quaint set-up and a wide variety of pumpkins, the patch sells tickets for a very reasonable price of $5, with children under the age of two attending for free. With the ticket, you gain access to wagons, beautiful photo opportunities and engaging games, such as the corn maze, hayride, and pillow jump. You can also enjoy some childlike fun in their jump houses for a small additional fee, not to mention that this family-owned patch even allows you to bring your pets.
G&M Farms
Also located in Livermore, G&M Farms offers more than just pumpkin picking opportunities. With a nighttime haunted corn maze, hayrides, cow trains, and even pony rides, the farm provides the perfect stop for activities to get you and your friends in the fall mood.   
Joan's Farm & Pumpkin Patch
This family pumpkin patch also offers a wide variety of amenities and activities, including pumpkin bowling, inflatable slides, feeding farm animals and a snack shack that sells shaved ice, hot dogs, pumpkin pie, nachos and candy. They even offer field trip activities and party reservations if you just call ahead.
Trader Joe's Fall Collection
Going into the fall season, Trader Joe's fall collection is entangled with the enjoyment of this era. From the moment you walk into the store, the air is filled with pumpkin, spice and everything nice. The collection consists of many popular items, including the Pumpkin Brioche Twists, the Caramel Apple Mochi, and the Salted Maple Ice Cream. Here are our ratings of these fan-favorites.
Pumpkin Brioche Twists: (9/10)
These twists from Trader Joe's are among the top fall items at Trader Joe's. The bread is tender and buttery, with a golden yellow color and brown cinnamon swirls, and along with the smooth and spongy texture of the bread, the twists are the perfect treat for the season. While the brioche does contain a rich cinnamon flavor, it overpowers the flavor of the pumpkin spices. Still though, if you are looking for a new French toast alternative, this is definitely worth a try.  
Caramel Apple Mochi: (10/10)
Wrapped in a chewy, powdery coat, the Caramel Apple Mochi makes an excellent cold treat for the fall. Although the caramel color doesn't look appealing at first sight, the creamy filling combined with the sticky wrapping makes this item one of the most popular items in Trader Joe's fall collection. The coating is stretchy and sprinkled with a starchy powder that gives the mochi a nice chew and a unique texture. The ice cream inside is smooth and slightly melted and has a mix of vanilla taste balanced with an apple and caramel flavor, giving the mochi a memorable milky savor.
Salted Maple Ice Cream: (7/10)
Adding to Trader Joe's popular ice cream collection, the Salted Maple Ice Cream offers a distinctive creamy taste in comparison to the saltiness of caramel-colored maple swirls. The ice cream itself is sweet, but the maple swirls moderates some of the taste and perfects the fall vibe of this item. However, the sweetness accumulates as you consume more and eventually reaches a point where it is too much.
Starbucks' Fall Menu
Starbucks' seasonal menu adds to the joy of a "feel-good fall," with an assortment of pumpkin and apple-based foods and drinks. Some of the most popular drinks at the Safeway location include the classic Pumpkin Spice Latte, the Iced Apple Crisp Oat Milk Shaken Espresso, and the Iced Pumpkin Cream Chai Tea Latte. Starbucks has also added the Pumpkin Cream Cheese Muffin and Baked Apple Croissant to pair with these cozy drinks. This annual menu will run through Nov. 1. 
Pumpkin Spice Latte (10/10)
This perfect blend of sweetness and spice filled our hearts and stomachs with content. Starbucks' fall-themed take on a classic latte features oat milk, cinnamon and sweet whipped cream. The scent of warm, pumpkin-infused coffee drew us in, and the combination of pumpkin sauce and spice made it a favorite. The iconic latte recently celebrated its 20th birthday, showing just how popular it is with customers.
Apple Crisp Oatmilk Shaken Espresso: (5/10)
Rather than the distinct taste of warm apple crisp, a bitter aftertaste lingered after the initial sip of this drink. The few hints of apple were also drowned out by the overwhelming amount of ice included. Although we enjoyed the combination of apple crisp and oatmilk, most of the syrup was situated at the bottom of the cup and the proportions were imbalanced. We would recommend ordering this drink with less ice and shaking it before consumption.
Pumpkin Cream Chai Tea Latte (9/10)
Starbucks' Pumpkin Cream Chai Tea Latte is a match made in heaven with its cozy spices of chai. Starbucks has combined two popular menu items – chai and pumpkin cold foam – to create this perfect autumn treat for non-coffee drinkers. As sips of the chai come through the velvety pumpkin cream, the iced drink will still manage to make you feel warm.