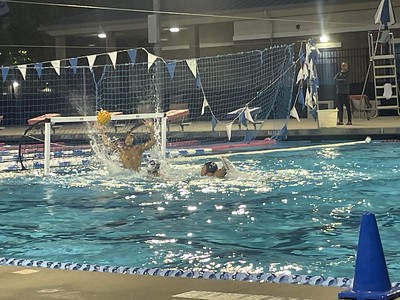 At the Wildcats' senior night match against Monte Vista on Oct. 12, Dougherty Valley varsity men's water polo team fell to the Mustangs 21-7. Currently ranked eighth in the East Bay Athletic League (EBAL) ahead of teams like Granada and Dublin, the squad has improved their record from last season. 
The team ended this season with a 7-17 record, marking improvement from their previous 2-16 record last season. Their growth has been evident in victories against Dublin High (9-7), Pittsburg High (14-1) and Pacheco High (12-9). 
Senior Kyle Chun attributed part of the success to tournaments. 
"Tournaments foster improvement in many ways. The fact that we play so many games gives us a lot of experience," Chun remarked. "It builds team chemistry and helps us see where we can improve." 
Besides tournaments, both Chun and water polo head coach Cyndi Oji-Marchese have noticed that the team's heightened camaraderie this year, with many players also joining club water polo in the offseason. However, the team's experience was tested during their last home game.  
"We knew it would be a challenging game," senior Eli Nguyen said. "We wanted to focus on certain aspects of our game, but having fun was important too."
Though Monte Vista found early success netting two goals, Dougherty tied the game right before the end of the first quarter with a lobbed goal from senior Logan Phan and a long shot from Chun. 
In the second quarter, Dougherty continued to fight hard with another shot from Chun and a penalty taken by Nguyen. However, Monte Vista's long passes proved decisive, ending the half at 6-4. 
Monte Vista dominated the second half, ending the third quarter 16-6. Despite this, Chun stood out, preventing a shutout quarter with his consistent scoring. 
In an unexpected move during the fourth quarter, coach Oji-Marchese switched positions and put Nguyen at the goal post. 
"
"Our number one goal for today was to have fun and enjoy our last time in the Dougherty pool as a unit," Oji-Marchese said.
"Our number one goal for today was to have fun and enjoy our last time in the Dougherty pool as a unit," Oji-Marchese said. "Eli has never played goalie before and he said that he wanted to. So, I said 'You know what? Let's have some fun. Let's mix it up.'"
Though Nguyen had never played goalie before, he started the quarter off with brilliant saves, stopping two unchallenged Monte Vista attackers from scoring. Despite his saves, Dougherty would end the game down by 16, with a score of 21-7. 
"I was excited to try a new position," Nguyen said. "I played in goal a couple of times in practice and it was always fun."
Following their senior night, the water polo team ended their season with a highly-anticipated rival game against Dublin High on Oct. 26, dominating the Gaels with a score of 13-3. Going into the match, coach Oji-Marchese prioritized maintaining the team's season improvement. 
"I want our boys to keep the good defense [and] communication going and make sure that we're having fun for the rest of the season," Oji-Marchese said.