"Daredevil" review: The Devil of Hell's Kitchen rises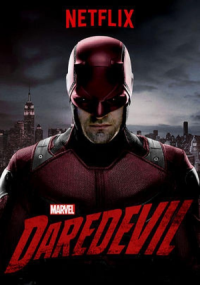 Anirudh Iyengar, News Editor
October 5, 2015
On Apr.10, Marvel released the first of it's Netflix franchise, "Daredevil", which during its first 10 days on Netflix, was viewed by 10 percent of subscribers, beating Season 3 of "House of Cards", one of Netflix's most popular shows.
Marvel's "Daredevil", starring Charlie Cox, Vincent D'Onofrio, Deborah Ann Woll and Rosario Dawson launched its first season last spring. The plotline reveals a young lawyer, Matt Murdock (Charlie Cox), and his adventures fighting crime in the dark city of Hell's Kitchen with his friend Foggy Nelson (Elden Henson). The show adds a twist with flashbacks showing Murdoch's development into his eventual takeover as Daredevil.
The show highlights Murdock's accident with a chemical spill and leads up to his permanent blindness. Despite this weakness, Murdock's other senses improve drastically and he is trained by Stick (Scott Glen), a mysterious warrior from an unknown organization. After showing love for his master, Murdock disappoints Stick, leading to Matt's abandonment.
The show picks up with Murdock already donning his signature black suit from the Frank Miller run (Miller was one of the popular writers known for making several "Daredevil" comics). Due to his vigorous fights and constant injuries, Murdock recruits ClairTemple (Dawson) to stabilize his condition. When viewers begin to understand Murdock, his counterpart is introduced as the notorious Wilson Fisk, a.k.a Kingpin (played by D'Onofrio). Fisk desires the same goals as Murdock but takes on a more villainous approach, bribing senators and the police to smuggle drugs and money in and out of Hell's Kitchen. One of his companies, Union Allied, where Karen Page (played by Woll) works, makes a misstep, leading to the death of Karen's colleague and her eventual meeting of Murdock and Foggy.
"Daredevil" portrays a realistic problem in a deteriorating city, in which two individuals are willing to risk everything to save their home. With the help of Claire Temple, Murdock fights crime by day as a lawyer, and by night as the vigilante Daredevil. Throughout the season, Murdock encounters personal issues such as the murder of a friend and the return of his former master Stick.