San Ramon's Trash-Free program encourages sustainability among locals with customer incentives
The City of San Ramon implemented "Trash-Free" this April to encourage local businesses and residents to reduce single-use foodware. 
The program recently expanded a subproject on drinks, designed to minimize specifically plastic waste, and it is doing this through the mere use of a sticker. Incentivizing locals with discounts on drinks, the program also encourages businesses to participate in the program by offering special city perks and promotions on media platforms and in newsletters. 
EarthBar, located in the City Center Bishop Ranch, is currently the only business participating in the program. Offering a 10% discount to all those bringing in a reusable bottle with the Trash-Free sticker on it, the participating business reduces its plastic cup use while attracting more customers. 
"More businesses are applying [to Trash-Free] right now. Soon, you can bring a reusable [bottle] and a sticker to a lot of your favorite stores and get discounts," senior Julie Park said. "We are currently talking with Starbucks and Peet's Coffee to join the program."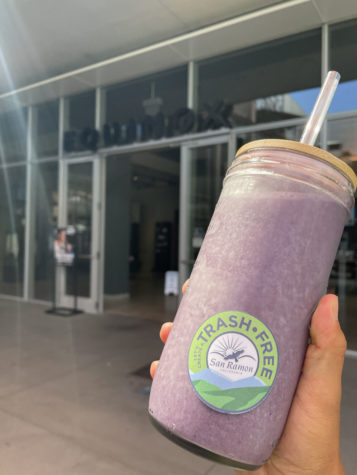 Park, involved in the Trash-Free drink subproject since May, is the lead student in the program. An avid climate activist herself, she attends the weekly San Ramon Farmer's Market and uses personal social media platforms to promote Trash-Free. 
"[Advertising at the] farmers market is actually a really big success. A lot of people are interested in the program," Park said. "To promote Trash-Free, we are also launching a youth program [called Trash-Free Tigers] to provide opportunities to those younger but still interested in the mission." 
Trash-Free currently aims to only reduce plastic waste, rather than entirely eliminate it, raising questions about the program's effectiveness and end goal. Kerry Parker, the Solid Waste and Environmental Services Program Manager for the City of San Ramon, counters the doubt by explaining the program's reliance on a city-wide cultural shift. 
"Trash-Free is relying on the stigmatizing of disposable foodware. With this program growing, we want other places in the state to stare at us thinking: are we supposed to do this too? And my answer is yes," Parker said. "This is something that could catch on," she added. 
Though the City of San Ramon is a pristine environment filled with beautiful parks, stores and green space, the necessity of Trash-Free still exists. The program is a step of climate action and educates San Ramon citizens to act with respect to the fate of future generations. Izchel Pulido, the sustainability specialist for the City of San Ramon, indicated her faith in the program to act as a trailblazer for the rest of California. The team behind Trash-Free's long-term goal is to completely eliminate plastic waste in San Ramon, however long it may take. 
"People nowadays want to live in a place that's not damaging the environment. I definitely think that if [other] cities see San Ramon's program successful, then they will adopt it," Park said.
"
"Take nothing but memories, leave nothing but footprints," Parker said.
San Ramon locals, businesses and residents are working together to live sustainably, and the implementation of Trash-Free is an empowering start. 
"Take nothing but memories, leave nothing but footprints," Parker said. 
To learn more about the program, visit Trash-Free San Ramon. To get involved with Trash-Free, contact Kerry Parker ([email protected]) or Izchel Pulido ([email protected]).