Grub Guide: Crumbs Breakfast, Lunch & Bar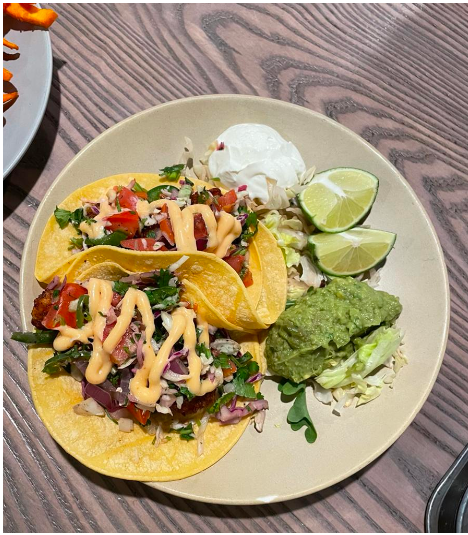 When you walk into a restaurant and see a cascade of colorful upside-down umbrellas hanging from the roof, you know it's going to be a unique experience. That excitement was my first reaction to Crumbs Breakfast, Lunch, & Bar, a laid-back and accessible women-owned eatery in downtown Danville.
Bursting with people and vibrant decor, it's easy to see how one could get lost in Crumbs' crowded atmosphere. Luckily, the tables are arranged in a series of comfortable alcoves, so restaurant-goers can enjoy a little privacy as they scan the assortment of breakfast and lunch items, from sugary waffles to salad bowls.
Crumbs describes itself as vegan-friendly and accommodating to dietary requirements. Still, the lunch menu selection was disappointingly lacking in variety. The online menu was also difficult to navigate, and we ended up asking for physical copies when my grandfather couldn't read the text. I ordered shrimp tacos, sweet potato fries as a side and a brownie for dessert.
Crispy Shrimp Tacos
This is one of my go-to dishes at unfamiliar restaurants, and the shrimp tacos at Crumbs are definitely one of the better variations I've had. The savory shrimp melds perfectly with the crumbled queso fresco topping. The corn tortillas are soft but not overly floppy, and the sour cream was so well-made that my brother tried to steal half of it. My only dissatisfaction was with the guacamole, which tasted jarringly bitter in contrast with the rest of the dish. I would rate these tacos a 9/10 for simple yet mouth-watering flavor.
Sweet Potato Fries
Sadly, these sides fall somewhere in the middle of the spectrum. They're enough to be recognizable as one of my favorite fry types, but otherwise bland and dry–even when dipped in the aforementioned fantastic sour cream. I would rate these a 4/10.
Brownie
I thought I'd be too full after the fries and taco to enjoy another dish, but this dessert stole the show. Fresh-baked and chocolaty with a side of whipped cream, the brownie had a rich flavor and decadent softness that left me jealously defending my plate against family members who wanted a bite. I would rate it a 9.5/10 for sumptuous texture and taste.
The Final Verdict
With welcoming service and cheery decoration, this restaurant is definitely a place I could see myself spending another morning at. As the name suggests, Crumbs will leave you fulfilled with nothing left over on your plate. I would give it a 7.5/10 overall, because though we had occasional problems with the menu and organization, it's easy to see the friendly charm with which this eatery draws such crowds.