The Grub Guide: Cafe Attila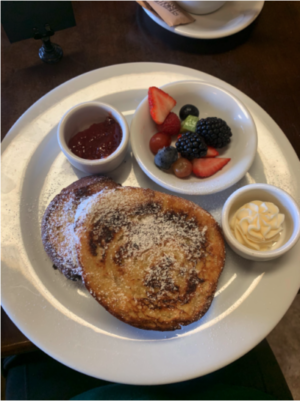 French toast has never been made better than they do here. Café Attila is a European bistro and bakery located on San Ramon Valley Blvd in San Ramon, California. They hold a menu ranging from all types of baked goods, to amazing breakfast foods to lunch items like steak and salmon. After entering, you are immediately introduced to their menu on a sign that sits above a case of their delicious pastries and cakes, and the staff waiting to take your order. It is also easy to tell the place is European with all the beautifully detailed paintings hung up that depict famous European monuments, and their slightly outdated decor that just overall adds to the charm. 
Whenever I go to Café Atilla I almost always get their to-die-for french toast and a mug of mocha. I am not much of a sweet tooth, but their french toast is very balanced in its flavors, and is not too sweet. It is also made with the fluffiest brioche bread slices to top it all off. Their mocha is great, and I honestly get it because it reminds me of an adult version of hot cocoa. I highly recommend it to anybody who is a chocolate lover and especially to enjoy it on rainy days.  Another breakfast food they do well is their breakfast sandwich with fluffy scrambled eggs.  They have breakfast options available for sweet tooths and those who prefer savory foods.
They also have a lunch menu with interesting options. The last time I went I tried the spaetzle, German pasta noodles, for the very first time, and it was splendid. While eating it, I could tell the pasta was handmade and very fresh. I also heard a neighboring table talk about the flank steak on the menu and how they regularly order the dish, similar to how I always order the  french toast.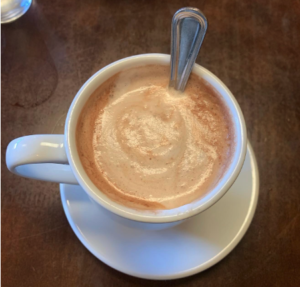 One thing I have to mention about Café Atilla is how generous and sweet their staff is. One time I went, our server accidentally dropped the syrup on the floor, which was very understandable, and she cleaned it up and returned with a plate of cookies that tasted heavenly and were on the house. Additionally, anytime you talk with them they are very sweet and make sure that their customers are satisfied and have the best experience. I will caution about going when it is very busy though, as it did take a while for me and my family to get our food. 
Collectively, I rate Café Atilla a 9/10. It is the perfect place for a relaxing brunch with friends, or when you are just really craving breakfast foods. And it has a homey feel with the kindest workers that really make your day. I recommend this to everyone who just wants to have a relaxing day with a friend or by yourself and indulge in some good comfort food.