Jimmy Garoppolo's Future and 5 Teams that Could Trade for Him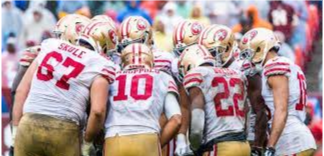 As the San Francisco 49ers fell to the Los Angeles Rams 17-20 at SoFi Stadium on Sunday, January 30th, the already-bleak future of 49ers current starting quarterback Jimmy Garoppolo continued its freefall into uncertainty. The 49ers front office made a blockbuster trade before the 2021 NFL Draft with the Miami Dolphins to leapfrog to the 3rd overall pick, where they promptly drafted South Dakota State quarterback Trey Lance. While Garoppolo led the 49ers into a deep playoff run in 2022, beating the Dallas Cowboys in Jerry's World and the Green Bay Packers in the tundras of Lambeau Field, his ride with the 49ers ended here at SoFi Stadium. Fans, as is custom, were quick to blame Jimmy for the team's offensive struggles in the game, and the 49ers' front office is facing immense pressure to upgrade the quarterback position.The future of the Faithful is in the hands of Trey Lance and Garoppolo will take his talents elsewhere. Here are five teams that could be interested in acquiring the quarterback.
1. Washington Commanders
The Washington Commanders are in the market for a new quarterback, after receiving a new name from their previously named Washington Football Team. The Commanders haven't had a franchise quarterback in years, as they've banked on the likes of Ryan Fitzpatrick, Kyle Allen, and Taylor Heinicke to win them some games. While all three quarterbacks had their moments, the Commanders need to upgrade their quarterback position moving forward if they're looking to seriously contend. With a strong defense, led by defensive end Chase Young, the Commanders are in a prime position to make a postseason run if they can solidify their quarterback position. With one of the best upcoming receivers in Terry McLaurin, Garoppolo will have his fair share of weapons at his disposal. The Commanders also have a strong coaching staff, with Ron Rivera, best known for his success with the Carolina Panthers, at the helm, who has the capability to succeed and tailor a game plan fit for Jimmy G. 
2. Tampa Bay Buccaneers
The Tampa Bay Buccaneers are making headlines, mainly because quarterback Tom Brady retired after his 22nd NFL season. This leaves the Bucs with a gaping hole at the quarterback position, and with a strong defense, run game, and receiving corps, the Bucs are in win-now mode. And who better to take the reins than Brady's backup from Foxborough? Trading for Garoppolo will allow for the Bucs to have a battle-tested quarterback who can take them deep into the postseason. Garoppolo will have a plethora of playmakers to utilize, including Mike Evans, Leonard Fournette, Rob Gronkowski, etc as well as a strong defense to lean on, composed of stars like Lavonte David, Devin White, Antoine Winfield Jr. and more. However, Bruce Arians' playbook prides itself on aggressively launching the ball downfield and if we remember from Super Bowl LIV, that's not exactly Jimmy's strong suit. However, if Arians is willing to revamp his playcalling, there's no doubt that Jimmy could take this team on a postseason run.
3. Pittsburgh Steelers
The Pittsburgh Steelers are the team that are constantly in talks for acquiring Jimmy Garoppolo and it's not hard to see why. After 18 seasons, longtime quarterback Ben Roethlisberger decided to retire, leaving Dwayne Haskins and Mason Rudolph as the only quarterbacks on the roster. It's clear that these two quarterbacks won't be solving Pittsburgh's problems, leading the front office to think about trading for Garoppolo. The Steelers are one of the more well-rounded teams listed here, with their only major question mark being the quarterback. Rookie running back Najee Harris is a rising star and can act as support for Jimmy and receiver Chase Claypool can quickly become Garoppolo's new favorite target. To add on to the spoils, their defense is stout, spearheaded by linebacker Devin Bush and T.J. Watt. Head coach Mike Tomlin is also one of the NFL's best, and Jimmy should feel welcomed in the City of Bridges.
4. Denver Broncos
Continuing the trend of teams that aren't set at quarterback, the Broncos have had a carousel of quarterbacks since the retirement of Peyton Manning. Drew Lock is not the answer to their woes and Teddy Bridgewater will be a free agent this offseason. The receiving corps potentially at Garoppolo's disposal is young and dynamic, with electric playmakers like Jerry Jeudy and Courtland Sutton along with hefty red-zone targets like Noah Fant. Similar to other teams, the Broncos defense is strong, fronted by a strong secondary, with ballhawk safeties Justin Simmons and Kareem Jackson headlining the squad. New head coach Nathaniel Hackett garnered much success with Green Bay quarterback Aaron Rodgers, winning him what is expected to be back-to-back MVP awards, and while Garoppolo might not reach this pinnacle, Hackett may be able to release any untapped potential that Jimmy might have.
5. New Orleans Saints
The New Orleans Saints have a big question mark at quarterback, ever since Drew Brees retired. While Taysom Hill is undoubtedly a swiss army knife, he's not taking the Saints on a playoff run as the starting quarterback. The other starting quarterback on the roster, Jameis Winston, might just be the most polarizing quarterback in the league and can't be the franchise quarterback the Saints need. Garoppolo also stated that he'd like to be on a winning team, and the Saints generally find themselves in the thick of the playoff hunt, no matter how strong or weak their roster is. Alvin Kamara is an electric running back capable of taking over games and lessening the load for Jimmy. However, with coach Sean Payton deciding to leave the team, new coach Dennis Allen will be taking over. Allen should be able to tailor his gameplan to fit Garoppolo's scheme, being the Oakland Raiders head coach from 2014-16 and working with quarterback Derek Carr. The Saints might have the strongest defense of the teams stated here, as quarterbacks have nightmares of defensive end Cameron Jordan and star cornerback Marshon Lattimore. Ultimately, Garoppolo should be able to achieve success in New Orleans and bring back the Superdome to its glory days.