Building a capsule wardrobe: winter edition
Now that Thanksgiving is over, we're officially transitioning to the "most wonderful time of year". Uggs and ugly Christmas sweaters are taken out of the depths of our closet and worn again as temperatures drop. Department stores are blasting Mariah Carey with bits of Michael Bublé sprinkled in. It's safe to say that the contagious holiday spirit is here, signifying the beginnings of a new season. 
However, there is one element that Californians will most likely always miss: a cold winter with snow. We can only dream of snow in California as we admire the earmuffs and scarves sported on the East Coast. While our mild winter weather may be disappointing to say the very least, here are some of my favorite winter pieces to take your mind off of our mundane 60s and 70s. 
Note: In no way is this a definitive list; there are countless pieces that could be considered "timeless" depending on personal tastes. Take all recommendations with a grain of salt, and remember that you are the best judge of your own style.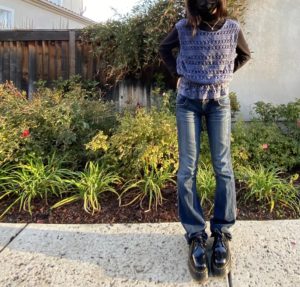 Tops
1. Turtlenecks
Turtlenecks are one of my favorite pieces to layer ever. If you're looking to purchase a turtleneck, I would recommend a tighter-fitting, ribbed cotton black or white turtleneck to begin with (the lighter the fabric the better for layering). 
How to style it: For a warmer winter day, layer a black turtleneck under a tank top or a graphic tee. For cooler days, layer a jacket of your choice! Top it off with a light dainty necklace.
Bottoms
2. Plaid skirts
I love investing in all types of skirts and dresses, but when it comes to only picking one out of the bunch, I would without a doubt choose plaid skirts. My favorite skirt style would be low-waisted and boxy. This style is a little more chic than a schoolgirl-esque high-waisted, pleated skirt. 
How to style it: For more cohesion, match the colors of your plaid skirt to the color of your long sleeve. Pair platform oxfords with ankle-high socks to emphasize the outfit.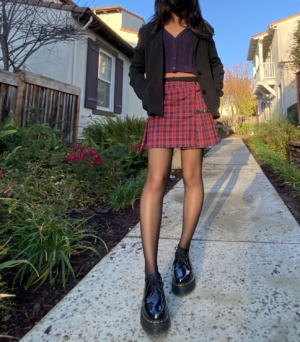 Outerwear
3. Blazers
Blazers are, without a doubt, my favorite go-to type of outerwear! I love experimenting with different styles, so I admire how versatile a plain black blazer could be. Paired with the right basics, it can transform an entire outfit. 
How to style it: For one of my more business casual looks that I occasionally like to pull for school, I wear a collared black blazer over a longer, white tank top to match with my medium wash, low-waisted bootcut jeans. Finish it off with your favorite black boots to tie it all together. 
4. Knit sweaters/cardigans
There hasn't been a single winter season where knit sweaters and cardigans were ignored. When I think of the winter season, the first thing that comes to mind is bundling up in a cozy cardigan and drinking a cup of hot cocoa while a cheesy Hallmark movie plays in the background. However, most synthetic knits pill easily, so I would recommend either saving up to invest in a high-quality cashmere sweater or a durable cotton sweater.
How to style it: Shrug on a classic, oversized cream knit cardigan over a patterned multicolor sweater for a snug, comfortable look.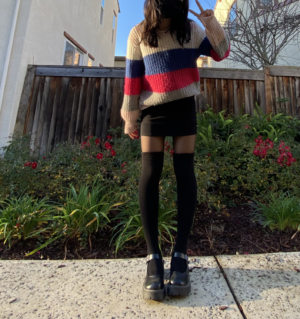 Shoes & Accessories 
5. Oxford shoes
When opting for a more formal, classy look, pull on a pair of oxfords to elevate your entire look. Oxfords are incredibly versatile and can take you anywhere from semi-formal to the most formal events. If you're just as in love with its closed lacing design as I am, I would definitely recommend investing in a high-quality vegan leather/leather pair of oxfords. However, if you're just looking to explore a new, different style, visit your local thrift store to try a pair. 
How to style it: For a more feminine look, layer white ruffled socks underneath black oxfords to create a beautiful contrast. Pair this with a v-neck collared sweater and a skirt to show off the accessory details. A more masculine way of styling oxfords would be to wear the shoes with a pair of chinos and an oversized bomber jacket. 
6. Black tights
While we can't have earmuffs and winter gloves, black tights are the next best thing. Whenever I want to wear a skirt or a dress, I opt for black tights to not only keep my legs warm but also tie in an entire outfit. 
How to style it: Layer black tights under a dress or skirt of choice and tie the black together with a pair of platform combat boots or oxfords. 
So next time you see another east-coaster showing off their winter scenery at Times Square, instead of crying yourself to sleep at the lack of precipitation here in California, throw on a turtleneck and a plaid skirt to celebrate our mild weather.