Dessert shop Café Crèmerie spins unique gelato flavors in a delicious way
The faint aroma of coffee is present as you walk in, matching the antique vibe of the shop perfectly–it seems like you are being transported to a cafe back in Europe. Faint K-pop music is played over the speakers, and there is a slight hum as workers sing along to BTS and customers chat amongst themselves. The cozy brick fireplace at the back of the store along with the wood furniture and ceiling beams sets a warm, soothing mood that gives you the perfect reprieve from the bustling atmosphere of the San Francisco Premium Outlets. 
Café Crèmerie rebranded in July 2020 and soon after replaced Amorino, a French shop known for its rose shaped gelato, in the outlets. It is nestled between Ted Baker and Ermenegildo Zegna in the southeast corner, a short walk from the front parking lot. Café Crèmerie is known for its unique, creamy flavors of gelato, as well as a wide assortment of macarons, coffee and other desserts.
Gelato flavors: 
Everything I sampled was overall a little on the strong side (except for rose), and was a bit difficult to get through the entire scoop. But for some of the flavors, those few bites were utterly amazing. I tasted six flavors out of the 36 that were available at that time.
*Yogurt passion fruit (9/10): Definitely worth being one of the most popular flavors, in my opinion. There are actual passion fruit seeds scattered throughout the gelato, and it gives a burst of flavor and crunchiness. It has a creamy texture that gives the feeling of eating actual yogurt, though it is gelato. However, because it does taste more like yogurt, it may be a bit sour for people who don't enjoy desserts on the more sour side.
Rose (9/10): This flavor had such a subtle taste that was more appealing than the other stronger flavors. It is a unique flavor, but it was pulled off well. It tasted almost as you would imagine a rose perfume to taste–sweet yet not overwhelming.
Toasted almond and fig (8/10): Very nutty and creamy, but in a good way. There are bits of nuts mixed in, and there is a clear nutty aroma that is given off from the gelato. Nothing was exactly "wrong" with this flavor. It had a nice balance that would have definitely earned a 10 for nut fans.
Pumpkin pie (7/10): There wasn't anything too special about this flavor–it was just a classic pumpkin pie gelato. I am a huge fan of anything pumpkin pie, but for some reason this didn't appeal to me. It was slightly powdery and individual powder flecks were still in my mouth after I swallowed, which was disappointing. But it still tasted great and had balance to the taste–it wasn't overly sweet.
Birthday cake (6/10): In contrast to the seemingly overly artificial bright blue color, it actually didn't taste extremely artificial. However, it was pretty sweet, which made it hard to keep on eating the gelato. It had bits of chewy red velvet cake mixed in here and there, which created another level of depth to the flavor and texture.
*Milk chocolate (2/10): Surprisingly disappointing. The thick texture of the chocolate felt suffocating, and it tasted very powdery–almost as if chocolate powder had been mixed with the gelato. Though it was said to be one of the most popular, there wasn't anything special about this flavor and there were definitely better options at the shop.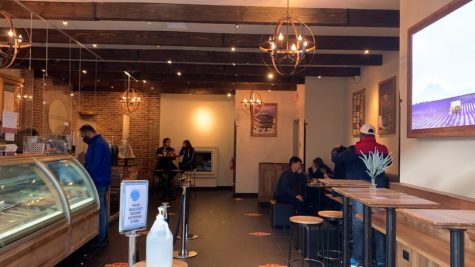 Customer Service:
There weren't too many people, but it wasn't empty either. I didn't wait too long for my order, and the workers were patient when I was choosing which flavors to pick. You first pick what type of order (i.e. single scoop in a cone) at the cashier, and then after you pay, you move down the refrigerated bar and tell another worker what flavors you want. It's possible to be slightly confused at first, but the workers were all friendly and gave instructions on what to do. I even changed my order from a single to a double scoop after I paid, and they kindly led me through the process.
The only downside was that the person who scooped the ice cream put the ice cream in a lopsided manner, so the top scoop began sliding off at a steep side angle. But this was easily remedied by squishing it back on top.
Final comments:
While the gelato was a little on the pricey side, this was something to be expected because it is located in the middle of the San Francisco Premium Outlets. With a single scoop at $5.25, double scoop at $6.50 and a triple scoop at $8.00, the price is fairly worth it, especially since the scoops are also relatively large. Overall, I am satisfied with my experience at Café Crèmerie–there was excellent service and oddly unique flavors that still had great taste. I would definitely recommend going–the yogurt passion fruit flavor is definitely one of my favorites and I haven't found it at any other shop. It's a great place for taking a break after shopping at the outlets and relaxing with family or friends.
*This was said to be the most popular amongst customers.