A guide to buying the best phone for the holiday season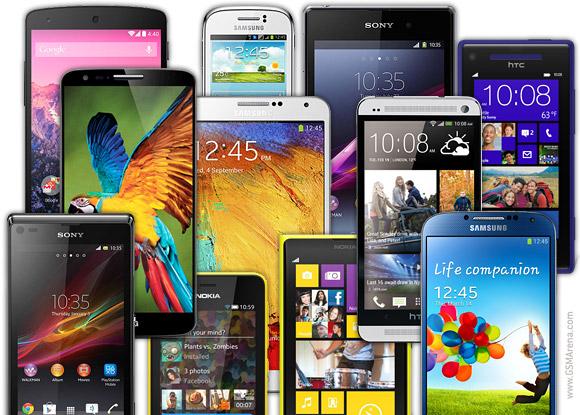 With Christmas just around the corner, it is time to start thinking about upgrading your old phone. Here are some options that could fit anyone's needs while seeking a new phone this holiday season.
Best Budget Phone (Sprint):
Sharp Aquos Crystal
With a 5 inch 720p display, Snapdragon 400,  Adreno 305 GPU, 1.5GB RAM, an 8 megapixel camera and near stock Android, this $129 bezel-less phone should be able to handle anything you throw at it in elegant style with its unique screen design. The only cons to this phone are a weak camera and a lackluster speaker. For a price of $129 off contract, this is the best money can buy at such a price point.
Best Performance Phone (Sprint):
HTC One M8
The HTC One M8 is all around a good phone. With a 1080p 5 inch display, a Snapdragon 801, 2GB of RAM, 2600 mAH battery and dual front facing speakers, this phone is great for anyone seeking a well-rounded phone. It provides great performance levels while offering exceptional battery levels at the same time.
This is actually the phone I currently use (with the Google Play ROM), and I can personally vouch that it is a highly customizable, easy to use and root phone, great for anyone seeking a multimedia device for a little cheaper than the current flagships. The only drawbacks to this phone are the poor camera quality of both the front and rear facing shooters. Regardless, this phone is still an amazing package that you can get for no money on contract, though you can find these floating around ebay.com and reddit.com/r/hardwareswap for $299 off-contract.
Best Overall Phone (All Carriers):
Nexus 6
Though the new Nexus may be a little bigger than comfortable for some, others may welcome the massive 6 inch 1440p display. Packed with the latest Snapdragon 805, 8GB of RAM, dual front facing speakers, 3900 mAH battery, turbo charging capabilities, a 13 megapixel camera and stock Android 5.0, what more can a user ask for?
The Nexus 6 trumps all its competitors with a greater feature set, being the first to receive updates, and its glorious screen. Though housing a 6 inch screen, the Nexus 6 comes in around the same length dimensions as the iPhone 6 Plus due to the lack of capacitive buttons and large bezels like the iPhone features. Due to the amazing feature set offered this time, the 32GB Nexus 6 will run you $649 off contract, which though is still quite costly, is much cheaper than the iPhone 6 Plus 16GB $749 off contract asking price. The on contract price hasn't been announced for Sprint just yet, but you can expect it to be $199 or less.
Best Budget Phone (All Carriers besides Sprint):
Moto G
Similar to the Sprint budget offering of the Sharp Aquos Crystal, the Moto G (2014) comes equipped with a 5 inch 720p display, slightly bigger battery (2070 mAH compared to 2040 mAH), same processor and GPU and less RAM (1GB compared to 1.5GB), but offers superior front facing speakers and a better camera. The Moto G, though a more traditional design, offers more after-market design customizability with changeable backings from materials like wood and leather.
But the Moto G shines in the area of software. Coming pre-loaded with Android 4.4.4, and soon to be updated to 5.0, the Moto G will likely be the device no longer supported, as Sharp has not released any plans to update their devices to 5.0, or even 4.4.4. If the Moto G was available on Sprint, I would have recommended to go with this as the budget phone due to the longevity of its support and the following on XDA forums. At just $179 off contract, this phone is the best option for a budget phone for anyone not on Sprint.
Best Performance Phone
(All Carriers besides Sprint):
Moto X
The Moto X, essentially a souped Moto G, is the best price to performance phone that money can buy on any network besides Sprint (it's unfortunately unavailable on Sprint). With a 5.2 inch 1080p display, one front facing speaker, a decent 13 megapixel camera, changeable backings, quick updates from Motorola on software (5.0 is already rolling out), near stock Android, excellent performance and a decent battery life, this provides the average user the best well-rounded phone available.