DV Celebrates Día de los Muertos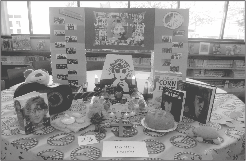 Alicia Ho, Copy & Web Editor
November 7, 2014
Once again, the honors Spanish classes have created altars in the library for Día de los Muertos.
Día de los Muertos (Day of the Dead) is a holiday celebrated on November 1–2, the tradition originating from Mexico.
November 1 is considered "All Saints Day", and November 2 "All Souls Day".
The holiday stems from the belief that the dead would not want their death to be mourned, but rather their lives celebrated. Those who celebrate Day of the Dead participate in joyous parties and jamborees, often enjoying the same activities that the deceased did. In this way, the dead are invited to join in the festivities among the living.
Spanish teacher Ms. Getgen explained, "There are two aspects to altar making on Day of the Dead. The first is to communicate with those that are no longer physically with us. This is not any different from people going to visit the graves of their dearly departed … The second aspect is the connection it provides us to the world at large and to our place in the after-life. By building an altar we are acknowledging the fact that after death our memories live on."
To honor the dead, altars are made for those who have made a positive impact on others' lives.
At DVHS, honors Spanish students got to choose someone who has impacted their life. Whether they chose fictional characters such as Severus Snape from the "Harry Potter" series, or real people such as Walt Disney or Robin Williams, the students decorated every altar with significant objects that played a large role in the lives of those being honored.
The displays set up in the library feature offerings for the person they honor. These include traditional components, such as pan de muerto, a sweet bread associated with Day of the Dead, and calaveras de azúcar, brightly colored candy skulls.
In addition to the traditional offerings, the students incorporate personalized offerings, such as the deceased's favorite food, music or other media they may have enjoyed. The altars exhibit significant aspects of the deceased's lives in honor of their memory.
The students collaborated to produce impressive altars for display in the library. The intricate details and lively decorations of the altars are indicative of the honors Spanish students' hard work.
The displays are all well thought out and beautifully put together,  especially evident in the deliberative nature of their personalized offerings.
The Day of the Dead altars are displayed every year in the library for school-wide appreciation.