Meet the Cheer team: Underclassmen
November 21, 2022
Mayowa Odele
Mayowa Odele is a sophomore at DVHS, and this is her fifth month doing cheer. While she's fairly new to the world of cheerleading, she has a strong background in sports and performing arts. 
"I did tap dance when I was three or four," Odele said. "I also did a couple of other dances, like hip-hop, lyrical and contemporary." 
This background in performing arts led her to consider joining cheer in DVHSwith her friends. She states that the cheer flyer at DVHS caught her eye, and next thing she knew, she was sporting pom-poms and leotards.
She also says that cheer has taught her a lot of things that she uses in her daily life, mainly teamwork.
"You really have to work together. You guys can't be doing your own thing. You have to really rely on other people," Odele said.
 This sense of camaraderie leads to a lot of blossoming friendships, some of which Odele is very blessed to have.
" I actually have [made a lot of cheer friends], they're actually really nice people." 
The cheer team did a lot of bonding over the summer, especially at the camp most of the cheerleaders attended, which has paid dividends in terms of improving synergy and team morale.
Going forward, Odele says that she'd like to continue her high school cheer career, but she's on the fence about doing cheer  in college. 
Odele said, "I definitely think I want to [cheer for]  the rest of high school. I don't think I would make it if I did it in college."
Regardless of her decision in the future, she's adamant about continuing at DVHS and working closely with her cheer peers to succeed, proclaiming, "The rest of high school is something I want to cheer for."
About the Photographer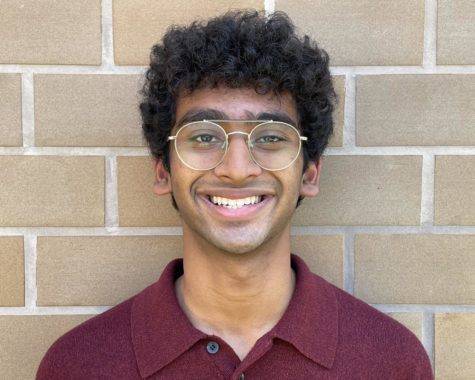 Rishvanth (Rishi) Ramesh, Photography Editor
Rishi joined the Tribune because he loves writing and taking photos and he stayed because the Tribune is a family and he found some of his closest friends here. Rishi was photo editor last year, so he accompanied...
Leave a Comment
Marissa Ratcliff
Marissa Ratcliff is a freshman at Dougherty Valley who just finished her first season as a JV Cheerleader. In the past she has cheered with NorCal Elite. This year, she decided to try out for the DV team. Being a part of the team this year, she has found herself to have quite a memorable and joyful experience for this season. Ratcliff specifically noted the team and its welcoming community. 
"I think that everybody who is involved in cheer always has each other's backs, especially in JV. [When] the freshman don't know what to do, we can ask the sophomores," Ratcliff said. 
Along with the supportive community cheer brings in for Ratcliff, she also appreciates the friends and traditions created with her fellow teammates. The small traditions the team participates in make their experience even more positive, and encourage the underclassmen to pursue cheer throughout their high school years.
"There's this activity we do every Friday home game where we put nice things in each other's lockers… like a secret sister type of thing," Ratcliff mentioned. 
While cheer is a fun activity for Ratcliff, it also holds a deeper meaning  in her life that runs alongside her personal goals about how she wants to make the community  a better place. Aside from cheer, Ratcliff also volunteers as part of  the National Charity League. She finds ways in which cheer can help alongside when it comes to the morals and values used in her everyday life. 
"Cheer has taught me to push through when we learn new things… I can apply that to school and like homework and studying. Cheer has also taught me to be a reliable person," Ratcliff said.
With Ratcliff having an enlightening and positive first high school cheer season, she found notable ways to incorporate parts of her first high school year experience into her future position on the cheer team, and helping out with the newcomers next season. 
In comparison to some Upperclassmen who may pick on the younger classes, Ratcliff believes she would help be the change. She goes on to say, "  I think I would be more of a leader and kinda guide freshmen, because not all freshmen know everything about high school."
Ratcliff finds herself wanting a future in cheerleading, and will be back for the seasons to come, with more experience and spirit ready to back her right up on the field. 
Leave a Comment