Dougherty Valley music lovers curate unique, personal playlists
Few things are more personal than music. Good songs can become auditory memories, forever linked to important events in one's life, or as sources of comfort to return to throughout the years like a worn patchwork quilt. Decades ago, making a mixtape for a friend was a gift of utmost intimacy. For teenagers today, streaming has long since replaced the iPod or Walkman, but platforms like Spotify give them the freedom to curate their own original playlists, with each one becoming a personal digital keepsake just as valuable as any physical memento.
Music streaming companies understand the importance of a perfectly-curated playlist and often hire employees specifically for that purpose. It's the easiest way to help listeners navigate the flood of songs and artists on their screen. But their tactics are often more money- than user-oriented.
According to a 2017 Music Business Journal article from the Berklee College of Music, Spotify allows major labels to "pay-to-playlist" to increase the exposure of their artists' new tracks. In fact, the three most popular non-Spotify playlisting companies are all owned by major record labels and aim to increase brand loyalty by promoting their own songs.
Spotify also looks to gain revenue from "cultural moments," like spikes in streams after certain TikTok trends. Playlist curators use complex algorithms like BART, or Bandits for Recommendation as Treatments, which is supposed to introduce music that the listener hasn't heard before.
All of these strategies prioritize profits and, for many, eliminate the organic feel of user-curated playlists which are indiscriminate toward the commercial success of the artists included. As a result, Dougherty Valley students favor making their own playlists. Each student has different approaches when curating their music libraries, and as a result, their library becomes a deeply personal extension of their character.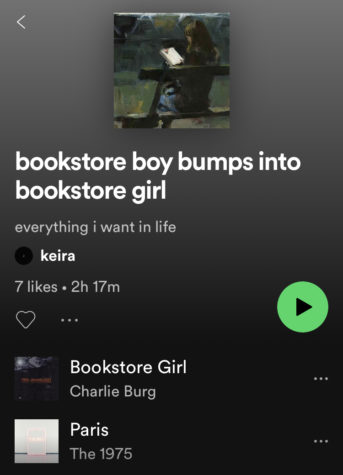 Freshman Keira Punsal prefers her original playlists over pre-made playlists because she finds the curation process to be a creative outlet.
"[My playlists] have emotions and feelings specific to me, unlike the ones on Spotify," she said. "One of my playlists is called 'idols,' [with songs by] people I look up to. Another one, my favorite, is 'bookstore boy bumps into bookstore girl.' I love making playlists to romanticize my life through situations that have never happened to me."
DVHS Music Club secretary Advik Nigam, a junior, enjoys creating original playlists because "it gives people an insight on who I am as a person, or even a musician. I might come up with ideas of structuring a playlist in a way someone else might not."
Two of his playlists, "songs i wish i wrote" and "songs i wish i produced," are filled with music that inspires him.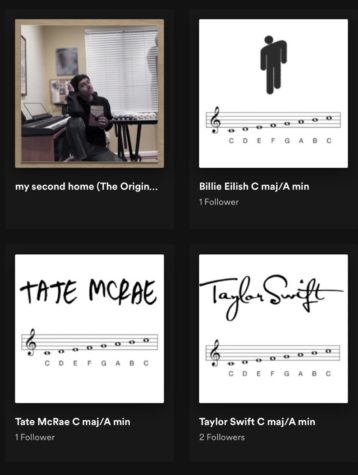 "[Each song has] something I've always wanted to say or hear in a song," he described of the former playlist, listing FINNEAS' "Love Is Pain" and Haley Joelle's "The Boy From Class" as two examples.
Senior Lorenzo Velazco finds comfort in his original playlists, often listening while doing homework.
"I mostly listen to mellow music that I play in the background," he said. "So I like my playlist 'Lo tempo' because it has most of my favorite artists and it isn't too fine-tuned. I started adding songs in 2019 and add more songs spur-of-the-moment when I listen."
He noted that the evolution of his song preferences is visible in the progression of the playlist, and that when shuffling, he can listen to both old favorites and new discoveries: "My music taste has changed a lot over the years but music itself remains a huge constant in my life." 
In addition to the songs themselves, Dougherty Valley students have the liberty of choosing their own names and cover images for their playlists. For example, a search for "Spotify playlist covers" returns thousands of images on Pinterest. Many students organize these playlist cover images by a particular color theme or design aesthetic to create a sense of cohesion.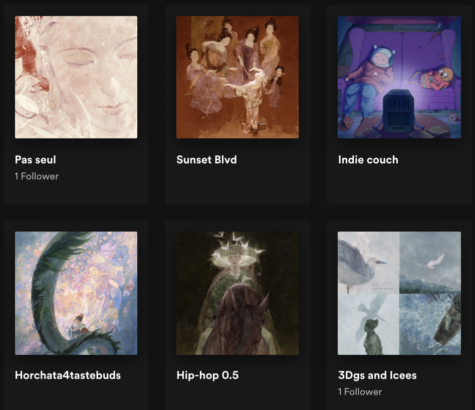 Punsal's Spotify library, for one, utilizes subdued, dreamlike paintings as cover images that depict scenes she feels relate to each specific playlist.
Velazco, for another, said, "The artwork [I use as cover images] doesn't really match with the music itself, but I formulate an image of what the playlists represent in my mind to choose them. It doesn't make sense for other people."
Still others prefer setting their own photos of moments with friends as cover images, viewing each playlist as a documented scrapbook entry in their lives.
An additional reason students prefer the versatility of Spotify is that the platform's sharing functions are available for them to make unique playlists for their friends, not unlike customized mixtapes of the past. Senior Pallavi Sengupta fondly remembers exchanging playlists with close friend Natalie Hangad, another senior.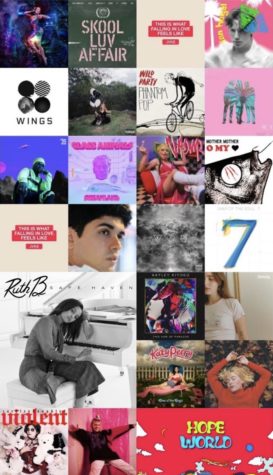 "There were some weird songs on [the playlist] I got," Sengupta said. "Spotify doesn't have a sense of humor."
Punsal agreed: "I love making playlists for friends and [giving] them recommendations…Music is diverse so I think sharing it is really cool and personal."
She added that, as an aspiring singer-songwriter herself, she often finds inspiration from lesser-known artists while curating new playlists, as the process helps her discover music she normally wouldn't find on mainstream playlists.
Many students today have complex tastes for diverse types of music due to the sheer availability of songs to stream. They often use classifications that don't fall under Spotify's system of sorting by genre or mood and appreciate the ability to curate music to their taste, however specific it may be.
Nigam creates playlists by specific key and carefully orders them by release date— an unconventional yet meticulous approach that exemplifies his love for music.
"[Sometimes] the music nerd in me thinks, 'I need a little B-flat major today,' and then I know exactly where to go," he said.