"To All the Boys: P.S. I Still Love You" both charms and frustrates
Since "To All The Boys I've Loved Before" was released in 2018, the movie has charmed its viewers and quickly became one of Netflix's "most viewed original films ever." The story follows Lara Jean Covey (Lana Condor), a hopeless romantic who writes letters to her past crushes which she keeps for herself until one day the letters are mysteriously sent out. As her crushes confront her, she finds herself falling for Peter Kavinsky (Noah Centineo) as they devise a plan to "fake date" until they gain the attention of who they really like. Ultimately, though, they fall for each other.
In the sequel, "P.S. I Still Love You," Lara Jean builds her confidence and navigates her relationship with Peter, but everything is turned upside down when John Ambrose (Jordan Fisher), another recipient of one of her love letters, appears in her life once more.
The movie opens on Lara Jean getting ready for her first "real date" with Peter. After watching "To All The Boys I've Loved Before," the beginning of "P.S. I Still Love You" depicts the couple's fairytale ending as soon as Lara Jean dances on-screen in classic "Adventures In Babysitting" style. It's refreshing to finally see Lara Jean accomplish her whimsical fantasies we've known her for since she was first introduced in the previous movie.
But soon enough, cracks begin to form in their newfound relationship. Lara Jean begins to notice that with every first she has with Peter, his ex-girlfriend (and her ex-best friend), Genevieve (Emilija Baranac), has already done it with him. As if this isn't enough, he continues to spend time with Genevieve despite Lara Jean voicing her disagreement. She isn't the only one affected by jealousy, though. Peter becomes envious of John Ambrose when Lara Jean spends more time with him after they volunteer together at Belleview and continuously exchange letters.
Eventually, the jealousy on both ends leads to Lara Jean and Peter's breakup. However, once Lara Jean and Genevieve have a heart-to-heart conversation about Genevieve's parents' divorce and why Peter couldn't truly be honest with her about that, she begins to doubt her decision. She says, "There's a Korean word my grandma taught me. It's called 'jung.' It's the connection between two people that can't be severed. Even when love turns to hate, you will always have tenderness in your heart for them. Gen and I have jung. Part of us will always be tied to one another. If I want to move forward, I have to stop blaming Peter for having it with her too."
While we're supposed to root for Peter, I can't help but feel bad for John Ambrose throughout the whole movie. He expresses that he's always been second-best to Peter as long as they've been friends, and as soon as he and Lara Jean share a romantic moment, she leaves him to reconcile with Peter, realizing that she has to try to fix her relationship with him before it's too late.
The movie ends with Lara Jean and Peter as a couple once more, and Lara Jean expresses her final thoughts by saying, "If I could do it over, I wouldn't change a thing, because everything that's happened has brought us here." She realizes the fairytale ending she thought she had achieved wasn't realistic, no matter how much she wanted it to and is ready to start a new story with Peter right by her side.
In "P.S. I Still Love You," there was a change of directors from Susan Johnson to Michael Fimognari. While there were a few significant changes in the cinematography, Fimognari's style helped better show the chemistry between Peter and Lara Jean on their dates. His script also included more dialogue from the book as well as additional scenes which further demonstrated the chemistry between characters. However, there were a few moments that confused me when I watched the movie, such as the scene with Lara Jean drifting down the school hallway like she was in a music video.
The sequel bears other inconsistencies between cuts. Josh Sanderson (Israel Broussard), who Lara Jean likes in the first movie until she begins dating Peter, is not seen in the sequel at all. It's a bit odd since in the first movie and book they express how close Josh is to the Covey family. Josh is reduced to a much more minor role in the book as well, but he doesn't disappear entirely. Lara Jean's older sister Margot Covey (Janel Parrish) even tries to mend the relationship they broke off in the previous book and movie, but we don't see this in the film adaptation.
Another character who wasn't added to the movie adaptation was Alicia Ito, a Japanese senior citizen living at Belleview, where Lara Jean volunteers. Alicia is simple and quiet, the polar opposite of wild and adventurous Stormy. Alicia and Stormy butt heads but ultimately work together to console Lara Jean when she and Peter break up.
One scene that arguably made the biggest difference between the book and the movie was when the teens go to the old treehouse and decide to play Assassins. At one point, all the characters (Lara Jean, Peter, Chris, Genevieve, Trevor and John) meet up to open a time capsule, which was included in "P.S. I Still Love You," but they didn't play the game of Assassins. In the book, this brings Lara Jean closer to John and eventually helps Lara Jean realize Genevieve and Peter's close relationship.
As much as I wish I could have seen these characters and additional scenes adapted into the sequel, I still think that Netflix did a good job of translating the book into the movie. While the sequel doesn't live up to what it could be, especially when compared to the original, it still manages to entertain and charm viewers.
About the Contributor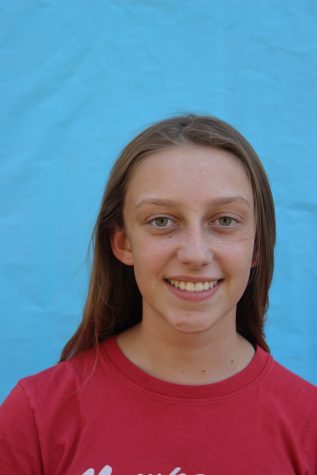 Tessa Galeazzi, Staff Writer
Tessa joined the Tribune because she has always been interested in writing and wanted to learn more about it. The Tribune was Tessa's first experience with journalism, and since she joined the class freshman...