School administration steps in and students voice feedback
April 17, 2020
Ultimately, many projects covered delicate subjects that had to be dealt with carefully. Because of this concern, DVHS administration — represented by assistant principal Ms. Sarah-Acosta Landry — played a role in producing these projects. In addition to acting as a "sounding board" for project approval, Landry also engaged with students to help them achieve the projects' intended purposes. She considered factors as detailed as where the projects would be displayed.
"Landry was interested in helping the kids get their message across. She gave a lot of really good advice on 'How do you make this unique?' and 'How do you make this more powerful?'" Uscian said.
Landry felt that as an educator and administrator, she needed to inspire students to "make a difference in the world."
"What do you want your audience to do, see or feel when they experience your exhibit or your installation" and "what are the perspectives that you've considered?" are two common questions she asked students. 
But considering viewpoints, Landry emphasized that the Social Justice students understand the difference between their intended message and viewers' personal interpretations.
"You have to be very careful when you're talking about sexual assault or gun violence … so I asked them to consider, 'How does your project do a good job of raising awareness as opposed to promoting something?'" Landry explained.
Ultimately, most Social Justice students and teachers, as well as Landry, agreed that the projects achieved their common goal of spreading awareness and creating conversations on their topics.
Malhotra elaborated on a common question raised about his group's poster: "One of my friends was like, 'Wow, this is really cool [and] interactive, but I don't get the point of the mask.' … I think people got a little confused … but the red tape on the mask symbolizes the people of Kashmir being silenced to bloodshed torture."
The vaping project also shocked some students and teachers.
"We did get feedback from a teacher when we were putting up the poster, since she didn't realize how many cigarettes were actually put into … one pod," Cha said. "I think it surprised everyone that one pod equals 20 cigarettes or 30."
Though many praised the projects for their social consciousness, others were less enthusiastic. In an anonymous letter to DVHS administration, four students expressed concerns about the projects' effects on the student body.
One of their key criticisms was that the projects failed at their goal of raising recognition, harming students' sense of security at school more than they empowered them.
"If the creators of these displays are trying to create a safe school culture by 'raising awareness,' this is not the way to accomplish it," the letter read. "Those with PTSD or who are triggered by mentions of these subjects walk past these displays on practically every corner of the campus, causing panic attacks, flashbacks and general discomfort or discontent."
Sympathetic to their claims, the students behind the victim shaming awareness project explained how their project's interpreted meaning could differ from its intended meaning.
"The way [some people] took it, they thought we were saying, 'Oh, only girls that wear minimal clothing and girls that are drunk get raped' … We tried to say anyone can … but those are [the] people that get blamed the most," Shum said.
Notably, the letter's authors believed that many of their peers shared their views.
"It was all of us and also people that I had talked to," one author said. "As people who are really involved in walkouts — for the Parkland shooting two years ago — that stuff hit really hard."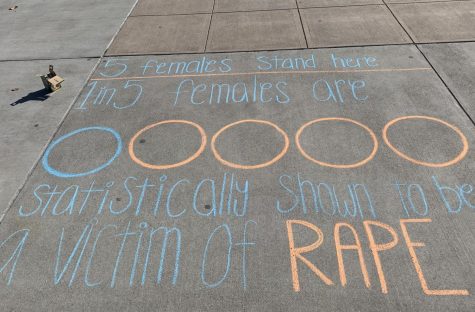 The letter specifically pointed out four specific projects for "triggering" students.
Addressing an exhibit with "statistics on how members of the LGBTQ+ community are more likely to be murdered, harassed and discriminated against," the letter said that "LGBTQ+ members at this school already feel threatened enough … and openly displaying how they might die does not help."
Then, criticizing a chalk message in the quad that read something to the effect of, "one out of every 5 women are sexually assaulted," the letter wrote: "The display has five circles, in which students can stand in to 'see' if they will be raped. This is absolutely ludicrous, as it is having young women stand in a circle which appears to decide if you will be sexually assaulted or not."
After discussing the victim shaming awareness project, the letter lastly and most prominently condemned the school shooting poster, particularly for the violent imagery it employed.
"Its purpose is likely to inform students about statistics of school shootings, but … No student will look at this poster and be inspired to make a difference," the letter wrote. "In fact, the opposite is happening. Students are avoiding this sign altogether by walking a different route to prevent panic attacks."
The authors later said that to alleviate the poster's traumatic effects, they would have "remove[d] the bloodstains," "the bullet holes" and "the aggressive 'ARE WE NEXT?'".
"The bottom line is, these displays need to be taken down," the letter concluded.
After being received by Landry, the letter was then passed onto Uscian and Love (Brown's students' projects were not presented publicly on campus).
Uscian expressed her initial response to the letter as a sort of balancing act between engaging the community and being sensitive about topics such as sexual assault and gun violence. She also noted that to the extent of her knowledge, there's never been any such criticism in previous years.
"I think part of the idea is that they make you feel uncomfortable, right? That's kind of part of the project," she said. "But I also … don't want my students' projects to give another [student] a panic attack on the way to school."
After reading the letter aloud to her first period Social Justice students, Uscian initiated a discussion of her students' opinions. While some students agreed that they should have been more considerate, others said they made their points the way they wanted to.
Indeed, Basu and Konatapalli acknowledged the letter's point regarding their school shooting poster. Nevertheless, they believed that it wouldn't cause real damage to students.
"When I was walking out of fourth period … I heard some people making these comments about it. Some of them were, like, 'Oh, that's a bit extreme,'" Basu said. "At the same time, there weren't any specific accounts of anyone actually having a strong reaction, like … [having] to avoid this part of the building because it might trigger them. I feel like they kind of blew things out of proportion."
Konatapalli said that even if it meant negative feedback, her group would still have taken the extreme approach in order to spread awareness. She called for students to judge only after evaluating the poster's real message.
"I would hope that the school takes a little more time to decide on whether they're angry at a poster for how they feel on it, or how they fear other people would react … A lot of the negative reaction that we did receive was other people speaking for what they believed would happen and not what is happening," Konatapalli said.
The creators of the victim shaming awareness project also responded to the letter's claims pertaining to their project. Though they understood the writers' argument, they believed it misinterpreted their project's message, particularly given that they had covered their project with explanatory text cards.
One read, "Rape victims are still being interrogated about what they were wearing at the time of assault, despite the fact that the length of a woman's skirt should never be seen as a measure of her consent."
Respecting the letter authors' own interpretation of her group's project, Frias nevertheless offered a final clarification of the message they intended to convey.
"Some people thought we were saying women shouldn't be wearing certain types of clothing," she said. "The stories … explain how we're saying that it doesn't matter what you're wearing, it doesn't matter what you're drinking; people can still be victims of rape."