Projects are put up, rampant with controversial topics
April 17, 2020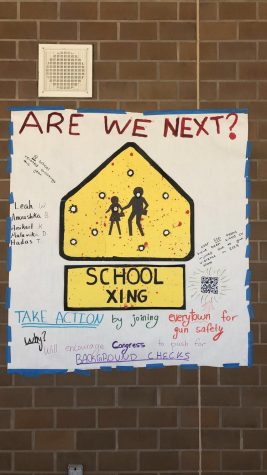 Suraj Malhotra, Shakthi Subramaniam, Zoya Abidi and Haidar Jafry selected the conflict in Kashmir, a region between Pakistan and India that has been disputed by the two nations for the past 50 years. The project displayed a mask with the Pakistani flag on one eye, the Indian flag on the other, blood smeared across it and red tape covering its mouth. 
Subramaniam explained that aside from creating awareness and discussion, the project specifically showed how "more important than how proud you are of your country … all these people … are getting hurt in the fighting."
Though students are more exposed to the discourse around school shootings than the Kashmir conflict, Leah Wang, Anoushka Basu, Anikait Konatalapalli, Malavika Divakar and Hadas Tankel believed that gun violence is still not discussed enough. Their poster, which was displayed outside the administration office, featured a school crossing sign with bloodstains, bullet holes and the words "ARE WE NEXT?".
"We needed to make it a little bit more extreme so people would care about it. Otherwise, people will be like, 'Oh, whatever,'" Basu said.
Elaborating, Konatalapalli explained how many students have become desensitized to the issue.
"A lot of people have the thought or the idea that it's not something that we need to worry about because we live in the area that we do," Konatalapalli added. "I think our purpose was to make people talk about the issue in a serious matter rather than a joking matter, because I do see a lot of that around the school."
Choosing another school-related issue, Nathan Nguyen, Sammi Cha, Brittney Lum, Josh Downton and Dani Nolasco addressed vaping in their poster. It was displayed next to the downstairs 1000 bathroom door and included statistics as well as physical Juul pods.
The group felt they had to discuss vaping because it is prevalent at Dougherty and students are not aware of the health effects of vaping.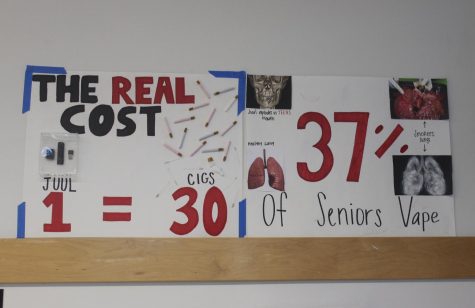 "People always think of cigarettes [as] just being so bad, with tobacco and nicotine, and they don't think Juuling is as bad," Cha said.
One last project chose to focus on sexual assault, a pressing issue for young women. Kim Shum, Leila Amiri, Katie Moore, Sami Frias and Sam Mass's display on victim shaming displayed a variety of attire — from a crop top to a hoodie — on a clothing rack located outside of the 1000 building. It featured a red Solo cup, common questions asked to victims such as "What were you drinking?" and various quotes from them.
Frias said that aside from the CNN website, other projects around the country on victim shaming also motivated her group's project.
"Some signs are called 'What are you wearing?' or 'What was she wearing?', and it's just clothes displayed [where] people write their stories … We just wanted to take that, obviously, on a smaller scale, make it our own and kind of explore," Frias elaborated.