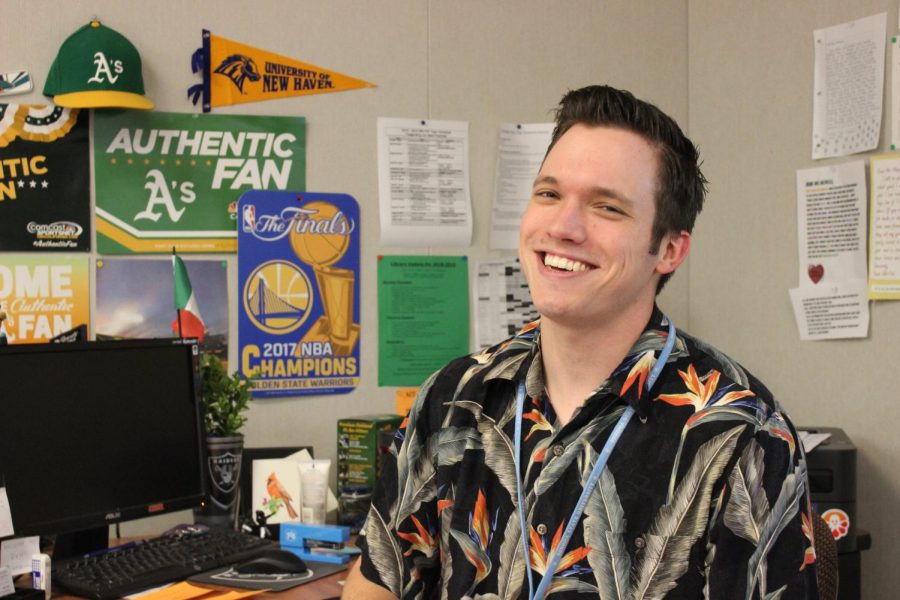 Mr. Michael Morelli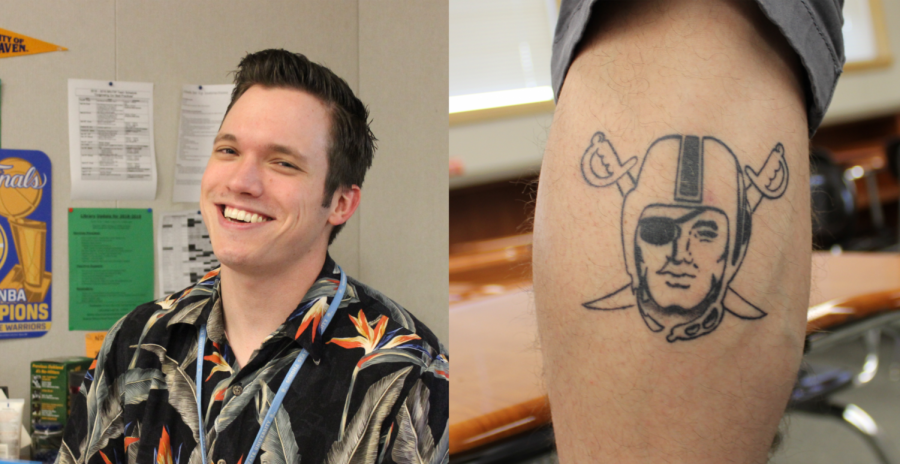 Megan Tsang
Walking into Mr. Morelli's class, we were welcomed with an easy smile and a Rod Serling impression. A's and Raiders memorabilia line his walls. He's chatting with a fellow English teacher when we arrive for the interview, and eating lunch with a student when we come in the next day to take pictures.
While it's hard to tell now, Morelli was a rebel in his youth.
"I had a mohawk at one time. I shaved my head bald — I'm that child," he said. "[My parents] kind of just reacted like, 'Oh, well, if it was any of our children, it would have been you.'"
Against his religious family's wishes, he got his first tattoo in the summer of 2017. He and his fianceé decided to put each others' initials on their ring fingers.
We said, 'Oh it'd be really cool if we had each other's handwriting.' So we actually sat in the tattoo parlor and the guy gave us some paper."
He rolls up his pants to show us his most recent tattoo — a black and white Raiders logo on his calf that's only two months old.
"I was out buying books because I'm an English nerd and a teacher, and thought, 'You know what? I wanna do that,'" he shared.
The decision may have been spontaneous, but the meaning behind his tattoo is deliberate. To him, the Raiders are not just a team, but also a generational family connection.
"My grandma grew up in Oakland … My dad grew up in Oakland … He has fond memories growing up watching them, and then he watched them with me and my brother," he said.
While his family was originally opposed to the idea of tattoos, by getting two of his own, he helped change their conceptions about them.
When I told [my grandmother that] it's for family reasons, she … had an epiphany. She's said 'Oh, that—that makes sense, like, it's a permanent piece of art in your skin. I kind of get it a little bit more now.' So that was very surprising, because she's usually not that accepting," he said.
Even outside of his family, he's helping other people overcome some stereotypes around tattoos.
"I think since I'm a teacher, people are a little bit shocked. And I also think that I'm a very outgoing, kind, friendly, warm person. And people don't expect people with tattoos to be that warm and friendly and outgoing."
Morelli plans to get more tattoos in the future; in fact, he wants an entire arm sleeve. His favorite part about the process has been watching the tattoos gradually become a part of him.
"Before … it's healing, it's peeling, it's not part of your body yet … Now, it'll change as my body changes," he said.