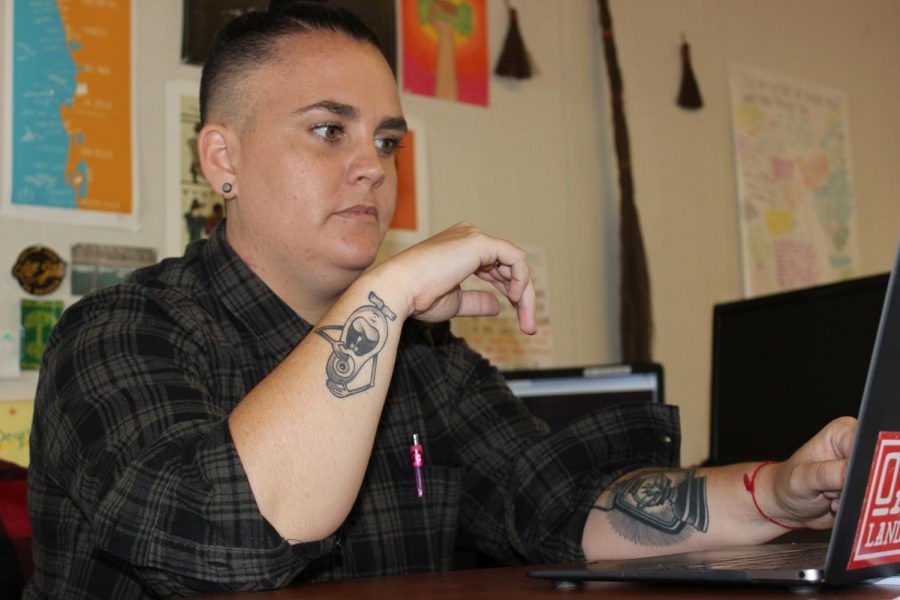 Ms. Ashley DeGrano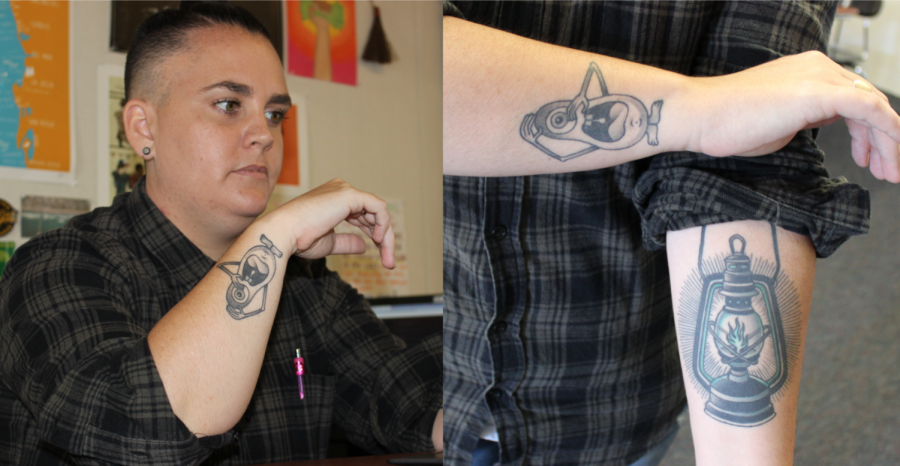 Megan Tsang
Ms. DeGrano's classroom is an extension of her personality — mellow, warm and easygoing. Music played in the background as students quietly chatted in the corner; the room was softly illuminated by the natural light that streamed through the open door and by the accent of fairy lights running across the edge of the whiteboard.
Her sleeves were rolled up, proudly displaying the two tattoos she has on each forearm. Her easy confidence makes it hard to believe that it took her years before she felt comfortable enough to show them off.
"I was like, so nervous to get one in such a visible spot," she shared. "And then when I started to get to know people that had them … I thought, 'What a cool way to express kind of the art that you want to and the energy that you want to give out to the universe.'"
To DeGrano, the tattoos that paint her forearms and ankles are more than just pretty pictures; they each tell the story of a significant person in her life.
"I like to use them to kind of represent people more than anything, like as a remembrance and also like stages in my life … when I think about moments that stick out to me, they're always through people's stories."
Her first tattoo is dedicated to a former student that DeGrano taught in eighth grade, and who committed suicide as a senior three years ago. It's a one-eyed, green monster that takes up a fist-sized area of Degrano's right forearm.
"She drew it for me, actually: there's the drawing up there."
DeGrano gestured to a piece of paper stapled to her wall. It's covered with colorful designs and characters; top and center is the same whimsical monster, identical from paper to skin.
Her newest ink, "Hello Darlin," runs across her ankles with one word on each side — it's the phrase her late grandfather never failed to greet her with each and every time he saw her.
"My grandpa passed away last year, and he helped raise me," she said. "I think [the remembrance tattoos] were definitely impulse, because it was my way of grieving. And I think everybody has a different way of grieving."
Her final piece is fitting for her role as an English teacher — a green glowing lantern on her left forearm, an homage to her favorite book, "The Great Gatsby."
"I love the green light, just because of what it represents. And the idea that you can never go back to the past. You always have to keep moving forward."