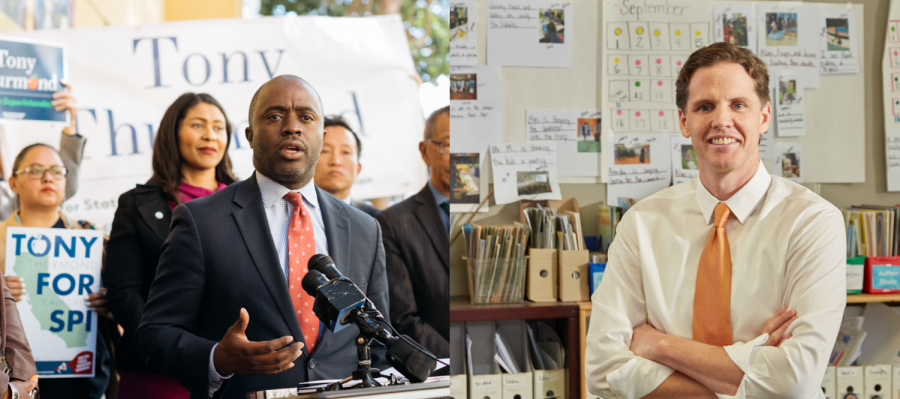 A look at California's superintendent candidates Tony Thurmond and Marshall Tuck
Thurmond is a state assemblyman who has served in elected office for the past decade on top of an extensive number of years performing as a social worker, 12 years working in schools and more leading up to his current position. Just earlier this year, the legislator received the California Association of School Counselors (CASC) Lawmaker of the Year award for his work with "foster care youth, LGBTQ, and youth that (have) been disenfranchised in this system", according to CASC Executive Director Dr. Lorreta Whitson with the The Daily Californian. Tony Thurmond is also currently recognized as a Fellow in the Annie. E. Casey Foundation's Children and Family Fellowship program for his leadership and contribution to social service in the community.
Until now, he has helped pass, introduce, and author multiple bills such as AB 1014 — to combat chronic absenteeism in schools, AB 2186 — that would create a $200 million dollar STEM education grant program, AB 2506 — to provide financial aid to California's foster youths, and AB 1502 — to ensure students' access to free lunch. Thurmond, in addition, has also introduced new legislation to increase mental and emotional health services in schools.
If elected as superintendent, the candidate promises to "ensure all California kids have access to a high-quality neighborhood school." To achieve his goal, Thurmond, in his own words, has pledged to:
"1) Modernize our curriculum to prepare students for jobs in our fast-growing, 21st century economy — 2) Improve vocational job training education, emphasizing science, technology, engineering, arts, and math — 3) Invest in our teachers by raising their wages, offering professional development, and providing teachers with affordable housing so they can afford to live in the communities where they teach — 4) Prioritize critical thinking, not teaching to the test, and — 5) Fight to stop Betsy DeVos's anti-education agenda from harming California's kids."
Tony Thurmond is currently a member of and endorsed by the Legislative Black Caucus and Legislative Latino Caucus. Furthermore, he is endorsed by the California Democratic Party, current state superintendent Tom Torlakson (as well as two former superintendents), the 2018 California Teachers of the Year, Planned Parenthood Affiliates of California, The Los Angeles Times, California Nurses Association, firefighters, and more. The complete list of Thurmond's supporters is available on his website's "Endorsements" page.
---
It is Marshall Tuck's second time running for the position of California state superintendent of public institution, having lost by a margin of only 181,489 votes in 2014 against incumbent superintendent Tom Torlakson.
Tuck's is the former CEO of the of the nonprofit Partnership for Los Angeles Schools, which featured a collaboration between the Mayor's office and LA unified. This program raised four-year graduation rates by more than 60 percent and had the highest academic improvement among California's school systems with more than 10,000 students.
This cooperation also initiated the innovative Parent College, which aims to create a national model for getting parents more involved in their kids' education.
Before being CEO Tuck was the president of the nonprofit Green Dot Public Schools. This organization helped create 10 new public charter high schools in some of LA's poorest neighborhoods.
Marshall Tuck declared that "California's public schools need big changes to give all students the education they deserve," which he believes should match California's wealth. In order to improve the public school systems in California to such a degree, Tuck has claimed that he—as superintendent—would:
"(1) Get more funding into local classrooms and cut bureaucracy and waste; (2) Empower teachers and parents to make more education decisions; (3) Expand career training and college prep to ensure all students are prepared to succeed in the 21st century."
Marshall Tuck's supporters include The San Francisco Chronicle, The Association of California School Administrators, former Education Secretary Arne Duncan, former Congressman George Miller, and former State Superintendent of Public Instruction Bill Honig, among numerous others of varying backgrounds and positions. A full list of Marshall Tuck's endorsements is available on his website under the "Supporters" page.