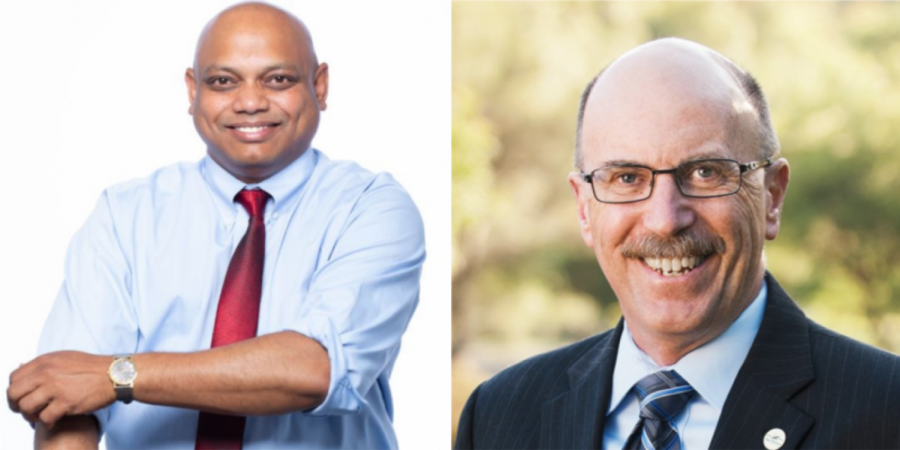 Voters' Edge
Enthusiastic Sanat Sethy takes on reputed Bill Clarkson for seat of San Ramon mayor
Bill Clarkson:
BACKGROUND:
Mayor candidate Bill Clarkson has been a resident of San Ramon since 1980. He grew up in Oakland, California and earned a Master's degree in Business Administration at San Jose State University. He also served in the US Air Force until 1976. He also started a small business in San Ramon immediately after he settled, for which he earned the "Business Person of the Year" award twice.
POSITION:
Through all of his terms, his priority has been the public safety of San Ramon, especially at community events. Accordingly, he increased the number of police officers in the San Ramon Police Department, which currently consists of 69 officers, 22 staff members and 54 volunteers.
"As first and foremost, public safety, which includes supporting our police, to keep us as one of the lowest crime cities in California. I think we're second or third in the state right now," Clarkson said.
Clarkson also emphasizes preserving the various neighborhoods of San Ramon and the open spaces for which San Ramon is primarily known for.
"The next would be protecting our existing neighborhoods from the effects of growth, and along with that the next is both protecting and  expanding our open spaces and creating vibrant trails that connect our neighborhoods into neighborhood spaces and into regional parks," Clarkson described.
In addition, Clarkson wishes to support the construction of the new City Center at Marketplace and construct a new walking district, which will increase the convenience for community gatherings.
"The walking district is a 200-acre joint use of public and private land; there is space for a two-mile plus walking trail that includes 12 acre lake, Central Park and City Center," Clarkson specified.
Clarkson also clarified that preserving open spaces has always been his priority over new infrastructure, despite the recent construction projects the city has undertaken. He believes that maintaining open spaces will promote leisure activities that residents of San Ramon will enjoy.
"Our goal is to preserve open spaces so you have an interesting and fun and enjoyable place to go and either watch a concert in the park, go sail a boat, go to a movie in the city center, and just walk along the trail, whether it's the Iron Horse or a walking district's trail," Clarkson said.
Hence, former Mayor Clarkson clearly summarizes his main goals which include preserving open spaces, protecting neighborhoods from growth, and constructing new trails.
PREVIOUS ELECTION RESULTS:
Clarkson has previously served three terms as mayor of San Ramon. Clarkson worked with the San Ramon Chamber of Commerce for 11 years and even became Chairman in 2008. In 2010, he founded the San Ramon Rotary Club and served as the president. Clarkson also headed the Housing Advisory Committee in 1994 before becoming a member of the City Charter Commission, Park and Community Services Department and even San Ramon Valley Unified School District Board. As a result, Clarkson gained a significant amount of experience in the San Ramon government through his past positions.
---
Sanat Sethy:
BACKGROUND:
Mayor candidate Sanat Sethy has been a San Ramon resident since 2007. He has a son, who is a sophomore at California High School, and a daughter, who is a sixth-grader in Pine Valley Middle School. In addition, he earned an engineering and MBA degree from the Massachusetts Institute of Technology. Similar to Clarkson, Sethy also became the director of a business known as VATVEZ. In addition, he also has a website, sanatsethy.com, which contains all of his goals that he wants to accomplish as mayor.
POSITION:
Sethy's approach to improving the San Ramon community is centered primarily around reducing the overcrowding, especially in schools, due to the recent surge of residents and students moving to San Ramon. He emphasizes the perspective of a parent, such as himself, to justify his first priority as the mayor.
"I am not a politician. I am a parent. I have to first go talk with the school district. I need to ask: How many students are supposed to be in this school? How many are more?" said Sethy.
In addition to schools, Sethy hopes to solve traffic gridlock problems on major roads such as Bollinger Canyon. This issue primarily exists during office hours when parents are dropping off or picking up their children from school and also going to office for work. For example, Sethy explained that he will hold hearings on Old Dougherty Road in order to spread out the traffic from the main roads.
Contrary to Clarkson, Sethy discourages any new constructions since open areas such as parks will suffer damage in the process. He firmly believes that San Ramon has already undergone significant development in infrastructure, such as roads, which simply needs to be protected from the massive population growth.
"For me, open spaces are the first priority. I don't want to build anything. There is already a sustainable growth. I don't want any more growth," Sethy clarifies.
Sethy also aims to provide the police with more tools in order to reduce the increasing crime rates recently in San Ramon. This goal is very similar to Clarkson's view since he also emphasized that safety is first and foremost.
Hence, Sethy summarizes his goals as a mayor into four primary objectives which include reducing school overcrowding, solving traffic problems, preserving existing infrastructure, and promoting public safety.
PREVIOUS ELECTION RESULTS:
Sethy previously worked with the San Ramon Economic Development Advisory Committee to help shape the financial future of San Ramon. As a result, Sethy carefully formulated his goals as mayor in order to sync with the financial budget of San Ramon.