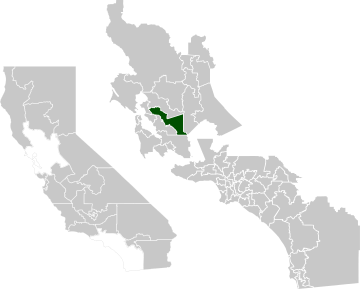 Wikipedia
Democratic candidate Rebecca Bauer-Kahan takes on Republican incumbent Catharine Baker
Catharine Baker is a Republican representing the 16th Assembly district of California. Baker is running for re-election, having served her first term representing bipartisan views. Her campaign slogan reflects her ideals on breaking traditional party lines: "Real Results, Not Partisanship." In her last term as assemblywoman, Baker passed legislation to prevent child abuse in schools (AB 1058) and has made initiatives to make education "accessible and affordable for California residents."
Major endorsements: The San Francisco Chronicle, The East Bay Times, The Pleasanton Weekly, The Livermore Independent, San Ramon Valley Unified School District Board of Education
Issues relevant to DVHS:
"Legislation to put California students first in admissions at the University of California by ending UC's unfair practice of lowering admission standards for out-of-state students compared to our California kids, requiring a cap on the number of out-of-state students admitted to the UC system, and ensuring that out-of-state students admitted to UC must meet or exceed the qualifications of  California students (AB 1711, AB 1674)."

"Legislation sponsored by the Brady Campaign to support common-sense gun control, including legislation to establish a gun violence research center at UC Davis (SB 1006), to increase the minimum age for owning a gun (AB 2103), to require more rigorous hands-on training in order to obtain a concealed carry license (AB 3), and to expand firearms safety compliance for gun owners (AB 1525)."

"Legislation making our communities safer, including bills protecting children from child abuse in schools (AB 1058), protecting victims of domestic violence and reproductive care providers from stalkers and abusers (AB 2263), ensuring crime victims receive full restitution from their perpetrators (AB 2295), protecting children from repeated trauma of court testimony against their abusers (AB 993), and protecting victims of human trafficking and domestic abuse from having to disclose their private information in public court documents (AB 953)."
---
Running as the democratic candidate for California's 16th district Assembly is Rebecca Bauer-Kahan, an accomplished environmental law attorney and Bay Area native. She has been actively involved in trying to improve the community as the leader of numerous non-profit organizations and groups. Bauer-Kahan served on numerous services and committees across the Bay Area for attorneys in need of her help. Her main goal is to ensure the betterment of education and transportation in the Bay Area. Bauer-Kahan believes that she has a long record of solving tough communal problems, with factors such as educational programs.
"As an accomplished attorney, mother and community advocate, I am running for Assembly to help solve our community's most pressing challenges. I have a long record of taking action to solve tough problems, protecting the environment, improving our schools and more," Bauer-Kahan says.
Major Endorsements: California Democratic Party, Planned Parenthood Northern California Action Fund, Laborers' International Union of North America (LIUNA)
Issues relevant to DVHS:
Supports programs for universal preschool across the state.

Keeps college affordable for everyone, i.e, reforming the college loans system so that debt isn't burdening for graduates.

Wants to promote innovative educational programs at every grade level to enhance and broaden students' learning experience.

Wants to make sure that the quality of teaching in schools improves (replacement of teachers who don't seem qualified).