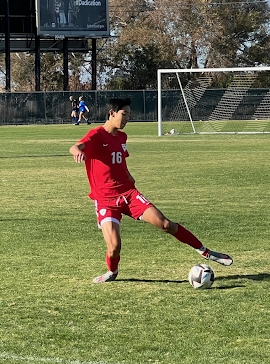 "I know that where I am at right now I am ready for anything that comes next."
Micheal Xiong: "I started playing soccer when I was around the age of six. Originally I began playing soccer partially because I saw it as an enjoyable activity and partially because my parents signed me up for it. At the beginning of my soccer career playing for a small recreational soccer team back in my hometown in New Jersey. I have to admit that after a few years, it became a very grueling commitment. As I wasn't very good during my first few years playing soccer most of my teammates and coaches were not very supportive, in addition to that I was also forced to make a 45 minute one-way commute every practice. It became difficult for me to see the enjoyment I used to see when I first started playing and I began contemplating about whether I should give up on the sport. Luckily, I chose to persevere and continue playing soccer and it has become a decision that I still am proud of even today.
After moving to California my growth as a player spiked. After joining the Mustangs together with my team we won the Elite Club National League(ECNL) Norcal league a total of three times. Furthermore, I am now the starting center back for the Dougherty Valley Boys Varsity soccer team which won this year's EBAL league title and went undefeated during the entire season.
Starting at the bottom of recreational soccer and making my way up into one of the highest-level soccer leagues I am truly proud of how far I have come. However, in order to reach my future goal of becoming a college soccer player I know that I still have so much room for improvement. From going to the gym and getting stronger to refining my technique there is still so much more to be accomplished, but I know that where I am at right now I am ready for anything that comes next.